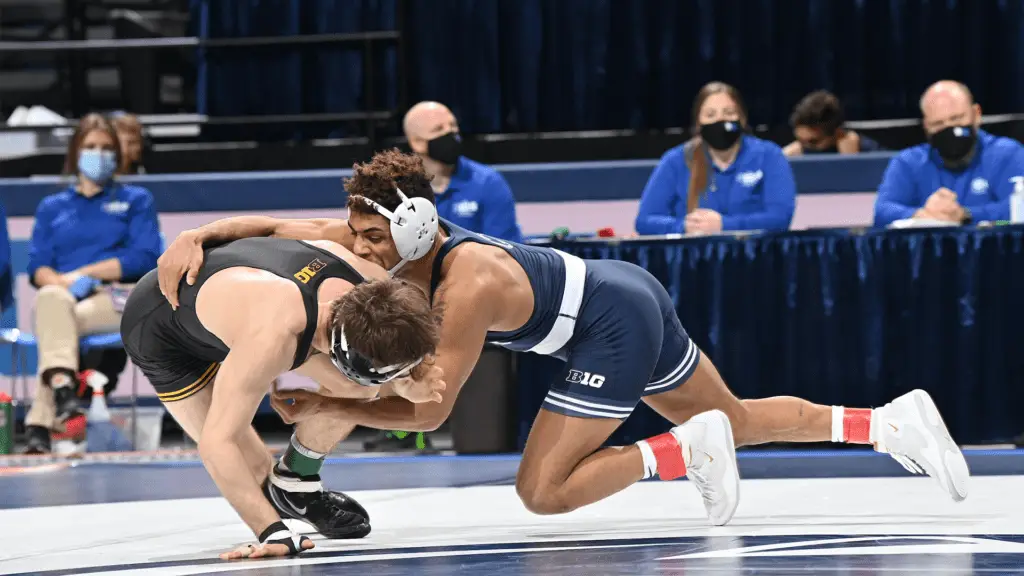 Many former wrestlers and new athletes looking to learn the sport after high school often struggle to find gyms and coaches. In this article, we will breakdown the best way to keep wrestling after high school.
Can You Wrestle After High School?
You can wrestle after high school. You can wrestle in college or community college, at MMA gyms, local wrestling clubs, BJJ academies, or by volunteering at a high school program.
Wrestling In College Is A Great Way To Wrestle Post High School
The best way to develop as a wrestler post-high school is to wrestle in college. Wrestling in college will give you access to high level coaches who are invested in your development, a variety of training partners to workout with and push you and a competition schedule to force you to compete against national talent.  
When many wrestlers think of college wrestling they imagine every program is like Iowa or Penn State where athletes are majoring in wrestling and everyone on the team is a multiple-time state champion. This is not the case, many college wrestling programs particularly D III and community college programs are filled with a lot of average high school wrestlers who just love the sport and want to continue wrestling.
 If you have a few years of experience you will fit right into many less competitive college wrestling programs and if you try your best you may even be able to win a starting role.
MMA Gyms And BJJ Academies Have Wrestling Programs For Adults
If you don't attend a college with a wrestling program or are already in the workforce you can continue your wrestling career at your local MMA gym or BJJ academy.
It is commonplace for MMA and BJJ schools to have dedicated wrestling classes where there are no striking or submissions. In this class, it often Freestyle wrestling rules so you can get some experience learning the International style found in the Olympics.
The only downside to this training is that the classes are often short and are only held a couple of times a week. They will also often be less intense than a standard wrestling class as you will often be training with athletes who don't come from a wrestling background.
The coaching can also be mixed. Sometimes the classes are led by high level wrestlers other times it is someone with only a few years of experience or a BJJ athlete.
Despite that, you can usually find a couple of serious wrestlers who were competitive in high school or wrestled in college. You can always pair up with them and see if they are interested in doing some extra training outside of the scheduled classes.
Try To Find A Local Wrestling Club
Local wrestling clubs for adults are rare in the US but they do exist. You check out the USA Wrestling site, they let you search for local clubs in your area. If you are lucky you might find a high level club.
If you don't mind a challenge you can train at your local Regional Training Centre just don't be shocked if you end up throwing up and struggling to finish the training session. These practices are designed for athletes trying to make world teams. If you wrestled competitively in high school you should be able to handle yourself and hell maybe you will even get to go live with some world champions.
Volunteering With A High Wrestling Program Can Help You Continue Wrestling
High school wrestling programs are often understaffed and many coaches are getting too old to get in the trenches and wrestle with their athletes. Most programs would be thrilled to have a young assistant coach who can help develop the athletes and wrestle live with them.
Try calling and emailing some high school coaches in the area and see if they would be interested in taking you on as an unpaid assistant. 
By volunteering at a high school you not only get to improve your own wrestling skills but you get to help develop young wrestlers. This can be an immensely satisfying experience. And who knows this could lead to you becoming a head wrestling coach one day. Head coaches at big-time NCAA programs are pulling in 6 figures so it could turn into a full time lucrative career.
You Could Start Your Own Wrestling Club
If there aren't any options to continue wrestling after high school in your area you could start your own club. If you know someone with a garage you can lay down some mats or rent some space in an athletic club. 
As long as you know a couple of former wrestlers you could get a club going. You could learn techniques off YouTube and practice on each other. As the club grows you could hire a coach and invite high school wrestlers along for some extra practice.
Before you know it you could be running your own successful wrestling gym and be running training camps and building state champions.
Conclusion
It is not always easy to find wrestling after you leave high school. Your best bet is to wrestle in college. If that is not an option you should check out local wrestling clubs, MMA gyms, BJJ academies, or your closest Regional Training Centre. If you want to try out some coaching you could volunteer at a high school or start your own wrestling club.