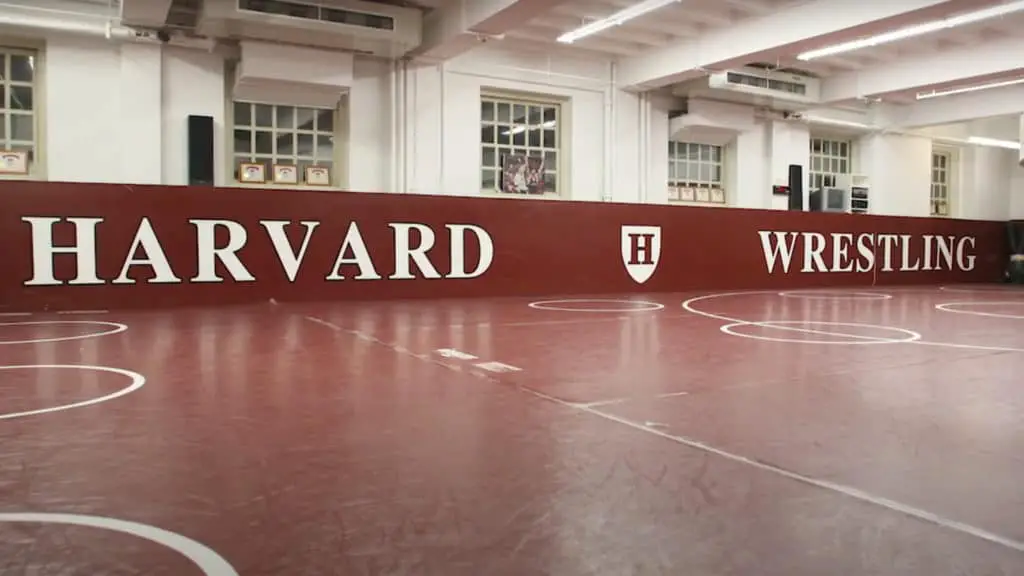 Harvard is an academic powerhouse which has an elite reputation for producing successful and influential graduates. However the Crimsons aren't known for being an athletic powerhouse and certainly aren't famous for producing NCAA champion wrestlers.
Does Harvard Have Wrestling?
Harvard has a NCAA division 1 men's wrestling program. The program was established in 1913, making it one of the oldest in America. Harvard's best wrestler is Jesse Jantzen who was an NCAA champion in 2004 champion and a 3 time All American.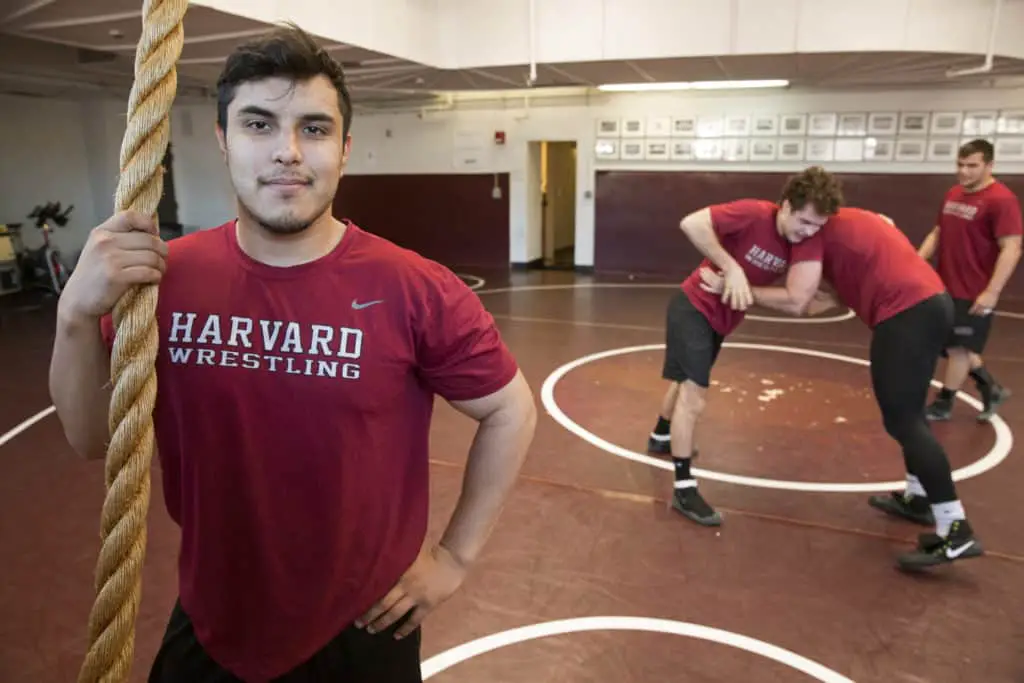 Harvard not only has a wrestling program but it has one of the oldest in all of the NCAA. Harvard wrestlers first represented the Crimson in 1913.
Even though Harvard has a long history of wrestling, the university has not had much success. In their over 100 year history they have only managed to produce 3 NCAA champions, John Harkness in 1938, Jesse Jantzen in 2004 and JP O'Connor in 2010. This pales in comparison to Iowa who has had over 50 different individual champions, with many wrestlers winning multiple titles. 
Despite their lack of champions Harvard consistently attracts high quality talent and they are a middle of the pack Division 1 wrestling program. This is impressive considering that Harvard does not offer athletic scholarships and the academics are very rigorous, preventing many top wrestlers from considering Harvard.
The Harvard wrestling team is currently coached by Jay Weiss. Weiss has taken the Harvard wrestling program to new heights.
During his tenure Weiss has guided two wrestlers to an NCAA championship and led the Crimson to a 20th place finish at NCAAs in 1999, 22nd in 2002, 2004 and 2007, 23rd in 2010, 28th in 2000 and 29th in 1998. Before Weiss took over as head coach Harvard had produced just seven All Americans in 80 years.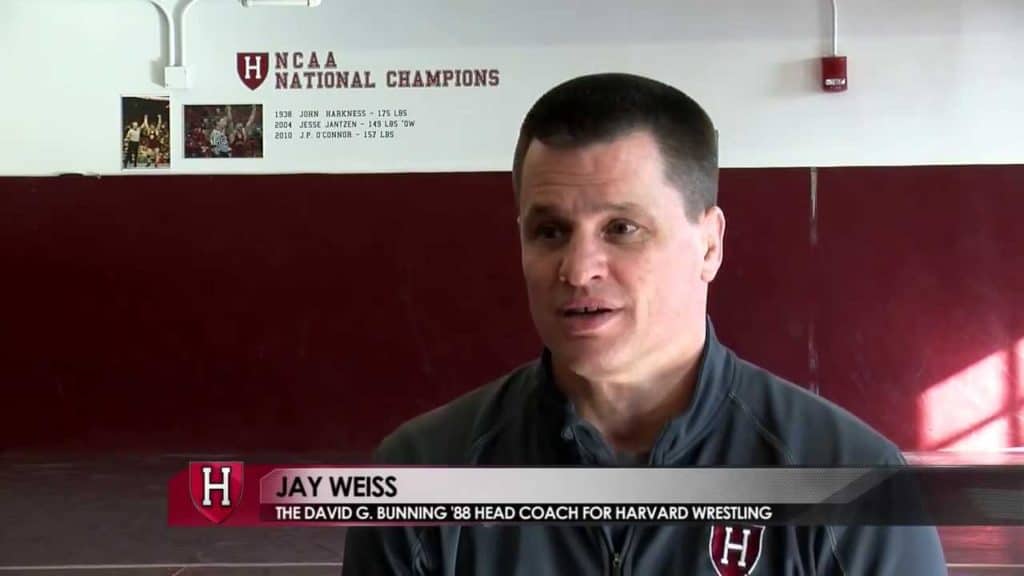 Is Harvard D1 Wrestling?
Harvard is a NCAA D1 wrestling program. Their wrestling program was established in 1913, making Harvard one of the oldest D1 programs in the US. 
Harvard has long been a staple of D1 wrestling. Harvard has a storied history of competing in the NCAA D1 championship.
Unfortunately, their length of participation in the NCAA D1 has not translated to much success. Harvard's highest place finish at the D1 tournament was 20th in 1999 and in their entire history they have only produced 3 champions.
Can You Walk On To Harvard's Wrestling Team?
You can walk on to Harvard's wrestling team. Harvard is a D1 program and they do recruit wrestlers so the standard is high but if you were a state placer in high school you have a good chance of making the team.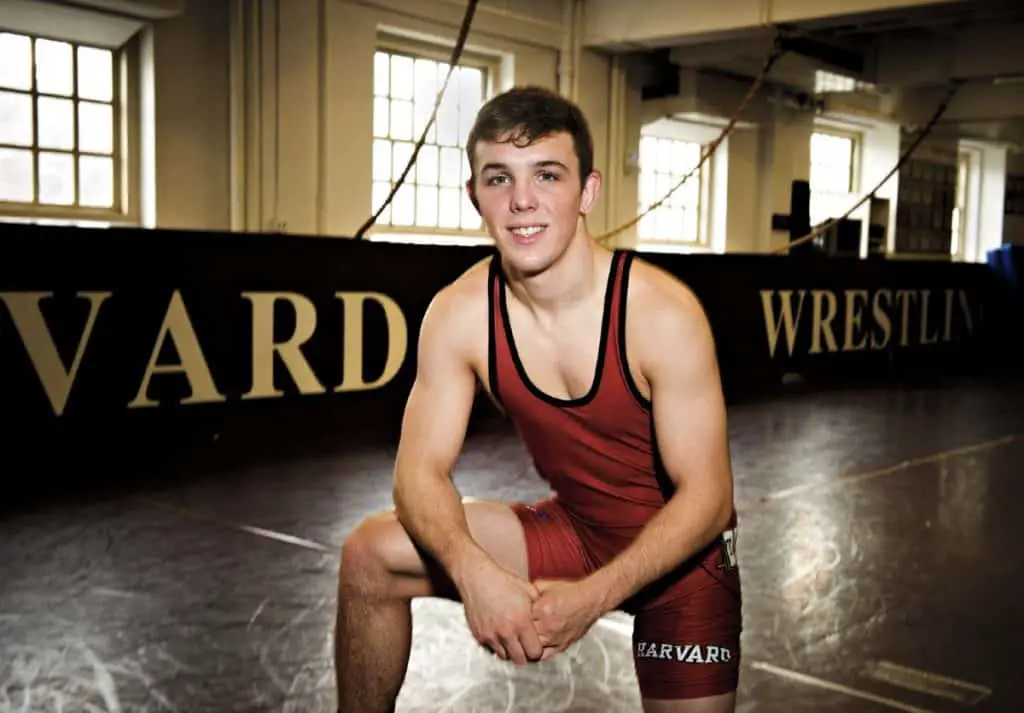 Like all college wrestling teams, Harvard allows athletes to try out and compete for a walk on position on their roster.
Harvard may not be a wrestling powerhouse like Iowa, Penn State or Oklahoma State but they are still a respectable D1 program that recruits high level athletes and regularly sends wrestlers to the NCAA championship.
If during your high school career you were a state placer in a mid level wrestling state or a state qualifier in a highly competitive wrestling state such as Pennsylvania, New Jersey, Iowa or Ohio you have a great chance of walking on to the Harvard wrestling team.
If you were a state champion or placer in a competitive wrestling state then you not only have a great shot making the team but you could definitely win a starting spot in the lineup. 
How Do You Get Recruited To Wrestle At Harvard?
To get recruited to wrestle at Harvard you need to be at least a state qualifier in wrestling, have high grades and some impressive extracurriculars. It also helps if you have a family connection to Harvard, such as a family member attending the university.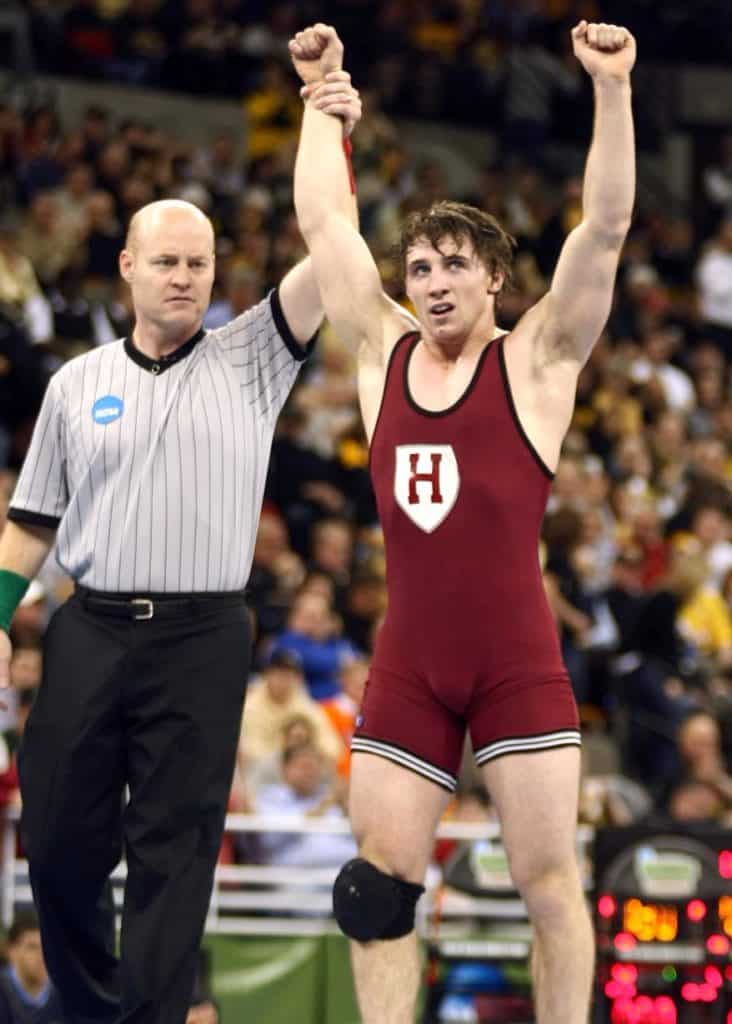 When recruiting wrestlers Harvard doesn't just look at a recruit's wrestling ability, they look at everything, academics, motivation, extracurriculars and connection to the university.
If you are a great wrestler but a poor student you are unlikely to be recruited by Harvard. The university is famous for its rigorous academics and the admissions office wants to ensure that all students are able to successfully complete all academic requirements. 
To determine if you can handle the academic side of Harvard they will pay close attention to your grades. If they aren't up to scratch they won't recruit you.
The admissions office will also look at why you want to attend Harvard. If you can spin a great story about wanting to resurrect Harvard's wrestling tradition or be the first "x" to represent the Crimson you can increase your chances of being admitted.
Your connection to Harvard also plays a big role on whether or not you are recruited. If your Dad and Uncle both wrestled at Harvard and you had a good high school career then you are likely to be recruited. However, even if you have no relationship to the school you can still be hot on the recruiter's rader if your wrestling and academics are on point.
Recruited wrestlers do often have lower grades and less impressive academic achievements than non athletes and are also much more likely to be accepted.
Recruited athletes have a 90% chance of being accepted into Harvard. However, this stat is slightly misleading as before recruiting an athlete they check whether the student has sufficient grades.
Conclusion
Harvard not only has a wrestling program but they have one of the oldest in the entire US. Harvard competes in NCAA Division 1 and regularly sends wrestlers to the NCAA championship.
Despite Harvard's long tradition of wrestling the program has only produced 3 NCAA champions. However, under head coach Jay Weiss they have been steadily improving.
If you are a state placer or champion in a competitive wrestling state who also has strong academics you have a great chance of being recruited by Harvard. Recruited wrestlers have a 90% chance of being admitted into Harvard.