Who Are The Richest Wrestlers In The World In 2022?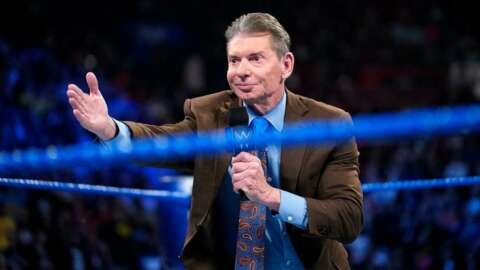 The richest wrestlers in the world are:
Vince McMahon – $2 billion
Dwayne "The Rock" Johnson – $400 million
Stephanie McMahon – $150 million
Triple H – $150 million
John Cena – $60 million
Steve Austin – $30 million
Hulk Hogan – $27 million
Kurt Angle – $26 million
Brock Lesnar – $25 million
Big Show – $20 million
Wrestlers are loved around the world where they perform in front of sold-out crowds and their matches are watched by millions of people at home.
Due to their popularity wrestlers can earn some absolutely mouth-watering salaries and build net worths that many can only dream of. The WWE has turned its fair share of wrestlers into millionaires!
Check our detailed list of the richest wrestlers in the world in 2022! We are going to break down how much they are worth, their salaries and what they own including cars and houses. Let's get started!
20. Daniel Bryan
Net Worth: $12 Million
Daniel Bryan is an American professional wrestler who is an absolute fan favorite. Bryan became a big star in the WWE where he started in 2009 and recently left in 2021. Daniel Bryan was earning a salary of $2 million per year in the WWE and became the Heavyweight and Intercontinental Champion during his legendary run!
Daniel Bryan has recently signed with AEW where is earning $1.5 million not bad for a 40-year-old who is near the end of his career.
Daniel Bryan's fame was boosted when he appeared on the reality series Total Bellas with his wife Brie Bella who is also a fantastic wrestler.
Daniel Ryan's net worth in 2022 is $12 million and is expected to grow as he continues to earn 7 figures wrestling at AEW!
19. Maryse Ouellet
Net Worth: $14 Million
Maryse Ouellet is a Canadian-American professional wrestler who is also known for her appearances in movies, TV shows, and her extensive modeling portfolio.
Maryse Ouellet is also married to highly successful wrestler The Miz. She is also a sharp real estate investor and has worked extensively in LA selling some mansions to her rich entertainment industry friends.
In 2022 Maryse Ouellet's net worth stands at a very impressive $14 million!
18. Edge
Net Worth: $14 Million
If you grew up watching wrestling in the 90s and early 2000s then you know how much of a superstar Edge is! The Canadian professional wrestler first started working for WWE back in 1992 and has is still going strong at 47 years of age and currently performs with the Smackdown show.
Edge has won multiple championships throughout his legendary career which has no doubt helped him build his 2022 net worth up to $14 million.
17. Bill Goldberg
Net Worth: $14 Million
Bill Goldberg is a big-time former wrestler who despite his wrestling technical skills was a major star.
Vince McMahon gave Goldberg a huge push and he ended winning both the WWE and the WCW at the very same time!
Goldberg was the first undefeated world champion in the history of professional wrestling.
After leaving wrestling Goldberg is now big into philanthropy and lives in a mansion near San Diego with horses, a vineyard, and a massive swimming pool.
16. Jeff Jarrett
Net Worth: $15 Million
Jeff Jarrett has a net worth of $15 million.
Jeff Jarrett was famous for his stupid country singer gimmick and was great at getting the fans hyped up!
He is an American professional wrestler who was born in July 1976.
During his wrestling career, Jeff won the WCW World Heavyweight Championship, the NWA World Heavyweight Championship, and the WWF Intercontinental Champion multiple times.
15. Dave Bautista
Net Worth: $16 Million
Dave Bautista can do it all whether it be wrestling, MMA fighting, or even starring in big-time movies!
This guy has some serious talent which included him winning the World Heavyweight Championship four times and an undefeated MMA career, winning his only fight by a knockout!
Bautista owns a Mercedes-Benz SL500 and an M3 BMW!
Bautista has also starred in A-list movies such as box office hit Guardians of the Galaxy and Blade Runner 2049!
14. The Undertaker
Net Worth: $17 Million
Even casual fans know The Undertaker!
Who could forget him choke slamming pour Jeff Hardy off the top of a ladder!
The Undertaker has been a pro wrestler since the 80s and with all that time with the WWE it is no wonder he is now worth $17 million in 2022.
The Undertaker has boosted his earnings by betting big on the real estate market and owns a number of properties throughout the US!
13. Shawn Michaels
Net Worth: $17 Million
Shawn Michaels has always been Vince McMahon's number 1 star! Vince saw massive potential in Michaels and gave him an incredible push.
This push would lead to an almost 30-year career with the WWE and see him crowned as a 4-time world champion.
Being a WWE company man has paid off for Shawn Michaels as the wrestling legend is currently worth just under $20 million!
12. Mick Foley
Net Worth: $18 Million
Mick Foley is one of the most loved professional wrestlers of all time!
Mick Foley was the king of WrestleMania and his legendary performance helped him build his $18 million net worth.
11. Chris Jericho
Net Worth: $18 Million
Chris Jericho has been entertaining wrestling fans since the 90s and has an amazing 20-year career with the WWE!
The Canadian Jericho has won 30 championships in the WWE, ECW, and WCW. And continues to earn big bucks through his very popular podcast.
Jericho has an incredible car collection which includes a Rolls Royce, Lamborghini. He also lives in a mansion in Odessa, Florida.
As of 2021, Chris Jericho's net worth is estimated to be $18 million.
10. Big Show
Net Worth: $20 Million
Big Show is a professional wrestler and actor with a net worth of $20 million.
The Big Show is not a small wrestler standing at an incredible 7 feet tall and weighing over 400 pounds.
The Big Show has been with the WWE since 1995 and quickly reached superstar status!
Big Show won titles like the WCW World Heavyweight Championship and the WWE United States Championship.
Big Show lives in a huge house in Miami with a private dock and multiple swimming pools!
9. Brock Lesnar
Net Worth: $25 Million
Brock Lesnar is a WWE icon who also won the UFC heavyweight title and had a short stint in the NFL with the Minnesota Vikings. When Brock Lesnar isn't hunting or fishing, he is suplexing people through the air. Brock's legendary athleticism has allowed him to build a net worth of $25 million!
8. Kurt Angle
Net Worth: $25 Million
Kurt Angle is an Olympic Gold medalist who managed to secure gold in 1996 with a broken neck!
Kurt Angle had an amazing run in the WWE where he played the role of the bad guy for many years!
Angle lives in a mansion in Lebanon, Pennsylvania thanks to his 25 million net worth. He also owns a number of Mercedes sports cars.
7. Hulk Hogan
Net Worth: $25 Million
If you don't who the Hulk is, you may have been living under a rock for the last 40 years.
The Hulk completely revolutionized wrestling as he took it mainstream and had millions of fans across America reciting his catchphrases!
Hulk Hogan has a current net worth of $25 million.
Hulk Hogan should have a much higher salary as he was earning $10 million per year in the 1980s.
However, he made numerous bad financial decisions and lost 70% of his assets to his ex-wife in a nasty divorce.
Hulk Hogan has bounced back, improved his financial health, and took a lucrative job with the WWE!
6. Steve Austin
Net Worth: $30 Million
Steve Austin has retired but his net worth continues to grow. Steve Austin is currently worth $30 million.
Steve Austin made his fortune from his WWE salary, podcast, business endorsement deals, and his real estate investments.
Steve Austin owns a $3.5 million huge home in Marina Del Rey, Los Angeles!
5. John Cena
Net Worth: $60 Million
John Cena is not just a huge wrestling icon he is also a top-tier actor who is rivaling the Rock. John Cena currently has a net worth of $60 million.
4. Triple H
Net Worth: $150 Million
Triple H is one of the most successful wrestlers of all time.
Even though he made millions from his wrestling career most of his net worth comes from marrying Stephanie McMahon who is a part-owner of the WWE and the daughter of the majority owner, Vince McMahon.
Since retiring from wrestling Stephanie helped Triple H land a senior management role that has him earning a WWE salary of $2.8 million.
Triple H definitely made a smart decision marrying Stephanie McMahon.
3. Stephanie McMahon
Net Worth: $150 Million
It pays to be the boss's daughter. Stephanie McMahon is the daughter of Vince McMahon and currently owns 3% of the WWE.
Stephanie definitely hit the lottery and her husband, wrestler "Triple H" hasn't done too bad either!
Stephanie McMahon is currently worth $150 million and is a senior manager at the WWE.
2. Dwayne "The Rock" Johnson
Net Worth: $400 Million
You may have heard of Dwayne "The Rock" Johnston? He is only the most famous wrestler of all time and is currently an A-list actor!
The Rock has a crazy-high net worth of $400 million dollars.
The Rock comes from wrestling royalty with his father and uncles all being WWE stars!
With the WWE the Rock captured the heavyweight titles 9 times before he set his sights on being the best actor in the world!
The Rock has appeared in numerous films The Scorpion King, Gridiron Gang, Be Cool, The Game Plan, Tooth Fairy, and The Fast & The Furious Franchise.
1. Vince McMahon
Net Worth: $2 Billion
Vince McMahon is the CEO and majority owner of the WWE
With his ownership stake, McMahon has built an absurd $2 billion net worth.
His home in Connecticut is worth over $30 million and he has a $10 million luxury apartment in the middle of Manhattan too! Vince is a former professional wrestler that's used his wrestling status to move into several different industries.
His Greenwich, Connecticut mansion is worth around $40 million dollars, and when he's in Manhattan, he stays in his $12 million dollar Penthouse.
McMahon is a lover of cars and currently has the following in his collection:
2007 Mercedes-Benz SL600
1967 Chevrolet Corvette
Lincoln Town Car Limousine
Lamborghini Aventador
Audi R8
Bentley Continental GT Supersport
Rolls-Royce Phantom
Wrapping Things Up
Your favorite wrestlers are earning millions of dollars entertaining you with many of them building substantial fortunes. The owner of the WWE Vince McMahon has turned himself into a billionaire while many of his biggest starts have built 8 figure fortunes. The Rock is the most successful wrestler of all time and has managed to build a $400 million fortune and maybe the future President of America!
Here is a comprehensive list of the richest wrestlers in the world in 2022!
Vince McMahon
Dwayne "The Rock" Johnson
Stephanie McMahon
Triple H
John Cena
Steve Austin
Hulk Hogan
Kurt Angle
Brock Lesnar
Big Show
Chris Jericho
Mick Foley
Shawn Michaels
The Undertaker
Dave Bautista
Jeff Jarrett
Bill Goldberg
Edge
Maryse Ouellet
Eric Bischoff
Brie Bella
Daniel Bryan
Roman Reigns
Randy Orton
David Otunga
Diamond Dallas Page
Kevin Von Erich
Pat Patterson
Sable
Seth Rollins