What Are The Best Adidas Wrestling Shoes In 2021?
The best Adidas wrestling shoes in 2021 are:
Adidas Adizero Varner – Best all round shoe
Adidas Mat Wizard 4 – Best for comfort
Adidas Combat Speed – Best lightweight shoe
Adidas Mat Hog – Best for grip
Adidas HVC – Best budget option
Adidas is one of the very best brands when it comes to creating wrestling shoes and are right up there with Nike and Asics. Adidas wrestling shoes are worn by athletes from all levels including local middle school wrestlers all the way up to Olympic gold medalists such as David Taylor and Jake Varner. To ensure you find the very best shoes for you or your child we are going to perform an extensive review of the top Adidas wrestling  shoes. Let's go!
If you are also considering buying Nike Wrestling Shoes check out our Nike wrestling shoe review.
The Methodology We Used To Determine The Best Adidas Wrestling Shoes In 2021
We compiled a list of every single Adidas wrestling shoes including 3 that we personally own or have owned in the past
We then read through tonnes of Amazon reviews, listened to our training partners' opinions and spent way too much time on Reddit and compared it with our own personal experience
In our review we didn't just perform surface level analysis, we went in deep and studied the materials used, features, sole, ankle support and weight.
After ranking each Adidas Wrestling shoe upon the criteria described above we then selected  the very best Adidas Wrestling shoes!
Adidas Adizero Varner Review – Best for speed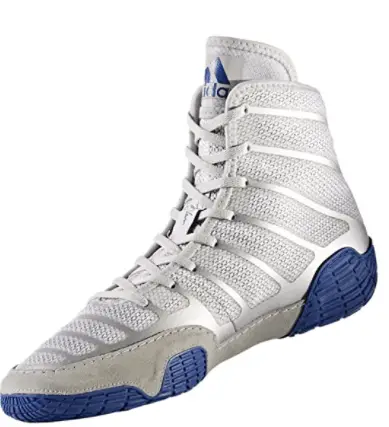 Adidas Adizero Varner 3 Pros
Super responsive
Known for comfort
Great ankle support
Superior traction
Adidas Adizero Varner 3 Cons
Very narrow
above average price
No velcro strap
Are you looking for a wrestling shoe personally designed by an Olympic gold medalist? Then you need to buy the Adidas Adizero Varner which was created by Jake Varner who took home gold in 2012 in London.
The Adidas AdiZero Varner feature a highly breathable, single-layer mesh that is somehow incredibly durable while still being lightweight.
The Adidas AdiZero Varner have sock-like comfort and you won't have to spend weeks trying to break them in! The shoes also have a great tongue feature so you can hide your laces!
If you want to cop the best wrestling shoe that Adidas has to offer then the Adidas AdiZero Varners are an excellent choice. These Adidas wrestling shoes will provide you with world class comfort and performance and they will last you way more than 1 season!
Adidas Mat Wizard 4 Review – Best for comfort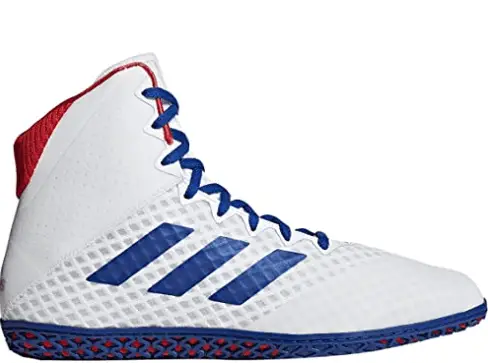 Adidas Mat Wizard 4 Pros
Incredibly comfortable
Mid-cut shoe
Great ankle support
Lots of grip
Adidas Mat Wizard 4 Cons
Less ankle support than other shoes
Above average price
Have you heard of David Taylor (2 time NCAA DI champ, World Champ and Olympic champ)? Well of all the wrestling shoes in the world he chooses to wear the Adidas Mat Wizard!
The Adidas Mat Wizard IV provides superior levels of comfort and is the best Adidas wrestling mid-cut shoe out there! The shoe has lots of extra cushioning to keep your feet feeling great even if you are 2 hours deep into a grueling 3 hour workout!
The upper part of the Adidas Mat Wizard 4 features super durable mesh which will keep your feet dry and your shots fast! You can hide laces thanks to an innovative pocket so they won't come undone when you are trying to finish the matching takedown!
The Adidas Mat Wizard 4 has some of the best grip of any shoe in the world. The  sole rises higher up on the ankle which means you will never be off balance!
The Adidas Mat Wizard 4 is a high end shoe that is suitable for all wrestlers young and old!
Adidas Combat Speed Review – Best lightweight shoe
Adidas Combat Speed Pros
Most comfortable Adidas wrestling shoe
Great price
Fun retro design
Incredibly Light
Adidas Combat Speed Cons
Run 1 size t00 small
Not the most durable
You know who loves the Adidas Combat Speeds? Jordan Oliver (2 times DI champ and national champion). If he chooses to wear only this shoe you know they must be good!
Adidas Combat Speeds have been around since the 80s and have been a big hit with wrestlers from the US and around the world. The Adidas Combat Speed is known for its super high levels of comfort. Many wrestlers compare wearing these to shoes wrestling in socks as it just perfectly molds to your feet.
The Adidas Combat Speed features a mesh light design which provides superior breathability and ensures that they are one of the lightest wrestling shoes out there!
The Adidas Combat speed is reinforced with a mix of suede and synthetic leather which provides additional stability and ensures the shoe is very responsive when you are driving off the mat. The shoe also has a world class split sole to help make your shots lightning quick!
If you want an all round wrestling shoe that provides superior performance, high levels of comfort and won't break the bank then cop the Adidas Combat Speed today!
Adidas Mat Hog Review – Best for grip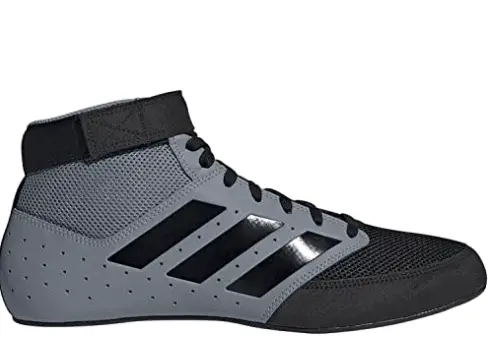 Adidas Mat Hog Pros
Solid ankle support
Suede toe is great for extra power
Highly durable
Superior traction
Adidas Mat Hog Cons
Run a little small
Quite stiff
Takes a while to break in
The Adidas Mat Hog has long been a favorite of local and international wrestlers who are drawn to the shoes high performance and the fact that they last for a long time!
The Adidas Mat Hog rises low on the ankle and has a velcro strap which ensures your ankles have the ability to bend and move but are still supported.
The Adidas Mat Hog as a well designed mesh and synthetic upper portion which ensures the shoe is lightweight and can wick away moisture at moments notice! The front of the shoe features a suede reinforcement which helps you get extra pop on your shots.
If you are looking for a solid all round shoe that is light, well designed and still durable then you can't go wrong with the Adidas Mat Hog.
Adidas HVC – Best budget option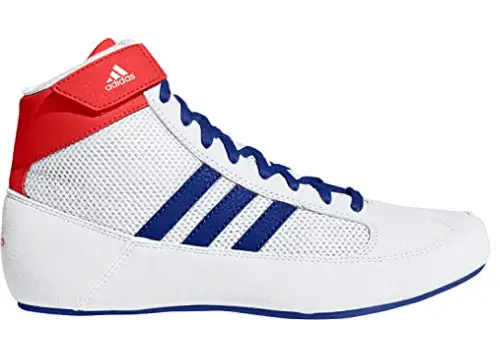 Adidas HVC Pros
Perfect for beginners and intermediates
Lightweight mesh design
Lots of traction due to non-split sole
Amazing price
Adidas HVC Cons
Slightly too high back of the shoe
Basic design
Not as durable as other Adidas wrestling shoes
Are you looking for a cheap Adidas wrestling shoe that is comfortable and reliable? Then the Adidas HVC is the shoe that you need to order!
The Adidas HVC is a very lightweight shoe due to its mesh design. And you won't ever have to worry about soggy feet because it provides superior ventilation. The Adidas HVC molds to your feet and gives you a great fit.
The Adidas HVC features a non-split sole and has rubber all along the outsole. You won't ever have to worry about slipping when wearing these bad boys! They also have a great elasticized lace strap to ensure your  laces never come undone.
It doesn't matter if you are a Greco, Freestyle or Folkstyle wrestler this is the perfect entry level and budget Adidas wrestling shoe.
How To Pick The Perfect Adidas Wrestling Shoe?
To pick the very best Adidas Wrestling Shoe you need to familiarize yourself with the shoe's sole, materials, weight, fit and ankle support. We strongly suggest you find an Adidas model that provides the perfect blend of durability, grip but still offers a lightweight and breathable design. 
Adidas Wrestling Shoes' Sole
Adidas Wrestling shoes have either split or non-split soles. Split sole shoes have traction on the heel and underneath the toes but soft bendable material in between.
Most wrestlers prefer split soles because these Adidas wrestling shoes are lighter, provide greater mobility and help them increase their shot speed. The issue with split sole wrestling shoes is they don't last as long as non-split sole shoes.
Here is an example of the Adidas Adizero Varner with a split sole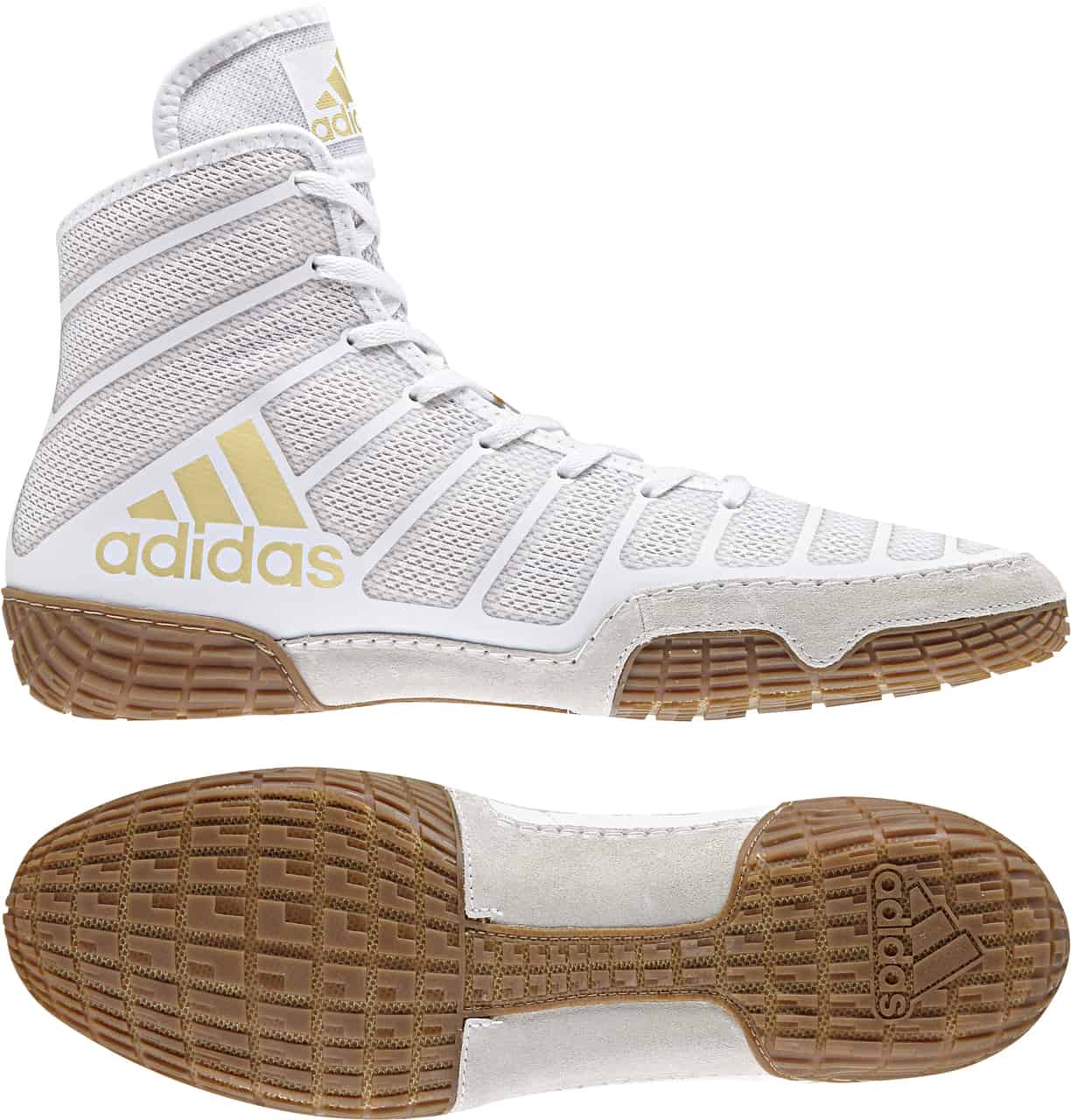 Whereas non-split sole Adidas wrestling shoes have a single piece of rubberized traction on the entire bottom of the shoe. Non-split sole Adidas wrestling shoes are heavier which reduces an athlete's speed but they do provide higher levels of grip which reduces the chance of slipping.
Non-split Adidas wrestling shoes are more durable you can likely where them for an extra season or 2 compared to split sole models.
Here is an example of the Adidas Mat Wizard with a non-split sole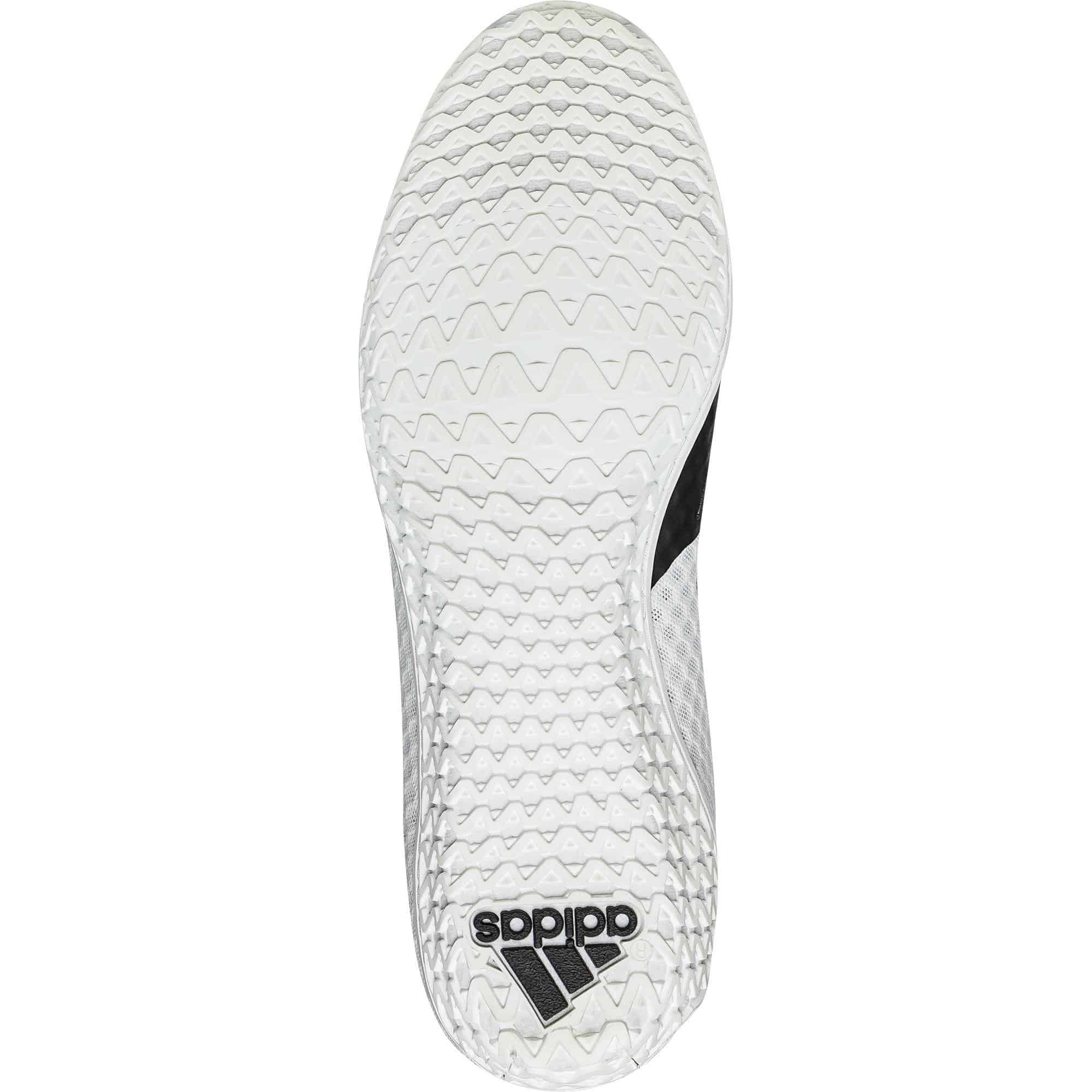 Adidas Wrestling Shoes' Materials
When trying to find the perfect Adidas Wrestling Shoe you always need to assess the materials used in an effort to find the perfect blend of durability and speed. Adidas wrestling shoes are commonly made from leather, suede, nylon, or mesh due to their flexibility and comfort.
Top of the line wrestling shoes are made from suede and leather due to the comfort, support and the fact that shoes made from these materials last a lot longer. However, suede and leather wrestling shoes do not wick away moisture and are often slightly heavier than other shoes.
Mid-range and cheap Adidas Wrestling Shoes are typically constructed from mesh and nylons and are often very lightweight and great at removing excess sweat. Mesh Adidas Wrestling Shoes are ideal if you favor speed over durability.
Adidas Combat Speeds feature a mesh design and are a great lightweight shoe
Adidas Wrestling Shoes' Weight
Nobody wants to wrestle while wearing heavy shoes that make your sprawl and shot feel like you are moving in slow motion. When wrestling you need to be as fast as possible to ensure you get to your opponents legs before they can down block or sprawl.
Lucky for you Adidas Wrestling Shoes are famous for being super light weight. If you want to increase your takedown speed then try out Adidas Combat Speed or Adidas Adizero Varner.
Adidas Wrestling Shoes' Fit
We don't want you to every have to ensure a wrestling practice or tournament while wearing ill-fitting shoes. Not only will you wrestle terribly but you will leave the mats with sore feet! To ensure you always wrestle at your best you need Adidas Wrestling Shoes that fit you like a glove which make changing directions and driving off the mat effortless while still being loose enough to prevent your toes getting crushed or blisters forming.
Adidas Mat Wizard and Adidas Combat Speed are great for wrestlers with wide feet. While wrestlers with slimmer feet prefer Adidas Adizero Varner.
Adidas Wrestling Shoes' Ankle Support
Wrestling really does put your ankles under some serious stress and you can easily hurt yourself if your shoes did not provide adequate support. In wrestling it is very common to place all of your weight on one leg, change directions explosively and push hard off the to shoot takedowns. To protect your ankles finding Adidas Wrestling Shoes which offer lots of ankle support is crucial. Most Adidas Wrestling Shoes are mid tops and use firmer material around the ankle to keep your ankle secure. Many Adidas wrestling shoes also velcro to ensure your ankle stays locked in place.
Check out the midtop Adidas Mat Wizard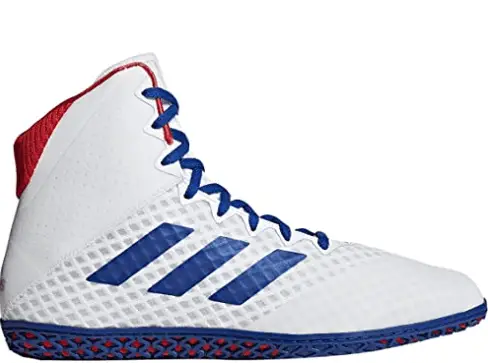 Frequently Asked Questions
Do Adidas Wrestling shoes Stretch After Frequent Use?
Yes, Adidas Wrestling Shoes are known for slightly expanding after regular use. However, Adidas Wrestling Shoes do not change shape significantly due to the use of high quality design and materials.
Can You Wash Adidas Wrestling Shoes In A Washing Machine?
Yes, it is perfectly find to wash your Adidas Wrestling Shoes in a washing machine. To protect your Adidas Wrestling Shoes place them in a bag, remove laces and wash on an easy cycle.
Can You Put Adidas Wrestling Shoes In A Dryer?
No, Adidas Wrestling Shoes should under no circumstances be placed in a dryer. If you place your Adidas wrestling shoes in a dryer the hear will destroy them and cause permanent damage.
How Should Adidas Wrestling Shoes Fit?
Adidas Wrestling Shoes should be tight and fit like a glove to ensure a wrestler can move quickly and explosively. However, the shoe should not be so tight that your toes are being crushed or you feel discomfort in your feet.
How Long Do Adidas Wrestling Shoes Last?
Adidas Wrestling Shoes last at least 2 years and many wrestlers wear them for multiple seasons. To ensure your Adidas wrestling shoes last for as long as possible make sure you take care of them!