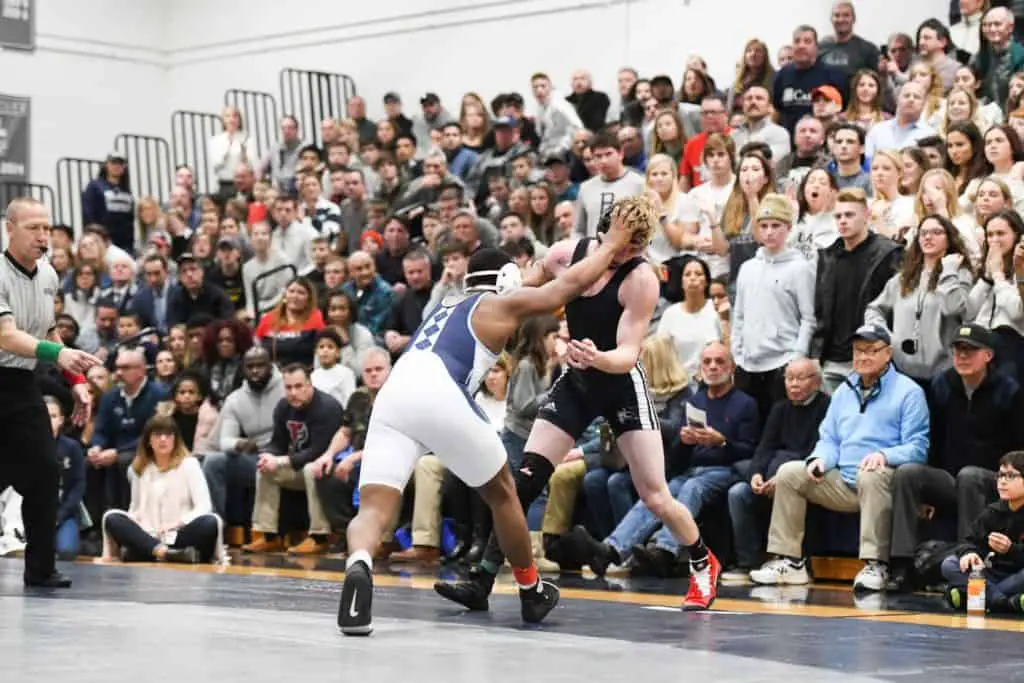 Blair Academy dominates high school folk style wrestling. Blair has won national prep team titles from 2015 through 2019 and was ranked the number 1 high school wrestling team in the USA in 2015-2016, 2016-2017, 2017-2018 and 2018-2019. Blair has secured the number 1 spot a total of 16 times. 
Blair wrestlers don't just dominate high school competition they go on to succeed at the college level. Blair has produced 17 NCAA champions and an amazing 68 NCAA All Americans. How has Blair been so successful on the wrestling mats? Let's find out!
Why Is Blair Academy So Good At Wrestling?
Blair Academy is so good at wrestling because they recruit star wrestlers from across the country. They wrestle a very tough nationwide schedule against the best wrestlers in the USA. The wrestling program was built by legendary coach Jeff Buxton who built a culture of success.
Blair Academy Recruits Wrestlers From All Over The US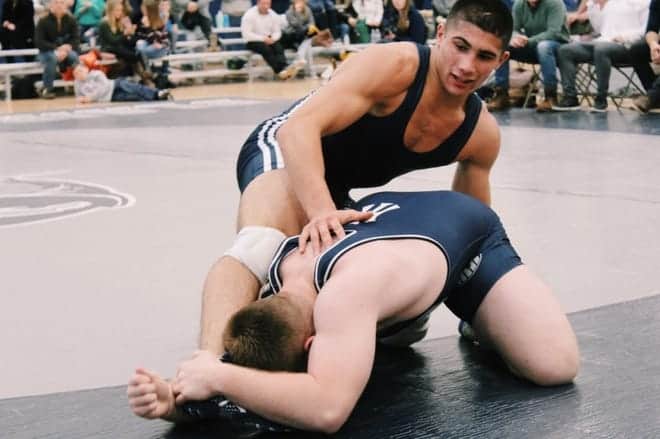 Blair Academy has a huge advantage over your typical local high school, they recruit wrestlers nationwide. Blair Academy is a boarding school and its wrestling talent pool is not limited by whoever happens to live within commuting distance of Blairstown, New Jersey.
Let's look at where some of Blair's current and former stars are from. Ed Ruth is from Harrisburg, Pennsylvania. Mark Perry is from Stillwater, Oklahoma. AJ Ferrari is from Allen, Texas. Cody Chittum is from Cleveland, Tennessee. Marc-Anthony Mcgowan is from Tampa, Florida. 
Even if your wrestling team has terrible coaching if you have the ability to just pick the best wrestlers from around the country and have them for your high school you are going to be a top team.
Blair Academy is more similar to a college than a local high school. They can scout and recruit kids all across America and then offer them a scholarship with room and board at one of the best high schools in America. How many parents would refuse such an offer especially when so many Blair wrestlers go on to study at elite colleges and wrestle at top programs.
Local high schools who don't have the financial resources to recruit are at a severe disadvantage. Their chance of landing elite athletes who have years of wrestling experience under their belts is extremely small while at Blair it is the norm as they are specifically searching for these athletes.
Blair Academy Wrestles A National Schedule And Searches For The Best Competition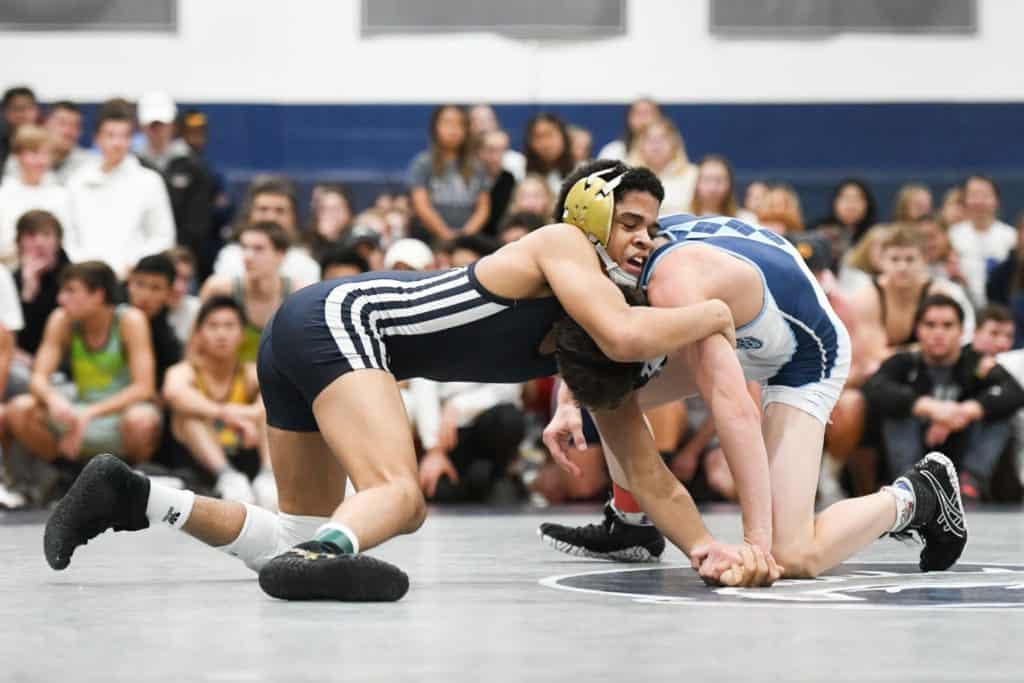 Blair Academy does not wrestle your traditional schedule. They do not just face local high schools who are within a short drive from Blairstown. Blair Academy travels across the country in search of the toughest competition to improve their wrestlers' abilities. 
The schedule is designed by the Blair wrestling coaching staff to push and test their wrestlers. They are willing to travel all over the country if it results in helping their wrestlers get to the next level.
Blair Academy always wrestles other nationally ranked schools such as Wyoming Seminary from Wyoming Valley, Pennsylvania and St Edwards from Lakewood, Ohio. These two schools are consistently ranked in the top 5 wrestling schools in the USA and consistently produce NCAA Division 1 All Americans.
Blair Academy even travels as far as Seattle, Washington and Geary, Oklahoma to check out some of the best teams Oklahoma has to offer.
Iron sharpens iron. Going out and searching for the toughest high school wrestling competition throughout the country really does elevate the skill on your team. To improve wrestlers need to be constantly pushed. This can only happen by facing difficult competition and having to deal with adversity.
How good can you get at wrestling if you only compete against wrestlers you are so much better than and pin within a minute or two?
By facing the best wrestling competition the US has to offer the Blair wrestling coaching staff are also preparing their athletes to succeed at the next level in college.
Many high school wrestlers who get their first real taste of national competition when they get to college are shell shocked and struggle to adapt. The transition from being the big fish in the small to the little fish is very challenging.
By regularly taking on national level competition Blair helps its wrestlers make a smooth transition when they hit the college level.
Blair Academy Has A Long History Of Winning At Wrestling Under The Legendary Coach Jeff Buxton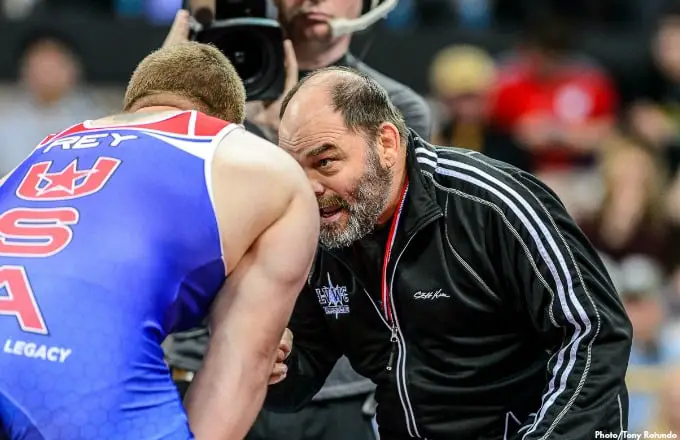 Jeff Buxton became head coach of Blair Academy in 1984 and during his tenure which lasted until 2012 was responsible for turning Blair into the best high school wrestling team in the country. Under Buxton's watch Blair produced 12 NCAA champions and 41 NCAA All Americans. 
Wrestling had always been popular at Blair Academy but it was Buxton who brought professionalism to the program which saw the program transform from good to legendary.
Jeff Buxton was a huge proponent of developing wrestling technique. At the time many other wrestling coaches were consumed by the Gable effect and thought that wrestling was all about toughness and conditioning.
Buxton took a different approach, placing a huge emphasis on skill development and arming his wrestlers with techniques that ensured they could effectively wrestle in any position.
Buxton was also very strict with his wrestlers. He expected the highest standard from his athletes. He ran an extremely tight ship and only tolerated full commitment from his team. Hi wrestling practices were notoriously challenging and he would have his wrestlers perform thousands of reps until their technique was perfect.
Buxton was the mastermind behind increasing the difficulty of Blair's wrestling schedule. He famously said that he wanted to get his wrestler's to lose by finding the toughest opponents. He believed that by losing his wrestlers would be forced to develop and grow, allowing them to reach the next level.
His theory makes sense. Why would a wrestler work harder and address their mistakes if they are constantly winning? A crushing defeat can act as a catalyst for a wrestler to improve his skill.
Buxton was an early proponent of mindset coaching. He was ahead of the curve and realised that an individual sport like wrestling required not just an iron body but also an iron mind. Buxton would work with his wrestlers on developing their confidence and their aggressiveness. He was a master at getting his wrestlers to believe in themselves and show no doubt when they were on the mats.
After Buxton resigned as head coach in 2012, Brian Antonelli took over the role in 2014. Antonelli who wrestled for Buxton in the early 90s and then went on to wrestle at the Navy Academy has continued Blair's culture of winning.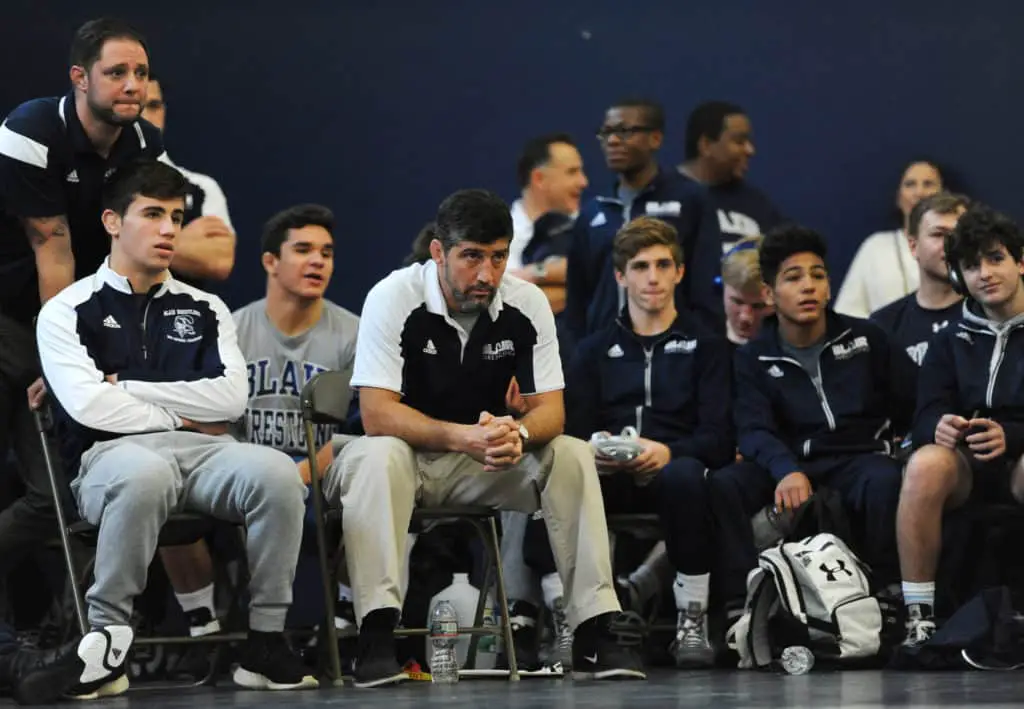 Antonelli continues to use Buxton's methods and has also added his own unique wrestling coaching skills. Antonelli has also instilled his military discipline to Blair's squad and further increased Blair's professionalism, modelling the program on NCAA Division 1 schools.
Antonelli's methods appear to be working as under his reign as head coach Blair were crowned national prep champions from from 2015 through 2019 and was ranked the number 1 high school wrestling team in the USA in 2015-2016, 2016-2017, 2017-2018 and 2018-2019.
Conclusion
Blair Academy is the best high school wrestling team in the USA. Their success is based on the fact that they recruit the best wrestlers across the country, offering them free tuition and room and board at one of the best high schools in America. 
Blair's dominance is also due to the program being built by one of the best wrestling coaches in America, Jeff Buxton. The fact that they travel across the states looking for the best competition also doesn't hurt their wrestlers' development.