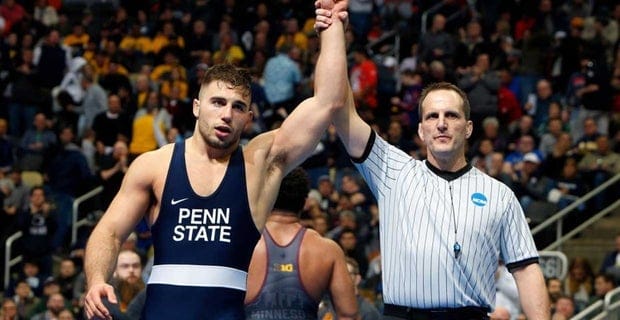 Penn State have absolutely dominated the NCAA championships in recent years. They have won the title 8 of the last 9 years, being crowned champions in 2011, 12, 13, 14, 16, 17, 18 and 19.
This dominance hasn't been seen in D1 wrestling since the Gable era at Iowa and some argue that Penn State has achieved even more success then some of those legendary Iowa teams. How exactly have they done this?
Why Is Penn State So Good At Wrestling?
Penn State is so good at wrestling because they consistently recruit the best talent, often locally as Pennsylvania is a wrestling hotbed. They are able to develop their recruits, exceeding expectations. Penn State benefits from being coached by the greatest college wrestler of all time, Cael Sanderson.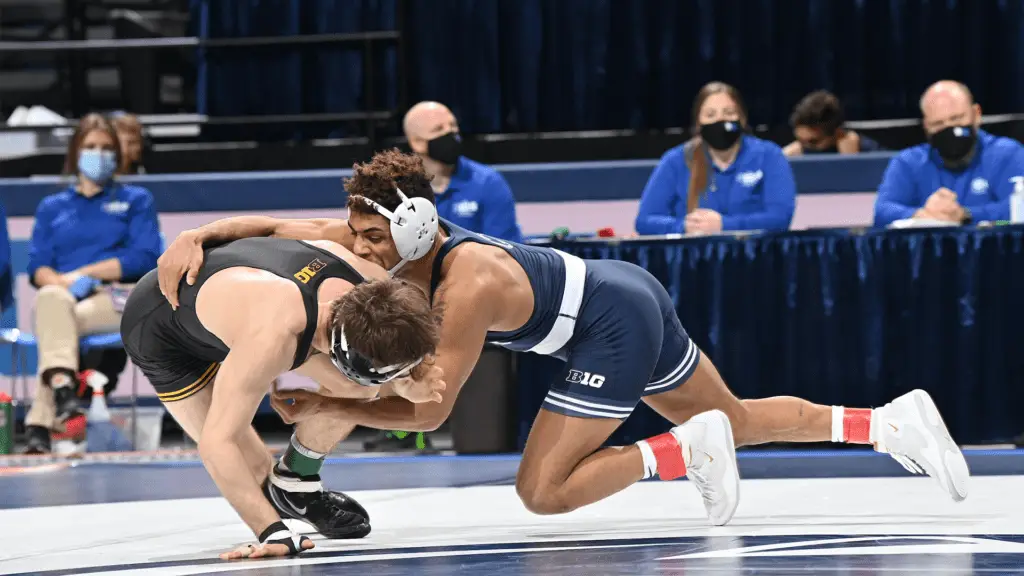 Why Is Penn State So Good At Recruiting Wrestlers?
Penn State is so good at recruiting wrestlers because they have home field advantage when signing local wrestlers from Pennsylvania, a wrestling mecca. Many wrestlers want to wrestle for Cael Sanderson whose amazing record as an athlete and coach motivates highly recruited talents to commit to Penn State.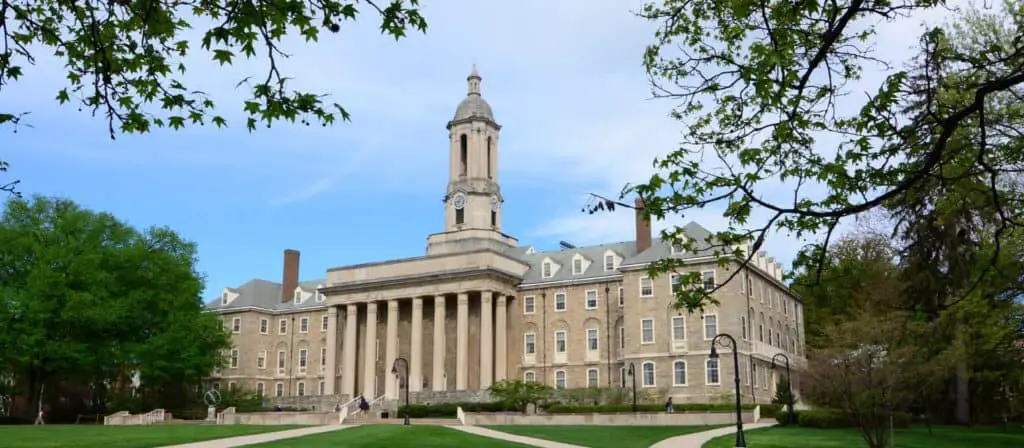 Building a successful college D1 team starts with strong recruiting. Even if you are the greatest coach in the world if you have unathletic, technically terrible and unmotivated wrestlers you are not going to win national titles. 
Penn State has shown that they can consistently attract the best recruits to their program. In 2009 they landed the nation's number 1 high school wrestler in David Taylor. In 2016, they again landed the top recruit in the country by signing Mark Hall. The tradition has continued with Penn State landing the 2021 number 1 recruit, Shayne Van Ness.
Penn State doesn't just land number 1 recruits they also snag their fair share of top 10 wrestlers. In the class of 2020 they signed the number 4 wrestler in the nation, Robert Howard and the number 7, Beau Bartlett. According to FloWrestling Penn State has achieved seven top-5 recruiting classes.
The ability to frequently sign top tier talent has allowed Penn state to build a program that can compete for national championships every year.
How is Penn State Able To Get Such Highly Ranked High School Wrestlers To Commit?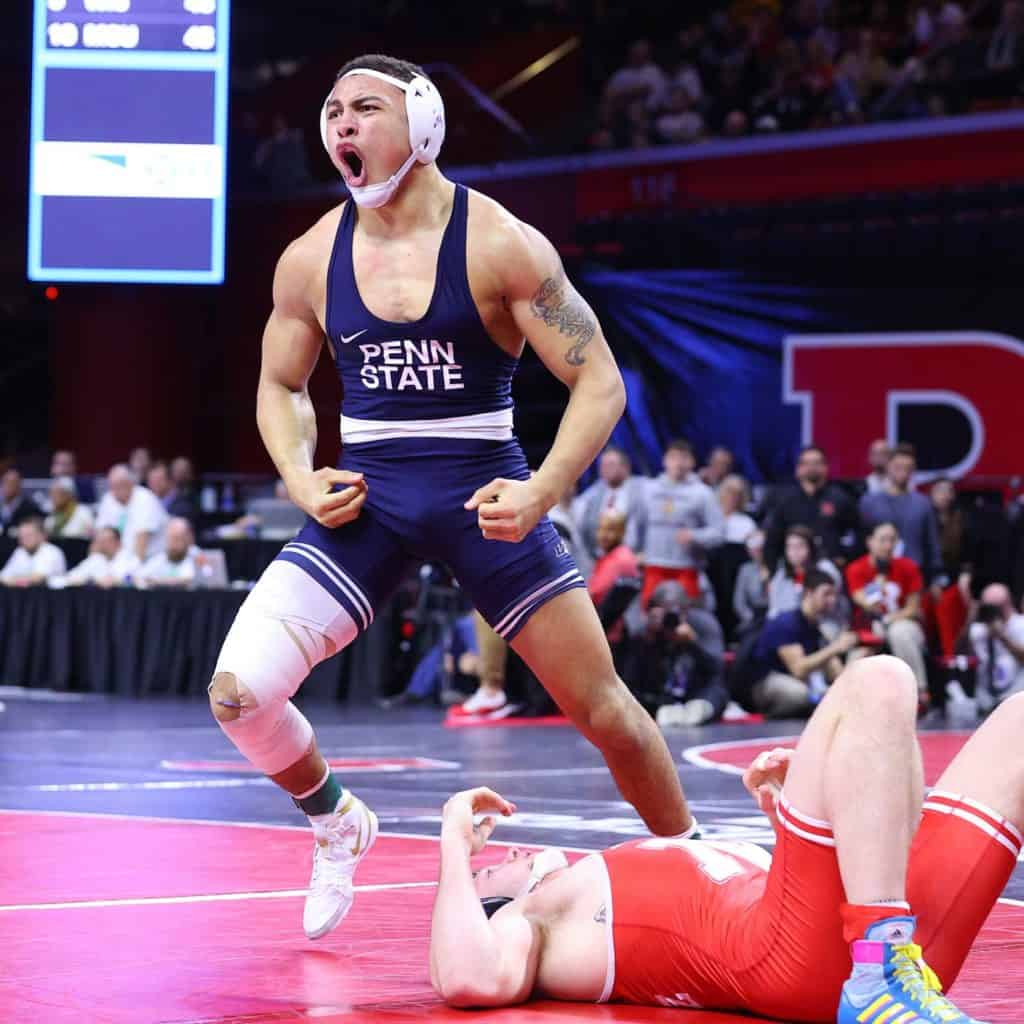 A big factor is the location of the college. Pennsylvania is by far the strongest state for high school wrestling in the entire US. Pennsylvania has produced by far the most amount of All Americans and individual national champions compared to any other state.
As Penn State is a local college for so many great high school wrestlers they are able to leverage their location to convince these wrestlers to stay in state. Many wrestlers' and their families are often very happy to stay local.
Cael Sanderson when first accepting the head coaching role at Penn State knew that being located in Pennsylvania would give him a recruiting edge.
Sanderson said, "Pennsylvania has the best high school wrestling in the country. Second to Utah, I guess," he said then and laughed. "This is wrestling country. The potential here is very interesting to me.
"I'm going get out and make sure that we keep the best kids at Penn State," he continued. "My goal is always to win. I believe that we can and will win."
Sanderson's theory has proved correct. Of his 11 NCAA champion wrestlers, six have come from Pennsylvania.
The location of Penn State isn't the only reason so many great wrestlers want to represent the Nittany Lions. Another big factor is their legendary coach, Cael Sanderson.
When 2 time NCAA champion David Taylor was asked why he wanted to wrestle for Cael Sanderson, even going so far as to uncommit from Iowa State and follow Sanderson to Penn State  he said, "Cael had a huge impact on me, just without him even knowing," Taylor said. "Just watching him and the way he competed, I wanted to be just like that. I wanted to score a lot of points. I wanted to be dominant. I wanted to imitate him as much as I could.
"When he left, there was no doubt that I wanted to follow him. I felt like he was someone who could help take me to the next level as a competitor and help me fulfill my goals."
Taylor isn't the only star wrestler he feels like the great coach can help them achieve their goals of becoming a champion.
Penn State Is Able To Develop Talented Wrestlers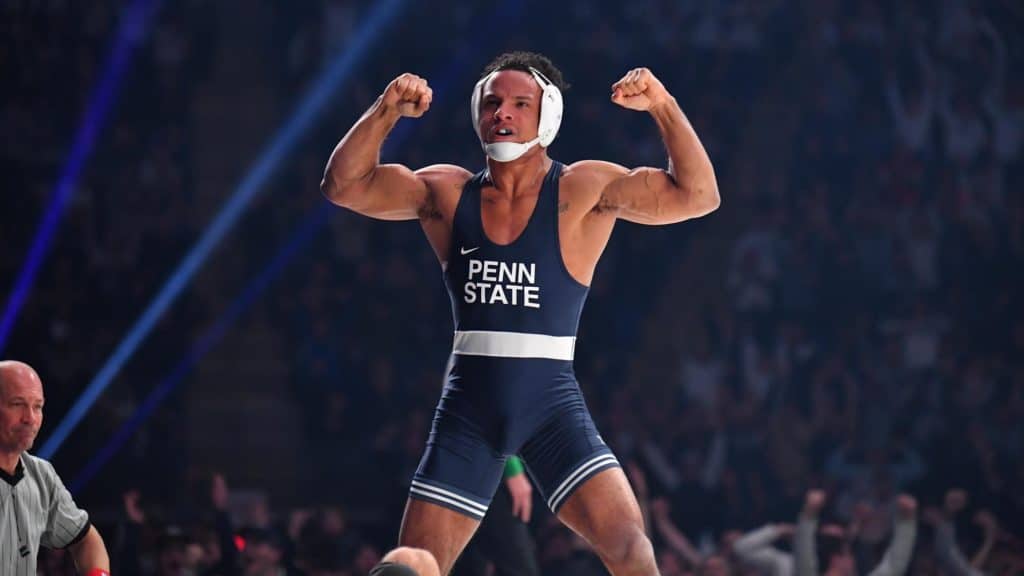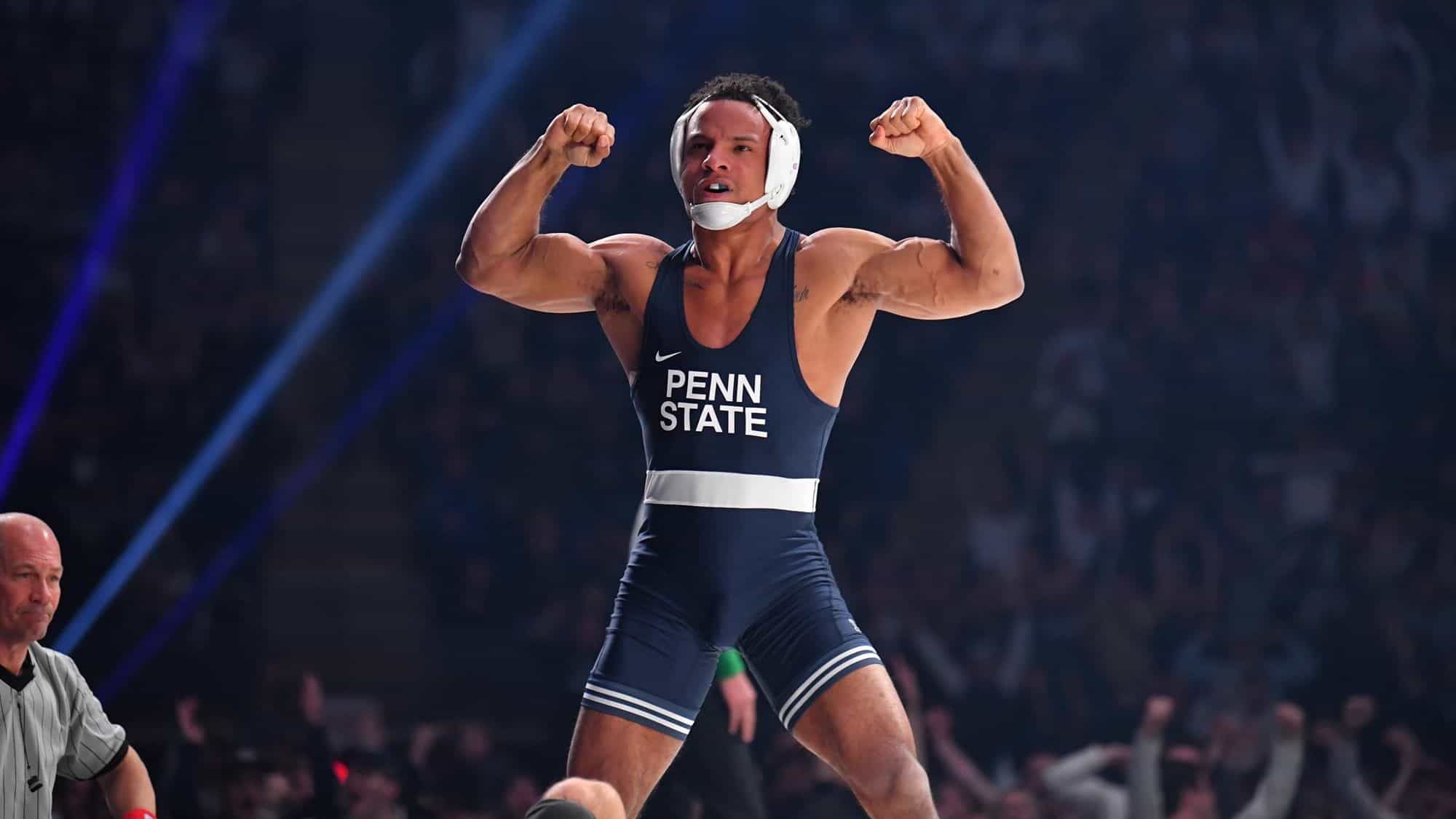 Attracting top tier talent is only half of the battle in building champion wrestling teams. The next step is developing that talent and taking your wrestlers to the next level.
Even the best high school wrestlers are rarely able to compete for national championships without significantly improving their current skills.
College wrestling is a big step up from high school. Wrestlers need to adjust to the speed and physicality of NCAA wrestling. High school wrestlers also often find out that they need to greatly improve their riding and escaping skills.
Only the best wrestling programs can take highly talented high school recruits and improve their skills and teach them to compete hard every match.
Penn State has consistently achieved this. They have attracted the best talent the US has to offer and then have been able to mould these recruits into champions. Penn State has done the very difficult task of taking athletes who were expected to do well and got them to overachieve. 
The highly touted Bo Nickal was not expected to be a 4 time finalist and 3 time champion and Cassar was not expected to be a heavyweight champion.
Taking great high school wrestlers and transforming them into amazing college wrestlers has been a signature of Penn State's wrestling program and a big part of their dominance.
Penn State Is Coached By The Greatest College Wrestler Of All Time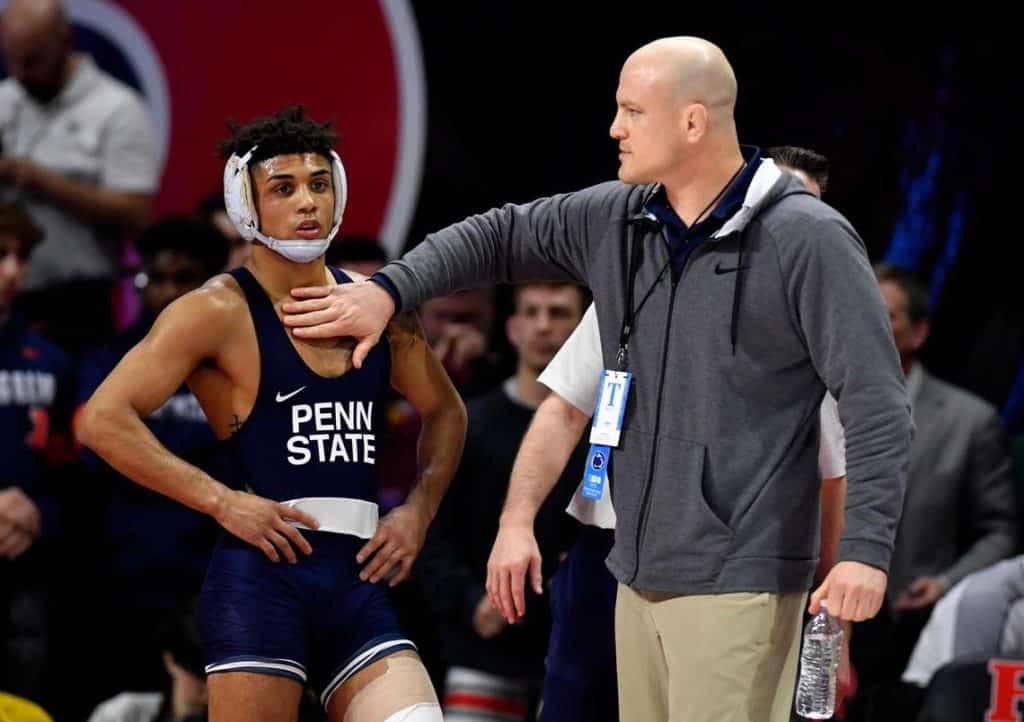 Penn State has another huge advantage over other programs, they are led by the best college wrestler of all time, Cael Sanderson. Cael Sanderson is a 4 time NCAA national champion and the only wrestler in history to go undefeated, compiling a perfect record of 159-0.
Being surrounded by this level of greatness day in and day out has a big impact on Penn State's wrestlers. How could you not believe you are going to succeed when you are being coached for hours everyday by a coach who has achieved perfection?
Finding out what Cael Sanderson does differently to coach his wrestlers than his rivals is incredibly difficult. Sanderson doesn't allow any cameras into his training sessions and is extremely tightlipped when asked about his development methods.
Head of wrestling content at FloSports Christian Pyles said, "All of the top guys are really good, and they work hard, and they win. It's very hard to get to the actual truth of how they practice and compete".
Sanderson when asked why Penn State is so good, was his usual evasive self, he said ""There's not a huge difference between programs. We're grateful for the support that we have, the staff that we have, the kids that we have, and we just want to make the most of everything that we get. That's the goal here".
Whatever Sanderson is doing is surely working as Penn State has been as dominant as even the legendary Iowa teams under Gable.