Demi Lovato is a self-admitted BJJ addict. She fell in love with the Brazilian martial art in 2016 and was so obsessed with the sports that she earned her blue belt in 2017 after only one year of training from Gracie Barra black belt Orlando Sanchez. However, as the years went on and she went through a public drug relapse Lovato's BJJ career hit the brakes.
Does Demi Lovato Still Do Jiu Jitsu?
Demi Lovato stopped training Jiu Jitsu during the pandemic as she suffers from asthma and as BJJ is a very close contact sport she was scared of catching COVID-19. She was recently vaccinated and once she has immunity plans to return to training ASAP!
Demi Lovato's BJJ career started with a burst as she was training multiple times a week and was addicted to the grappling art. However, after training for a year and receiving her blue belt she seemed to disappear from the BJJ world completely as there were no updates on her training or progression. Many fans were left wondering if their favorite singer had retired from martial arts.
While it is common for BJJ students to quit the sport after receiving their blue belt, a phenomenon coined the blue belt blues. Lovato took the blue belt blues to a new level when it was revealed that she stopped training BJJ in 2018 after going through a drug relapse that saw the star suffer a heroin overdose and nearly die. She collapsed and had to be revived with Narcan.
Lovato's drug use and subsequent rehab stint resulted in her quitting BJJ. Once the star successfully got clean in 2019 after a productive rehab stay she once again started training BJJ. The singer was training at Unbreakable Performance in Hollywood with NFL insider Jay Glazer. This gym is a celebrity hotbed with Wizz Khalifa and Snoop Dog all training there.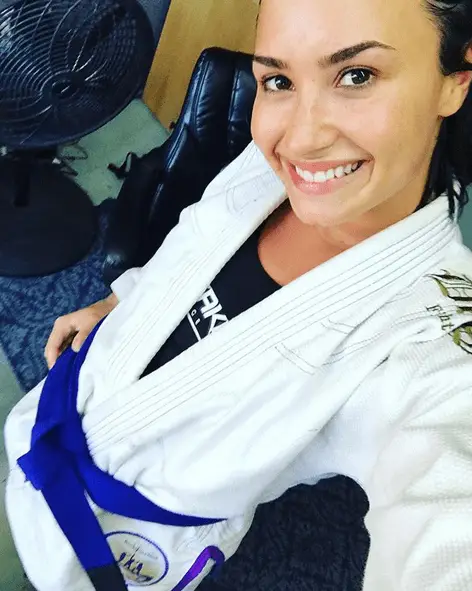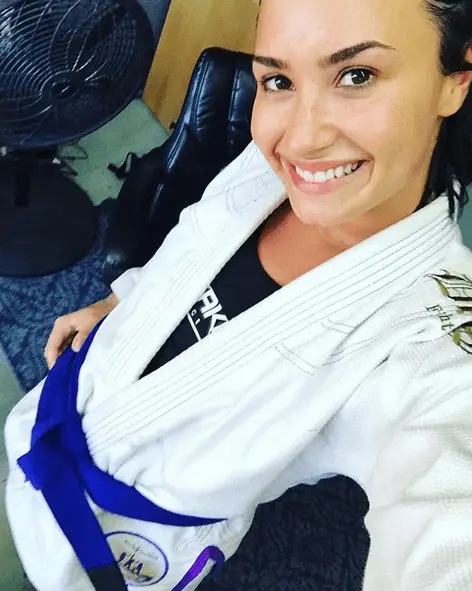 Unfortunately for Lovato she once again had to pause her BJJ training in early 2020 once the pandemic started rolling through the US. She was worried that as an asthma sufferer she would be susceptible to COVID-19 and as BJJ involves lots of close contact the risk of transmission was too high. She has not trained BJJ since the pandemic started.
Demi Lovato told Joe Rogan in her recent podcast experience that she has recently been vaccinated and once she has immunity is looking forward to getting back to the gym and training BJJ. She said she has a goal of one day reaching black belt and becoming a master in the sport.
She went on to say how shocked she was that she ever received a blue belt. She thought as a singer she would never be able to learn and get good at a full-contact martial art like BJJ. Lovato said she is really proud of herself for pushing her boundaries and achieving something that was impossible.
Lovato went on to say just much she misses and loves BJJ. She finds the sport to be very humbling when someone is on top of you choking or submitting you. But at the same time finds it extremely empowering when you are the one in control. She claims to have submitted many different people over the years.
Lovato finds BJJ a great way to overcome anxiety and stress. She compared it to a form of meditation. It helps her get into a zone where she is totally living in the moment and helps her find calmness in her chaotic busy world.
Demi Lovato is a serious BJJ athlete with the skills to match her blue belt. Don't take our word for it ask her coach Chris Light, who recently gave Lovato her 2nd stripe on her blue belt. Light said Lovato is very athletic and deceptively strong and explosive. He said if you relax against her she will quickly take your back and lock up a submission.