NCAA wrestling features some of the most outstanding wrestling that you will see anywhere in the world. And throughout its stored history there have been some amazing wrestlers who have represented their colleges and won multiple titles. In this article we are going to break exactly who are the best college wrestlers of all time!
Check out our other article to find out who the 10 best freestyle wrestlers are!
Who Is The Best College Wrestler Of All Time?
The best college wrestler of all time is Cael Sanderson who not only managed to win 4 NCAA titles but he never lost a match and posted a perfect record of 159-0. It is unlikely there ever will be a college wrestler as good as the Iowa State legend Cael Sanderson.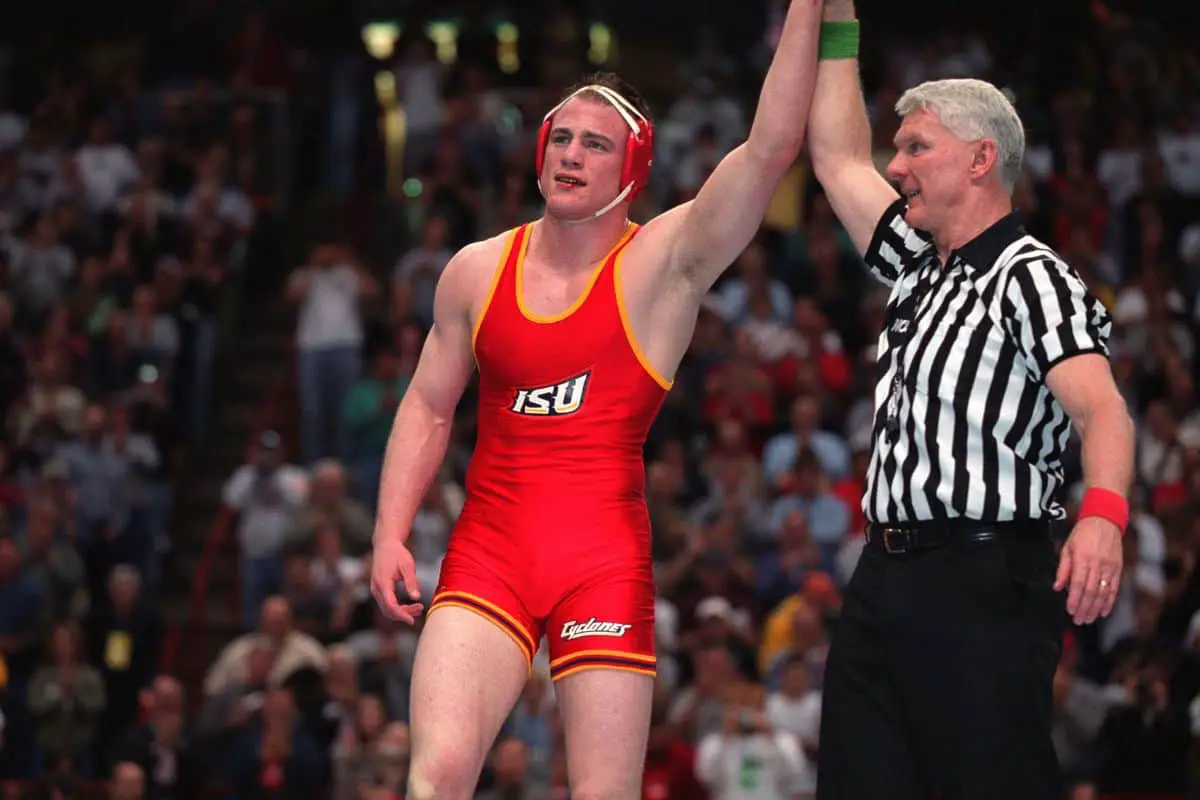 Who Are The Top 10 College Wrestlers Of All Time?
1. Cael Sanderson, Iowa State
Even though there have been so many amazing college wrestlers over the years there is a clear NCAA GOAT, Cael Sanderson from Iowa State. Sanderson could not have been more dominant over his career as he went undefeated from 1998 to 2002 and put a perfect record of 159-0. Cael Sanderson's amazing career saw him win 4 NCAA titles and he also bagged 3 Hodge Trophies (NCAA wrestling's MVP award). In his career he easily beat world class wrestlers who would go on to win world medals including Daniel Cormier, Brad Vering and Brandon Eggum.
Cael Sanderson didn't just rest on his laurels after his college career was done he turned up at the 2004 Olympics in Athens and walked away with the gold medal! Now Cael Sanderson is the head coach of Penn State and is doing an amazing job leading them to title after title!
2. Kyle Dake, Cornell
Kyle Dake did what many considered to be impossible and won 4 NCAA titles at 4 different weight classes. Dake managed to start his career down at 141 pounds before eventually winning the 165 pound title in his senior year. Even more astonishing, he decided to bump up from 157 pounds in his final year because he wanted to take on who many thought was the best college wrestler at the time, David Taylor who was the defending champ at 157 pounds.
3. Yojiro Uetake, Oklahoma State
Yojiro Uetake was an incredible wrestler who learned his trade in Japan was known for his incredible technique which was far advanced compared to his peers. Uetake used his technical prowess and lightning quick speed to snatch three NCAA titles at 130 pounds for Oklahoma State in the 1960s and went undefeated in college. He won the Outstanding Wrestler of the tournament twice and even more impressively went on to win 2 Olympic gold medals for Japan in 1964 and 1968.
4. Logan Stieber, Ohio State
Logan Stieber is one of the select few to win 4 NCAA titles and was known for beating some highly credential athletes including double champion Jordan Oliver at 133 pounds and two-time Hodge Trophy winner Zain Retherford at 141 pounds. Stieber's amazing number of titles and his resume has secured him a top 4 spot on our list and his world gold in 2016 is just the cherry on top!
5. Pat Smith, Oklahoma State
It is a pretty amazing effort to be the 5th best college wrestler of all time but still be the second best wrestler in your family. Pat Smith was the very NCAA wrestler to do the unthinkable and win 4 NCAA titles. He also achieved a  very impressive 98 match unbeaten streak. Pat Smith's final college record was 154-7-2.
6. Dan Gable, Iowa State
There may never be a wrestler who was as intense as Dan Gable. Dan Gabe would absolutely crush his opponents who after a few minutes would give and fold as they could keep with the furious pace that Gable would set. Dan Gable was known for revolutionizing the training methods of wrestling and placing a huge emphasis on conditioning and contested drilling. Dan Gable's work ethic and insane mental toughness which saw him win 2 NCAA titles and won every match of his college career except the 142 pound NCAA final in 1970. He went on to win world and Olympic titles for the U.S before coaching the Iowa Hawkeyes to 15 NCAA titles.
7. Dan Hodge, Oklahoma
You know you must have been a good NCAA wrestler when the college wrestling MVP award is named after you! Hodge was an absolute beast in the middleweight class and managed to secure 3 NCAA titles! Hodge was known for being an incredible pinner and many of his matches didn't last long. Hodge also went on to win an Olympic silver medal and could easily crush apples with one hand!
8. Lee Kemp, Wisconsin
Lee Kemp was known for his incredible speed, explosiveness and over athleticism. Kemp combined his athletic gifts with his technical process to win 3 NCAA titles at 158 pounds at his time at Wisconsin. Kemp was renowned for his mental toughness which allowed him to win 110 matches in a row! Lee Kemp also managed to win 3 world titles at the senior level which cemented his wrestling legend status.
9. Mark Schultz, Oklahoma
Mark Schultz was one of the biggest and baddest dudes going around back in the 80s. Schultz emerged victorious in a crazy NCAA match when defeated Iowa's Ed Banach in the 1982 NCAA finals in the 177 pound weight class. Nobody thought Banach was going to lose but Schultz came out and started throwing Banach all over the place and managed to win. Schultz furter secured his legend status in wrestling by winning world and Olympic titles for Team USA.
10. Kyle Snyder, Ohio State
Rounding out the top 10 is the legendary and still active Kyle Snyder! Kyle Snyder nicknamed Snyderman won 3 NCAA titles while at the same time travelling around the world to compete in international events. Snyder even managed to win gold at the Rio 2016 Olympics at just 19 years old! The multi-time world champion competed in college as a heavyweight and would regularly crush opponents who outweighed by 40 pounds or more! Some of his biggest wins were over legends like Adam Coon and Nick Gwiazdowski who would both go on to win world medals!
Wrapping Things Up
The absolute GOAT of college and NCAA wrestling is Cael Sanderson who not only won 4 titles but never lost a match. Other legends include Kyle Dake, Pat Smith and Logan Stieber who all managed to win 4 NCAA titles!