Greco Roman wrestling was featured in the very first modern Olympics in 1896 in Athens, Greece and is practiced by people all over the globe. This unique form of wrestling where you can not touch the legs has witnessed some incredible athletes. In this article we are going to look at the 10 best Greco Roman athletes of all time!
Check out our other article to find out who the 10 best freestyle wrestlers are!
Who Are The Best Greco Roman Wrestlers Of All Time?
Alexander Karelin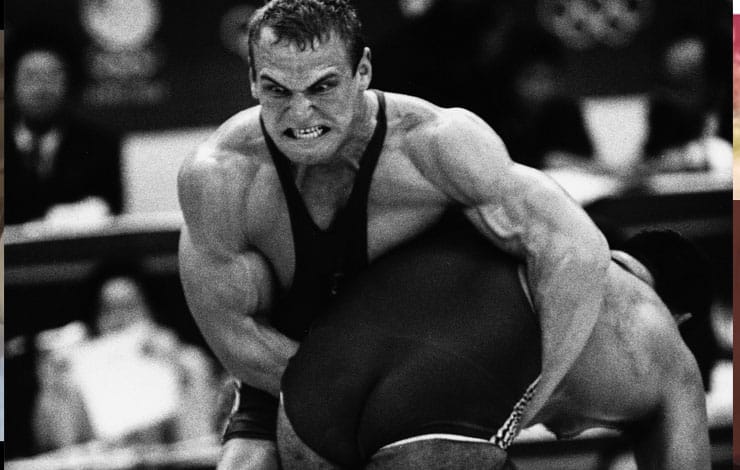 The GOAT of the Greco world is none other than Alexander Karelin. Nicknamed the Siberian Experiment, Karelin amassed an almost unbelievable record of 887 wins and 2 losses. Karelin's career included 3 Olympic gold medals and 9 world championship titles. There are few athletes in any sport who have dominated as much as this legendary Russian Greco Roman wrestler.
To put in perspective how good Karelin was at Greco Roman when he was asked by a reporter what his toughest match was he replied carrying a brand new refrigerator up 5 flights of stairs to his apartment!
Mijain Lopez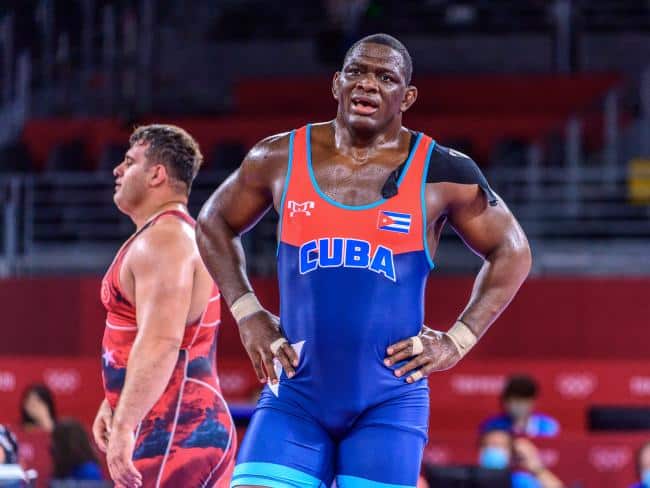 Lopez hasn't just defeated hundreds of men in Greco Roman matches he also conquered father time! At the 2020 Tokyo Olympics Lopez won his record-setting 4th Olympic gold medal at the age of 39! Lopez crushed athletes that were almost half his age as the giant Cuban put on a technical masterclass.
The 6ft 6 Cuban has had an amazing career that has also seen him claim 5 world gold medals and 3 silver medals. If he can manage to win another few more world titles and somehow win another Olympic title he will overtake Karelin and become  the best Greco Roman wrestler of all time!
Carl Westergen
You can be forgiven if you have never heard of Carl Westergen as this Swedish legend was born way back in 1895 and was dominating Greco Roman competitions in the early 1900s. Hailing from Malmo Westergren competed in the heavyweight class and was known for crushing his opponents with his amazing strength.
Carl Westergen had an incredible career that saw him win 3 Greco Roman Olympic gold medals. He secured Greco Roman Olympic victories at the 1920 Antwerp, 1924 Paris and the 1932 Los Angeles Games. The Swedish great also added a world title from the 1922 Stockholm championships.
Valery Rezantsev
Valery Rezantsev is one of the most dynamic Greco Roman wrestlers of all time. Rezantsev was known for his creative technique and ridiculous athleticism. The great Russian went through an incredible winning streak from the early to mid 70s. During this run the Soviet Greco Roman specialist managed to snag seven consecutive world titles, including gold medals at the Munich and Montreal Olympics. It is no surprise that Valery  Rezantsev was swiftly inducted into World Wrestling Hall Of Fame in 2003!
Vincenzo Maenza
Nobody thought Vincenzo Maenza would ever amount to much. The Italian suffered from scoliosis and was a small underdeveloped child who was teased for being weak by his classmates. However, that didn't stop this feisty Italian from making 4 appearances at the Olympic games and taking the Greco Roman world by storm. Vincenzo Maenza had a fantastic career which saw him claim two Olympic gold medals at Los Angeles in 1984 and Seoul in 1988. He also managed to take home a very hard fought Silver in his final Olympic appearance in 1992 in  Barcelona.
Which Country Is The Best At Greco Roman Wrestling?
Russia is the best country at Greco Roman wrestling as they have won the most team titles (41 including Soviet Union) and consistently produce world and Olympic champions. In 2nd place is Turkey with just 2 team titles.
Russia has been and continues to be incredibly dominant in Greco Roman wrestling and have won an astonishing 41 out of  50 team titles!
Is America Good At Greco Roman Wrestling?
America is not good at Greco Roman wrestling and has only ever won the team title once. America has struggled to produce medalists and has only managed to produce 2 Olympic gold medalists in over 100 years of competition.
Americans grow up wrestling predominantly folkstyle wrestling which has a focus on leg attacks and does not emphasis throws or traditional par terre. Due to this American wrestlers who have attempted to transition to Greco Roman wrestling have found it difficult and not had much success.
In recent years more youth wrestlers are training in Greco Roman and the US has set up specific training centres in an effort to improve results. However, these results have not materialized yet and it may be another 10 years before Team USA can start putting athletes on the podium at world Greco tournaments.
Who Is The Best American Greco Roman Wrestler Of All Time?
Rulon Gardner is the best American Greco Roman wrestler of all time as he managed to win an Olympic gold medal at the 2000 Sydney Olympic Games and defeat the legendary Alexander Karelin. Garden also won a world gold in 2001.
Rulon Gardner is indisputably the best American Greco Roman wrestler thanks to his Olympic gold (2000), bronze (2004 and world gold (2001). Only 1 other American Greco Roman wrestler has managed to win a gold medal and that was Jeff Blatnick who won gold in 1984 but never managed to win another medal due to health complications.
Wrapping Things Up
It is undisputed that the best Greco Roman wrestler of all time is Alexander Karelin. With 3 Olympic gold medals, 9 World Championships and an incredible record of 887 wins and 2 losses it is unlikely we will ever see a wrestler as dominant as Karelin. However, Lopez by winning his 4th Olympic gold has shot up to second place but his lack of world golds puts him firmly behind Karelin in the GOAT discussion.