Khabib has had such a remarkable and dominant career. What really stands about Khabib is his ability to completely ragdoll and control high level MMA fighters. There are lots of great wrestlers in the UFC but no one has been able to relentlessly pursue takedowns and exhibit such smothering top pressure as Khabib has. In this piece we will analyze what makes Khabib so good at wrestling.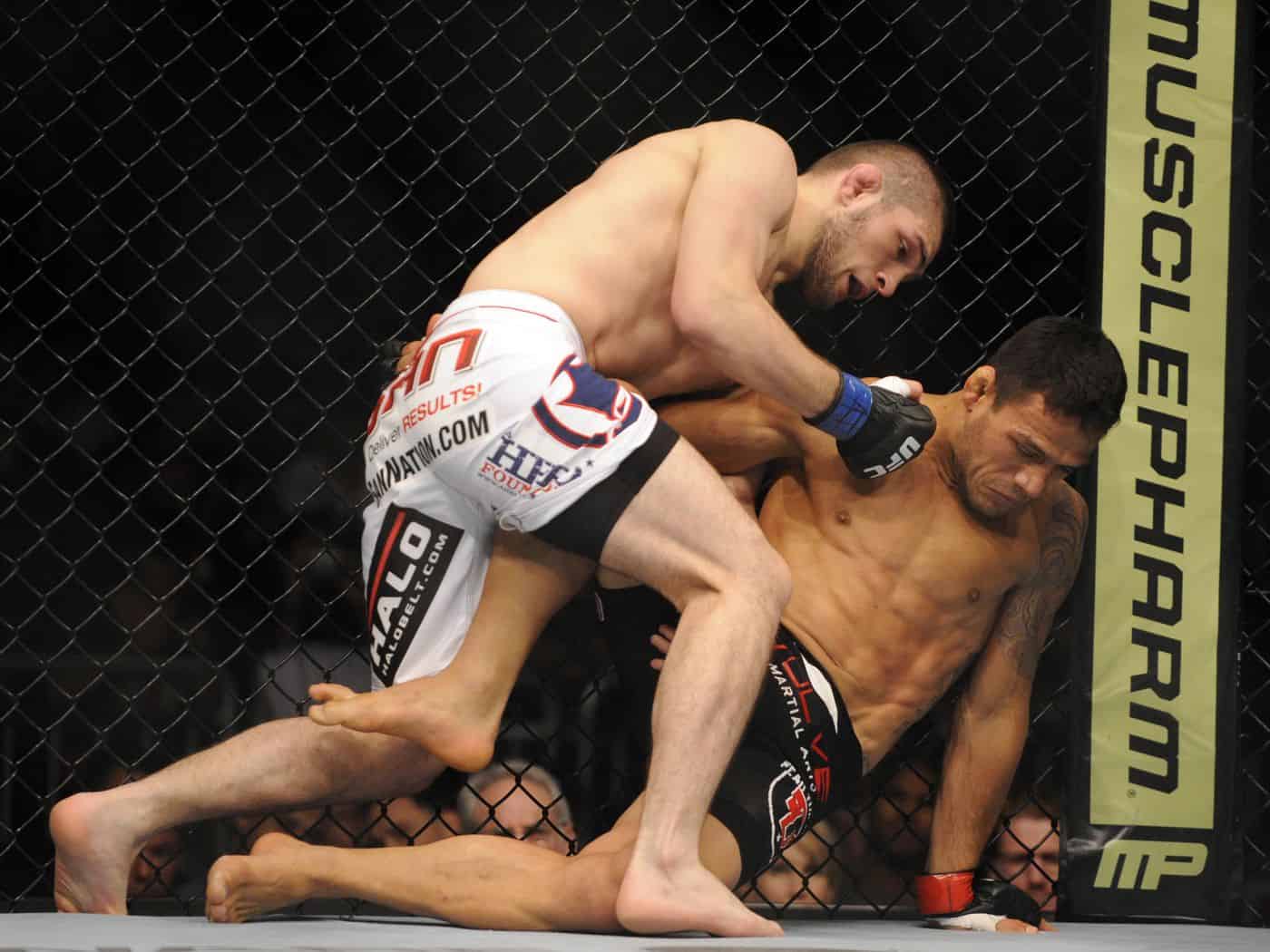 How is Khabib so good at wrestling? Khabib is so good at wrestling because he learnt to wrestle as a child in Dagestan which has produced the most Freestlye wrestling champions of any region in the world. Khabib's Father was an expert at grappling and taught Khabib how to use wrestling effectively in MMA. 
Khabib begun training wrestling as a child in Makhachkala, Dagestan. Dagestan is a Freestyle wrestling champion-producing factory. In Dagestan wrestling is the most popular sport even more so than football. A large percentage of young boys from this region train in wrestling from childhood.
Magomed Magomedkerimov who grew up wrestling with Khabib and hails from the same village said, "Dagestan has so many champions because everybody fights, from childhood to going to some fighting club, wrestling, boxing, you can get bullied on the streets. Every kid tries to go to the gym, train, and learn how to fight".
Magomedkerimov thinks the reason Khabib is so good at wrestling and had so much success in the UFC is because of the difference between American and Dagestani wrestling, "in America, they try to train more physical, hard training. In Dagestan, they train more on technique and skills. It is a more beautiful style of wrestling".
Gaidar Gaidarov, who is the head coach at a top tier wrestling academy in Dagestan said Dagestan produces so many champions because, "This tradition is over 100 years old. Our great grandparents wrestled, and we have national wrestling high in the mountains". Gaidarov continued, "I think it's genetic — our grandparents wrestled, we wrestled and our children will also wrestle".
What Type Of Wrestling Does Khabib Do?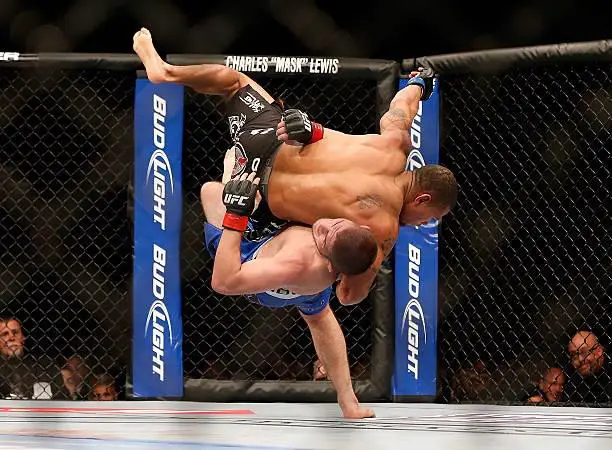 What type of wrestling does Khabib do? Khabib trained Freestyle wrestling for 4 years from age 11 to 15. Khabib then trained Judo for 2 years as a teenager before finally training Sambo for a number of years from age 17 to his early twenties.
Khabib has trained in 3 types of wrestling, Freestyle, Judo and Sambo.
Freestyle Wrestling
Uniform – singlets, not allowed to grab clothing
Attacks – upper body and leg attacks allowed
Submissions banned
Scoring – points awarded for takedowns and back exposure, instant victory awarded for a pin
Most popular in Russia and USA
Russia most successful nation
Olympic sport
Judo
Uniform – Judogi, similar to Japanese kimono
Attacks – upper body throws and trips, leg attacks banned
Submissions allowed – most popular submission armbar
Scoring – points awarded for throws where athlete is thrown onto side, instant victory awarded for pins lasting 20 seconds, submissions and throws where athletes land on their backs
Most popular in Japan and France
Japan most successful nation
Olympic sport
Sambo
Uniform – Jacket similar to Judogi, shor athletic shorts
Attacks – upper body and lower body takedowns are permitted
Submissions are allowed except chokes
Scoring – points awarded for throws and pins, perfect throw where attacker remains standing while opponent lands on back results in instant victory, submission results in instant victory
Most popular in Russia and Ukraine
Russia most successful nation
Not an Olympic sport
By training in these 3 types of wrestling Khabib has turned himself into a complete wrestler. He has taken pinning techniques and leg attacks particularly single leg attacks from freestyle wrestling, trips and throws from Judo and Sambo and submissions particularly the triangle and armbar from Judo and Sambo.
Is Khabib A Wrestler?
Highlight Of Khabib's Wrestling
Is Khabib a wrestler? Yes, Khabib is a wrestler. Khabib trained in Freestyle wrestling from age 11 to 15 in Dagestan. Khabib is also a Judoka training in Judo from aged 15-17 and a Sambo athlete training in Sambo from age 17 winning two world titles in 2009 and 2010.
Did Khabib Actually Wrestle A Bear?
Did Khabib actually wrestle a bear? Yes, Khabib would wrestle bear cubs as a child. His father would get Khabib to wrestle a bear to see what he was capable of. There is a video of Khabib at 9 years old wrestling a Dagestani Brown Bear.
Here Is A Video Of Khabib Wrestling A Bear At 9 Years Old In Dagestan
Khabib's father, Abdulmanap told journalists when asked about Khabib wrestling bears, 'Firstly, a child always wants his father to see what his son is capable of. It is a pity that there was nothing more interesting when he was younger. In the end, this was a test of character more than exercise'.
PETA the infamous animal rights organization heavily criticized Khabib for wrestling with bears. They asked the UFC to reprimand the star fighter and reconsider their relationship with him.
PETA UK Director Elisa Allen said 'wrestling with a chained bear is loathsome behavior that shows an utter lack of respect for and consideration of who these animals are'.
Is Khabib A Black Belt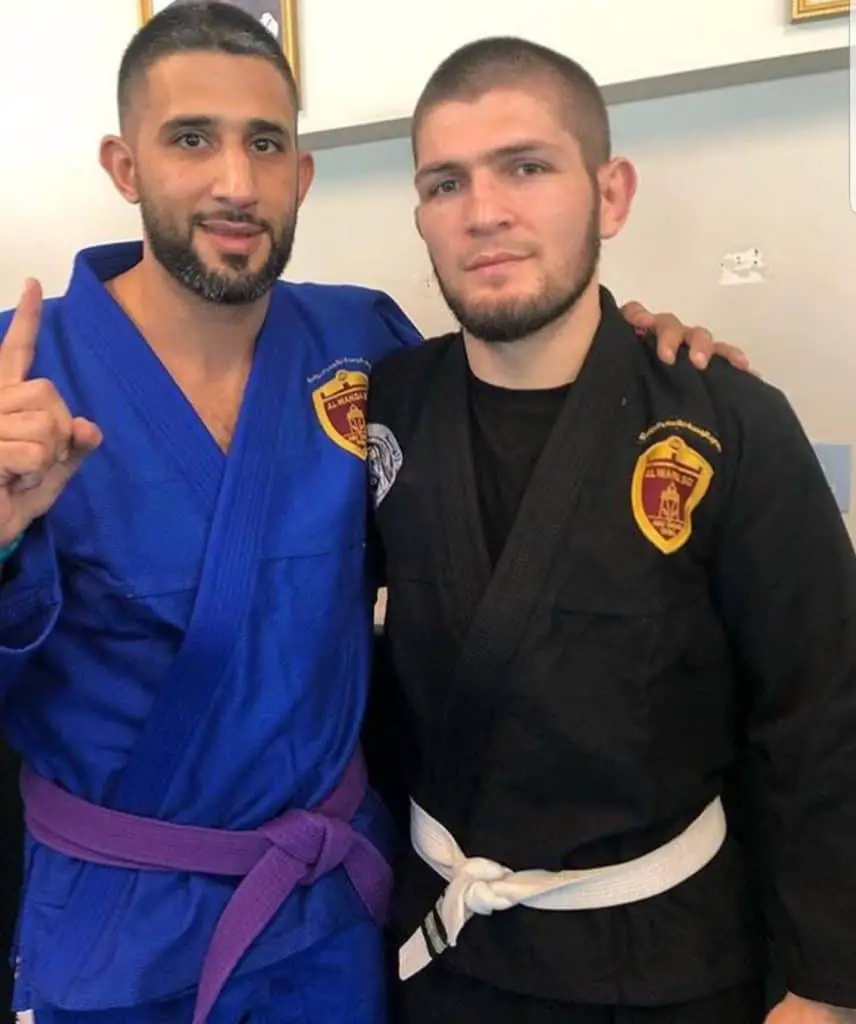 Is Khabib a black belt? Khabib is a black belt in Judo training in the sport for many years under the guide of his Father. Khabib is not a black belt in BJJ, instead the UFC champion is a while belt. His BJJ white belt is not indicative of Khabib's skill rather of the fact he does not train in the sport.
Did Khabib Wrestle In The Olympics?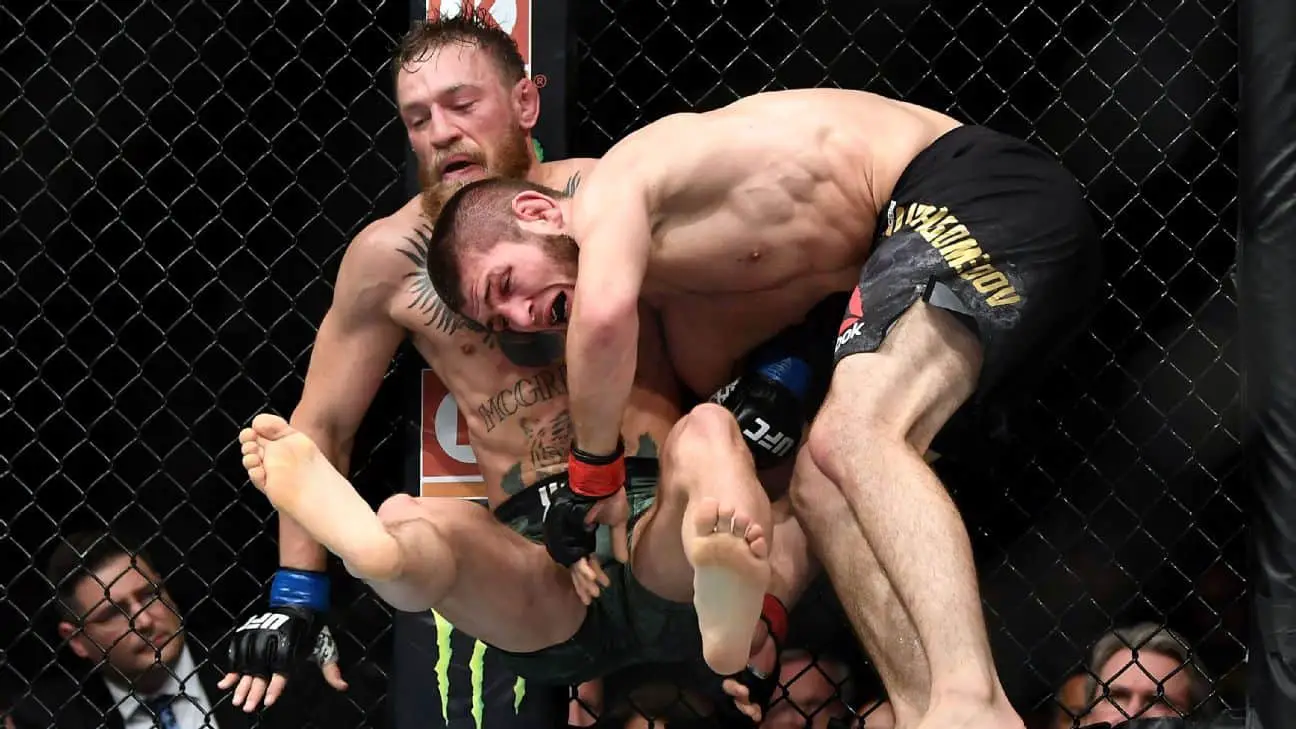 Did Khabib wrestle in the Olympics? No, Khabib did not wrestle in the Olympics. Khabib stopped wrestling at the age of 15 to focus on Judo and Sambo at the request of his Father. Khabib was a good local wrestler in Dagestan however as the region is a hotbed for talent it was unlikely Khabib was going to make the Russian national team.
Wrestling in the Olympics is extremely difficult. It is even more difficult if you are from Russia. To represent Russia at the Olympics you have to win the Russian national championships. As Russia has so much talent this is extremely challenging. If you win the Russian national championships not only are you the number 1 in Russia but most likely you are a favorite to win an Olympic medal.
Khabib was not only wrestling in Russia but he was wrestling in Dagestan which produces the majority of Russian Olympic medalists. To qualify for the Russian nationals Khabib would have first had to get through the stacked local Dagestani competitors and then defeated wrestlers from other regional powerhouses such as Ossetia to earn a ticket to the Olympics.
Even though Khabib was a promising wrestler due to the competitiveness of wreslting in Dagestan and Russia the chance of Khabib making the Olympics was small. This may have played a role in his Father instructing Khabib to stop training in Freestyle wrestling at 15 and instead transition to Judo and Sambo.
Is Khabib A Black Belt In BJJ?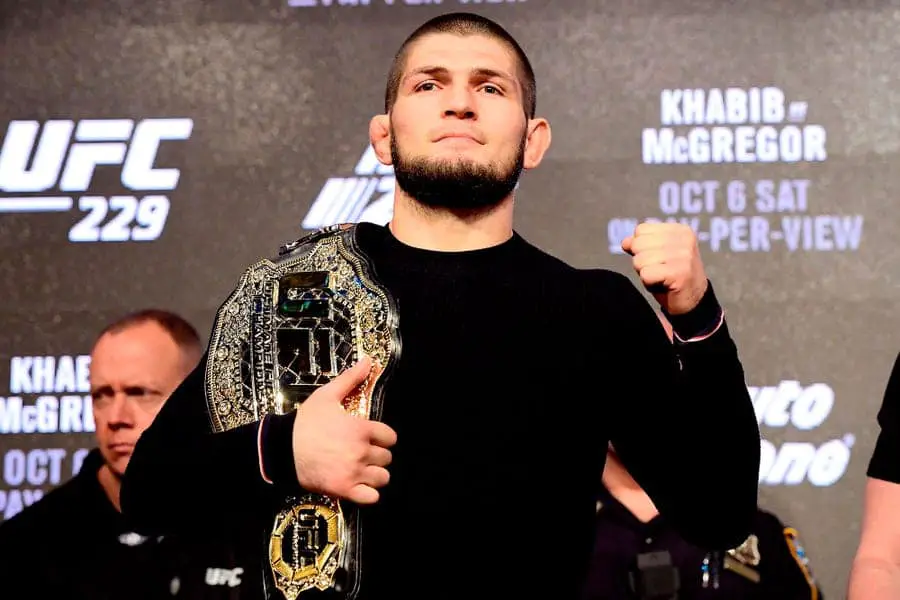 Is Khabib a black belt in BJJ? No, Khabib is not a black belt in BJJ. Khabib does not train in BJJ and therefore holds no in the sport. The few times Khabib has trained in BJJ he has worn a white belt. Khabib's grappling is based on wrestling, Judo and Sambo, not BJJ.
Khabib has an amazing ground game. He exhibits such dominating control over his opponents using pinning techniques to trap them in half guard while he unleashes a barrage of elbows and punches. Khabib also has great submissions. He has a very smooth and technical armbar and triangle which he used to put Justin Gaethje to sleep.
Despite Khabib's impressive ground game the Russian fighter does train in BJJ. While Khabib may have the skill of a BJJ black belt, he is in fact a white belt because he does not train the sport. The few times the champion fighter has trained BJJ he has worn a white belt. It would be hilarious to watch Khabib enter a white belt BJJ tournament and see the shock on his opponent's faces.
BJJ is not the only sport that has ground fighting. Khabib has shown that a fighter can develop world class ground fighting skills without training BJJ. One may argue based on Khabib's success that BJJ may not in fact be the most effective ground fighting martial art. Instead the combination of wrestling , Judo, Sambo which Khabib used so effectively in the UFC may be more effective than BJJ.
Conclusion
Khabib's wrestling has been so dominant in the UFC. He has relentlessly taken down, pinned, beaten and submitted high level UFC fighters including college wrestlers and BJJ black belts. The reason Khabib has been able to do this is because he learnt to wrestle as child in Dagestan which is by far the best region for wrestling in the world. This schooling in the wrestling gyms of Makhachkala combined with training in Judo and Sambo from his father has allowed Khabib to become a supremely dominant wrestler.