College wrestling may not be a big money maker like football or basketball but it still has legions of fans who are super passionate about their team. Also if you know anything about the grind of NCAA wrestling you know the insane hours head coaches put into getting their team ready and them guiding them through the season.
It is not uncommon for college wrestling coaches to be putting in 14 hour days, organizing training, running practice, fundraising, recruiting, studying tape and doing a bunch of admin stuff to ensure the program keeps chugging along. So based on the number of hours they put in and the popularity of wrestling you would expect wrestling coaches to be making millions right? Well let's find out!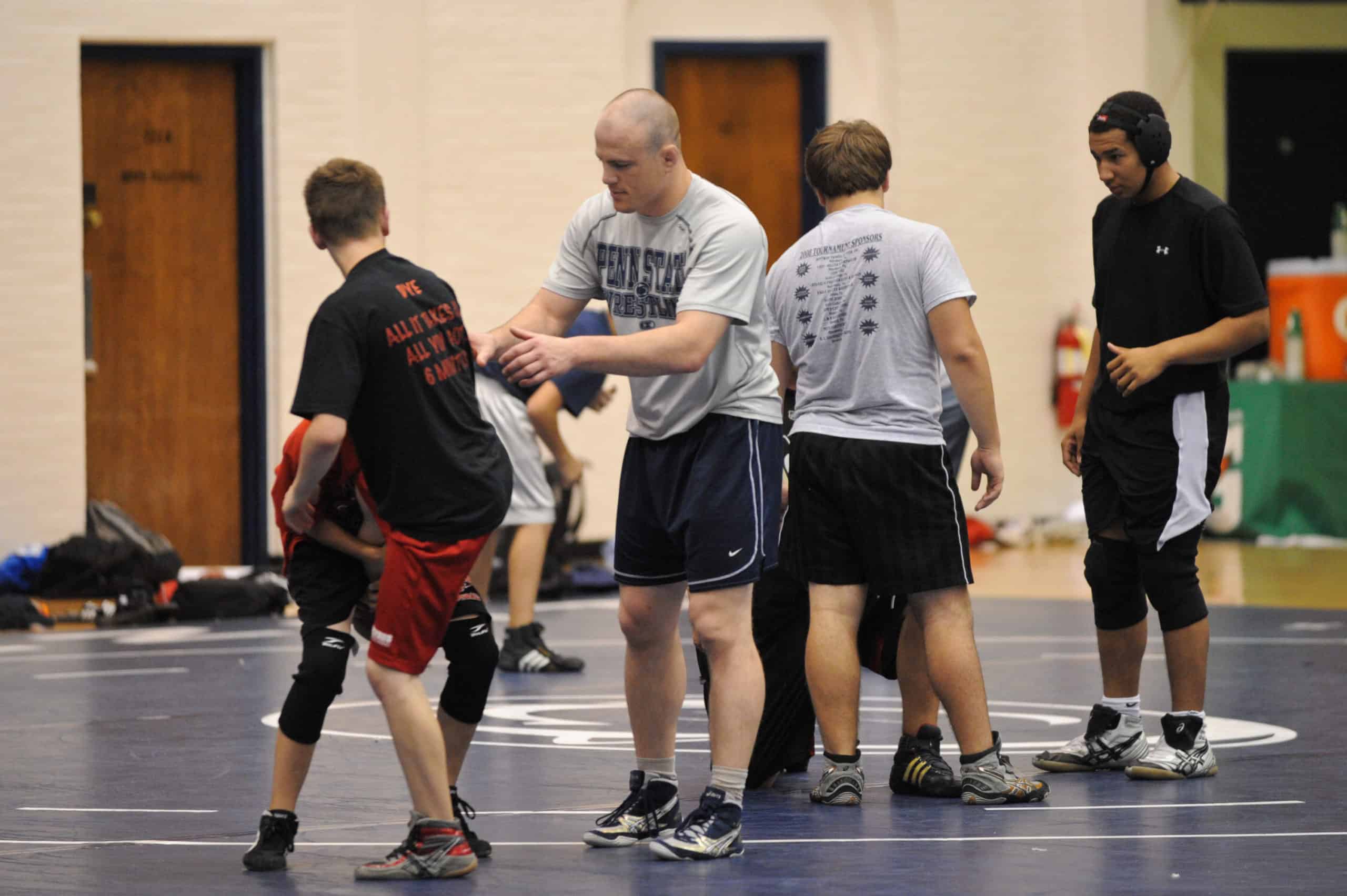 How Much Do College Wrestling Coaches Make?
Division 1 college wrestling coaches make on average $150,000 per year. Coaches in the Big 10 conference average over $200,000 yearly. Tom Brands the head coach of the Iowa Hawkeyes pulls in the biggest salary at $450,000 per year.
While NCAA Division I wrestling coaches certainly earn a nice living (6 figures is nothing to sneeze at) doing a job they love they don't make anywhere near the cash that head football and basketball coaches make. Let's just compare Tom Brands' very respectable $450,000 to the biggest earner in college football, Nick Saban. In 2021 Nick Saban earned $9.1 million that is slightly over 20 times what Brands pulled in. College basketball isn't too far behind with John Calipari of Kentucky walking away with a cool $8 million in 2021.
How Do NCAA College Wrestling Coaching Salaries Work?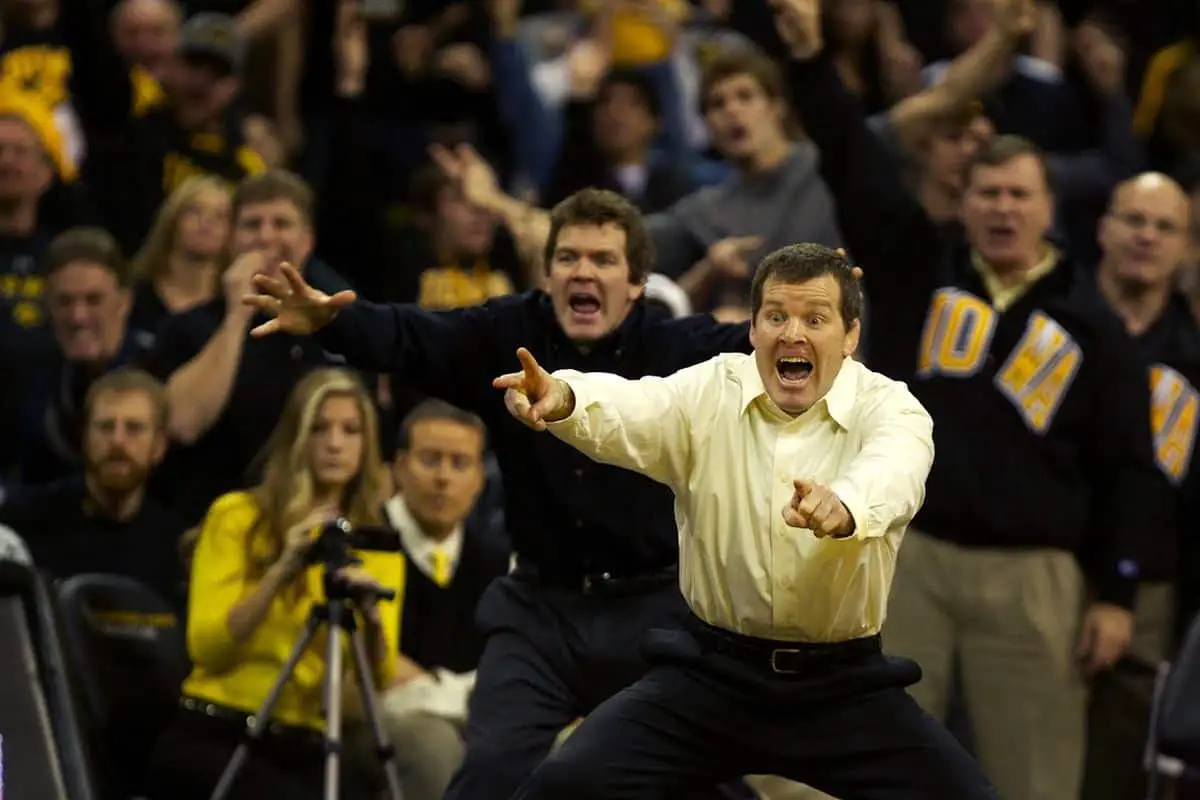 NCAA wrestling coaches receive a base salary, a range of performance bonuses such as producing national champions and financial reward for appearing at functions and media appearances.
When people first hear about some big time college wrestling coach's salary they are often surprised at how low it is. However, usually they are only paying attention to the base rate which is misleading because by the time the season is over many college coaches have doubled their base salary.
Let's look at Rutger's head wrestling coach, Scott Goodale's salary as an example of a coach earning way more than his base to give you an idea of how their salary is broken down. For the 2019 season Goodale was paid a base salary by Rutgers of $180,000 but at the end of the year he ended up receiving almost $250,000. Here are bonuses Goodale received:
$3600 for each national qualifier
$5400 for each All-American
$9,000 for every national champion
$1800 for every Big 10 Champion
Thanks to especially strong performances from Anthony Ashnault and Nick Suriano who both won National Championships Goodale walked away with a bunch of cash. Goodale also receive a 1% bonus for every wrestler who earned All-American academic honors which sent his salary even higher.
Scott Goodale's salary is very common in NCAA wrestling but you will also find other conditions thrown in. For example in Tom Brands' salary he is guaranteed $60,000 on top of his base in club appearance fees and another $40,000 in media rights. With such juicy inclusions it is no wonder that Brands is set make close to $500,000.
How Much Do College Wrestling Assistant Coaches Make?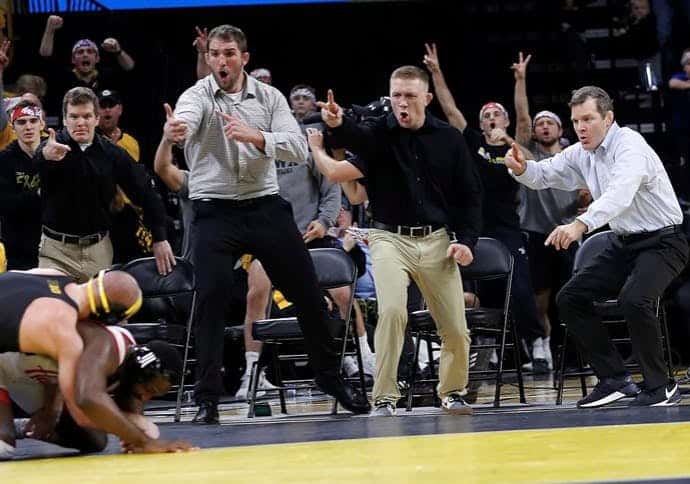 College wrestling assistant coaches make between $40,000 and $100,000 per year. The salary depends on the size and the prestige of the program. Assistant coaches in powerhouse programs such as Iowa and Penn State are making $100,000 per year. 
While assistant wrestling coaches make significantly less than head coaches they can still earn a healthy salary. Many of us would love to teach and wrestle all day for a living. Another thing you have to consider is that many of these coaching salaries include housing so if you are pulling in $100,000 and you get free housing that effectively 1.5x your salary particularly if you are living in an area with high rents.
Most assistant coaches are dreaming of landing that big time and big earning head coaching role. It is common for assistants to stay at a top program for a number of years before taking the reigns at a smaller program and earning well over 6 figures.
How Much Do College Wrestling Volunteer Assistant Coaches Make?
Volunteer assistant wrestling coaches salaries range from $0 if they are still a student all the way up to $100,000 if they are a high profile athlete and are attached to a program with strong fundraising. This is because volunteers are not paid by the university but are funded privately and typically paid through the wrestling club associated with the university. 
The volunteer assistant wrestling coach position is kind of strange. When you hear the word volunteer you expect it to be an unpaid position that some young former wrestler is occupying while he dips his toes into the world of coaching but then you find out legends like Kyle Dake and Olympic gold medalist Jake Varner are volunteer assistants and surely they are being compensated?
Well the fact is most volunteer assistant coaches are being paid but they are not allowed to receive compensation from the university. Instead their salary is paid for by fundraising or paid out of the funds of the private wrestling club associated with the university. Due to these salaries being private it is hard to know exactly what they are being paid but there are rumors that Dake and Varner are both earning close to $100,000 from their roles and this is very believable based on the profile of these two coaches and the deep pockets that are involved in wrestling at Cornell and Penn State.
There are some volunteer assistant coaches who do not receive any compensation. However, these coaches are quite rare, usually they are students or are coaching at very tiny schools which don't have the capacity to fund raise.
So there you have it college wrestling head coaches average $150,000 per year, assistants around $75,000 per year and volunteer assistants $50,000 per year. The size of the salary depends on the program the coach is coaching at, how well the team performs and the coach's accolades and experience.