Freestyle wrestling has been around since 1904. For over 100 years athletes have been battling it out on the mat and we have seen some absolutely amazing competitors. But which freestyles wrestlers have separated themselves from their peers and established themselves as the best freestyle wrestlers of all time? Let's find out!
Check out our other articles to find out who the 10 best Greco Roman wrestlers and college wrestlers are!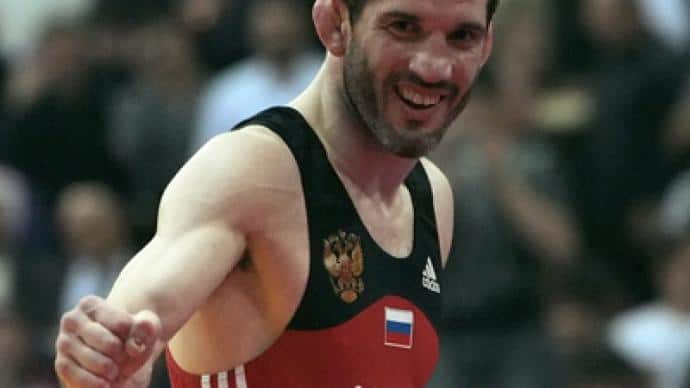 Who Are The Best Freestyle Wrestlers Of All Time?
The best freestyle wrestlers of all time are:
Buvaisar Saitiev
Sergei Beloglazov
Aleksandr Medved
John Smith
Arsen Fadzayev
Bruce Baumgartner
Makharbek Khadartsev
Valentin Dimitrov Yordanov
Khadzhimurat Soltanovich Gatsalov
Who Is The Greatest Freestyle Wrestler Of All Time?
The greatest freestyle wrestler of all-time is indisputably Buvaisar Saitiev from Russia. Saitiev has a record 3 Olympic gold medals, 6 World Championship gold medals, 6 European titles. His career spanned 13 years after winning his first World gold medal in 1995 and then his final Olympic medal in 2008.
How Good Was Buvaisar Saitiev?
Saitiev is the number 1 freestyle wrestler in the history of the sport. His number of Olympic gold medals combined with his length of reign and his ability to also win numerous world and European titles sets him apart from his peers.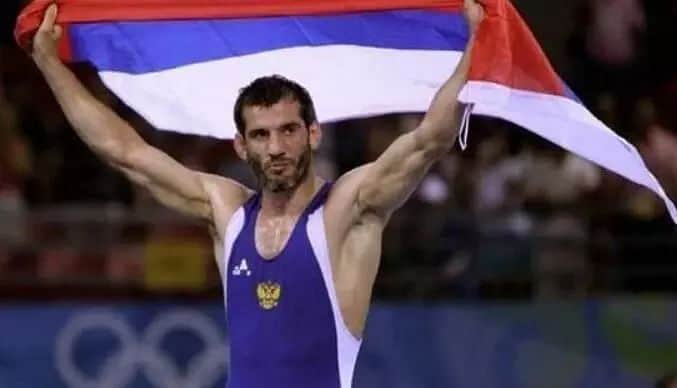 Saitiev is an ethnic Chechen but grew up in Russia's freestyle wrestling champion building factory also known as Dagestan. Saitiev started wrestling at the age of 10 in his hometown of Khasavyurt which also produced 2 time Olympic gold medalist Mavlet Batirov, not bad for a city of just over 100,000 people. Buvaisar showed promise from an early age and as a teenager he was sent to a full time wrestling academy in Siberia. Here he would train for hours every day perfecting his craft. After graduating from this academy he would go on to win his first World Championship gold medal at just 20 years old.
What Made Buvaisar Saitiev So Good?
Buvaisar Saitiev was so good because he had incredible balance which made it almost impossible to take him down. He also had incredible grip strength and hand fighting ability which allowed him to set up his attacks while preventing his opponents from escaping his clutches.
Buvaisar Saitiev was an all around master wrestler. He had a lightning quick single leg that he seemed to be able to snatch from any position. You would blink and then somehow this lanky 6ft wrestler had gone from an upright stance to a low sweep single and end up finishing clean on his opponent. The audience was left shocked and so were his opponents.
Saitiev had a very unusual body type for a wrestler. Most wrestlers tend to have a bulky frame with thick legs, arms and back. Not Saitiev, standing at 6ft he competed in the 74kg weight class and he looked almost frail compared to his heavily muscle bound opponents. This height gave Saitiev some extra advantages and unusual attacks.
As Saitiev was so tall he stood with a high stance which often resulted in opponents getting to his legs. However, due to his long legs and amazing balance opponents rarely ever managed to finish leg attacks and would often get countered in the process. Many opponents would not shoot takedowns against Saitiev because he would use his lanky frame to counter their attacks and either throw them or end up grabbing a hold of their legs.
Saitiev's extra height helped him finish one of his favorite takedowns, an outside trip known as Osoto Gari in Judo. Since Saitiev we have never seen a wrestler use this technique anywhere nearly as effectively as Saitiev. Saitiev would use his incredible strong grips to secure and off balance his opponent and then his long legs to create a huge amount of force. The result was his opponent would go flying through the air and Saitiev would score another easy takedown.
Buvaisar Saitiev was known for being amazing an hand fighter and having superhuman grips. Wrestlers who competed against Saitiev described him as having incredibly sticky grips that they just couldn't clear and get rid of. By keeping hold of his opponents Saitiev could move them wherever he wanted, make them carry his weight and then when the time was right throw them off-balance and shoot a takedown.
Is Abdulrashid Sadulaev The Best Wrestler Ever?
Abdulrashid Sadulaev is already in the top 10 wrestlers of all time however he is still behind Saitiev in terms of greatness. If Sadaulaev wins another Olympic gold medal and adds a few more world titles he will be the undisputed GOAT of wrestling.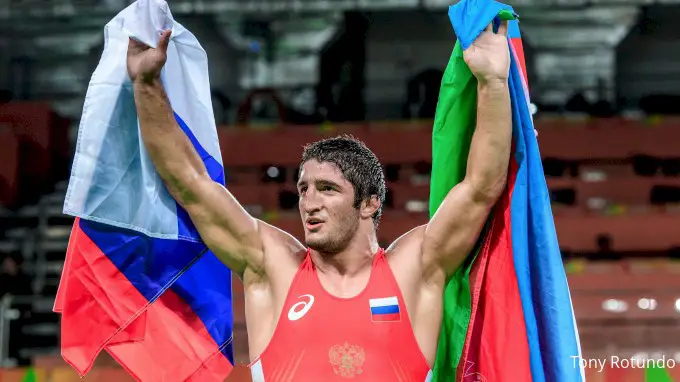 Sadulaev is the only current active wrestler who is on the all time great list. He entered the discussion among all-time greats after winning his second Olympic gold medal and defeating rival American Kyle Snyder at the 2020 Tokyo Olympics. Sadulaev now has 6 world titles which is equal to Saitiev and only 1 less Olympic gold medal. Also Sadulaev has only lost one match in his adult career which was against Kyle Snyder. He has now gone on to avenge that loss two times, pinning Snyder in the World final in 2018 and comfortably defeating him the Olympic final in Tokyo.
I think Sadulaev will definitely rise significantly in the wrestling all time rankings and if manages to win 2 more world titles and 1 more Olympic gold medal everybody in the wrestling world will acknowledge him as the GOAT.
How Is Sadulaev So Good?
Sadulaev is so good because he has incredible hips that make it so hard to not only establish a lock around his legs but then finish a takedown. Sadulaev also has a lightning quick swing single, the best gut wrench in international wrestling and an amazing ability to score from the front head lock/head pinch position.
Sadulaev is such a powerful wrestler and has the perfect blend of speed, power and flexibility. The few times Sadulaev has ever found himself in danger he has shown immense mobility by being able to hip into his opponent and wriggle his way out of takedowns even with one of his legs elevated.
Scoring on Sadulaev is an almost impossible task because you not only have to get through his incredible head and hands defense but then you need to bypass his ridiculously powerful hips. Most of his opponents who do manage to get to his legs end up getting tilted as he uses a head pinch to expose them and quickly score two points.
When Sadulaev isn't exposing his opponents he is shooting a super fast swing single and after securing the two immediately transitioning into a gut wrench where he often secures multiple turns. Sadulaev's gut wrench allows him to easily tech many of his opponents as after getting a 2 point takedown the Russian tank only needs 4 gut wrenches before the referee stops the match.
Who Is The Best American Wrestler Of All Time?
The best American wrestler of all time is John Smith followed by Bruce Baumgartner and then Jordan Burroughs. John Smith won 2 Olympic gold medals and 6 world titles which gives him a slight edge over Baumgartner who lacks Smith's world titles. Burroughs is a little behind with 1 gold Olympic medal and 4 world titles.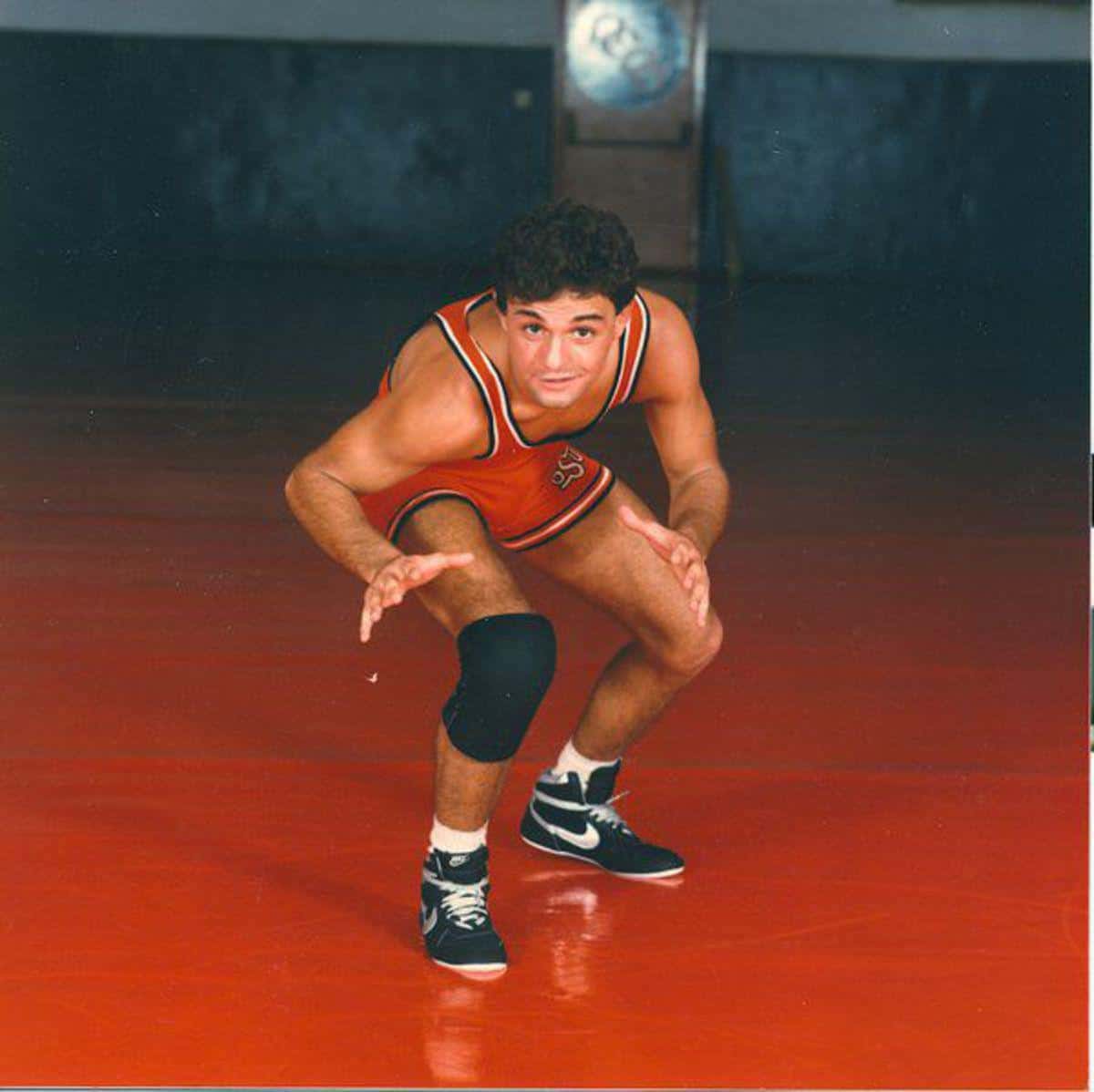 There is definitely a debate over who the best American wrestler ever is. Some think Baumgartner because he won 4 Olympic medals (2 gold, 1 bronze and 1 silver).
While others argue Burroughs because he has had to compete at one of the toughest weight classes in the world (74kg) and has had to compete against multiple competitors from Russia who compete for different nations and other wrestlers from the former Soviet Union whereas Smith and Baumgartner only had to face a single Soviet wrestler in international competition. Unfortunately, Burroughs' failure in the 2016 Rio Olympics really hurts his GOAT status.
While most wrestling fans agree John Smith is the best American to ever wrestle. Smith managed to secure 2 Olympic gold medals and 6 world titles which puts him in a class of his own. Burroughs still has a chance to catch him but would need to win at least 3 more world titles and probably an Olympic medal which now seems unlikely due to his age and the emergence of Kyle Dake.
Is John Smith The Best Wrestler Of All Time?
John Smith is the best American wrestler of all however Buvaisar Saitiev is the best wrestler of all time. Saitiev has the same number of world titles as Smith but he has an additional Olympic gold medal.
Saitiev not only has an additional Olympic gold medal compared to Smith but he also had to compete against tougher competition. Saitiev had to battle fellow Russians to earn his spot on the Russian team and then compete against wrestlers from former Soviet countries who are wrestling powerhouses such as Azerbaijan, Georgia, Belarus, Kazakhstan and Ukraine. He also had to defeat Russians who had switched countries.
Why Was John Smith So Good At Wrestling?
John Smith was so good at wrestling because combined fantastic cardio with innovative and world class technique. Smith's foreign opponents had no answer for his pace and revolutionary low single leg attack.
John Smith was an innovator in the world of wrestling. Prior to Smith most wrestlers would shoot a single leg and aim around their opponent's knees. While this technique is effective wrestlers are great at defending this attack by sprawling.
Smith instead of shooting at his opponent's knees would shoot at their ankle. This made it much harder to sprawl and made it easy for Smith to get under his opponent's hands. The result was Smith was able to get to his opponent's legs time and time against and had an exceptionally high finishing rate.
Is Jordan Burroughs The Best American Wrestler Ever?
Jordan Burroughs is the 3rd best American wrestler of all time behind John Smith and Bruce Baumgartner. Some people argued he should be ranked above those 2 based on facing tougher competition but they both have 1 more Olympic gold medal and Smith has 2 more world titles than Burroughs.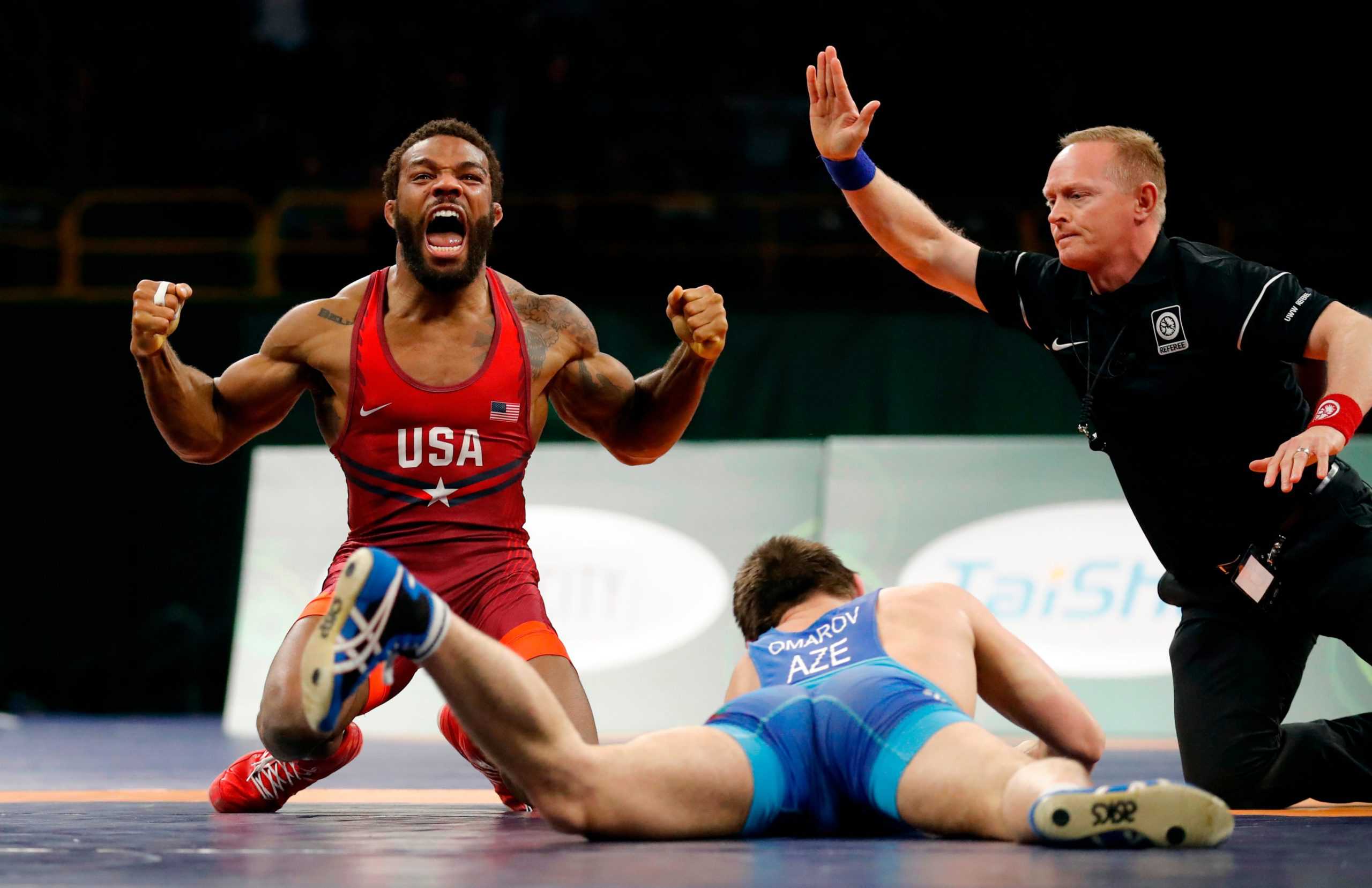 Jordan Burroughs is without a doubt one of the best wrestlers of all time to step on the mat. Unfortunately, he is not quite on the level of John Smith and Baumgartner and just falls out of our list of the top 10 of all time. Burroughs would probably have overtaken Smith if he had managed to win in Rio and won at least one more world title.
Despite Burroughs having a few mishaps in his career he is an all time great especially considering just how many Russians and former Soviet wrestlers he has had to beat. The only Russian with a winning record against Burroughs is Sidakov!
Why Is Jordan Burroughs So Good?
Jordan Burroughs is so good at wrestling because has amazing explosive strength that he was able to use to innovate an effective variation of the double leg where he drives through and finishes on his knees. This new style of double leg is harder to counter and quicker to score.
Jordan Burroughs is a freak athlete with some of the most explosive power the wrestling world has ever seen. His ability to violently snap his opponents and then shoot an insanely fast double leg was unheard of.
Burroughs in 2012 and 2013 was able to shoot outside double legs so fast that his world class opponents weren't even able to throw in a whizzer or sprawl. Burroughs was just way too quick and once his opponents stood up after being double legged they had this look of shock on their face. You could tell that they had never experienced so much speed or power in their life.
Wrapping Things Up
So there you have it the best wrestler all of time is Buvaisar Saitiev and the best American wrestler to ever step on the mat is John Smith who is in the top 10 of all time in many people's including our top 10. The only active wrestler on our list is Abdulrashid Sadulaev who recently won gold at the Tokyo Olympics. If Sadulaev can win another Olympic gold and 1 or 2 more world titles he will go down as the GOAT!