If you are getting serious about MMA or BJJ then you need to invest in a rash guard or two. A rash guard will prevent skin irritation and diseases, provide some support to your muscles and stop your partner's hands and feet getting caught in your shirt. Finding the right rash guard is not easy especially since there are 100s of companies producing them. To help you out we have compiled a list of the best 15 rash guards for BJJ and MMA in 2022! Check out our list below:
Best 15 BJJ and MMA rash guards summary
Best overall rash guards: Hayabusa Geo Long Sleeve, Hayabusa Men's Marvel Hero, Venum Devil,
Best cheap rash guards: Sanabul Essentials, Elite Standard Long Sleeve, LAFROI Rashguard, Adoreism Rashguard
Best for creative artworks: Raven Fightwear Berserker,

Hardcore Training MMArio, Raven Fightwear CypbePunk, Hardcore Training Old Tattoo 2.0, SHOGUN Fight Rashguard

Best for IBJJF legal ranked rash guards: Sanabul Star Wars Intergalactic Series, RVCA VA, Venum Nogi 2.0
Why Our Top Rash Guard List Is Accurate?
We looked at in excess of 200 rash guards and almost 40 which we or our training partners own. We spent approximately 20 hours comparing these different rash guards, reading reviews and checking out their designs, features and materials. Every rash guard was scored and now you can enjoy our picks for the very best in 2022!
Hayabusa Geo Long Sleeve
The Hayabusa Geo is a sleek looking rash guard with a bunch of great features including:
Super durable reinforced flatlock stitching
Silicone waistband so no need to worry about your rash guard riding up
Multi-way stretch fabric that promotes mobility
Dye-print that gives off an aesthetic look
The Geo comes in blue, grey, and red!
Hayabusa Men's Marvel Hero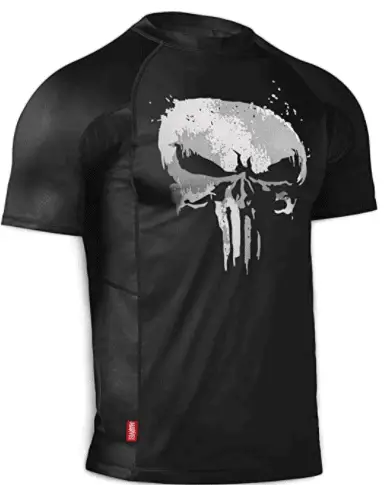 If you love superheroes you are going to love Hayabusa's awesome Marvel collection which includes Captain America, the Punisher and the Flash. These rash guards don't just look cool they also have amazing features such as:
Inner silicone banding to keep your rash guard secure
Prevent overheating through unique design
Reinforced stitching to prevent tearing
An unsurpassed blend of polyester and elastane which offers the best in comfort
Venum Devil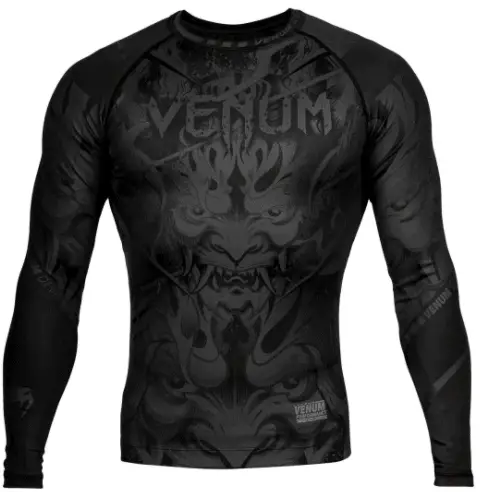 Venum is one of the most famous MMA and BJJ brands. Venum sells its products all over the world and has recently become the exclusive gear supplier of the UFC. Venum has some of the best designs of all rash guards their unique Devil shirt is no different. With this rash guard you get:
Reinforced flatlock stitching
Silicone waistband to prevent your shirt moving and bunching
Multi-way stretch fabric to have you moving effortlessly around the mat
Sublimation print to keep the design looking brand new!
Sanabul Essentials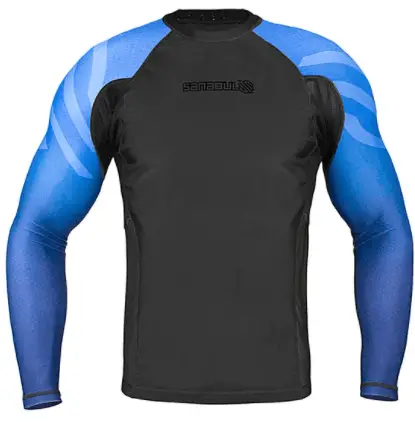 If you are looking for an affordable but still high quality rash guard you can't go wrong with a Sanabul Essentials shirt. Sanabul is a major MMA and BJJ brand and sponsor John Danaher (greatest BJJ coach of all time) and UFC legend Michael Bisping. With a Sanabul Essentials rash guard you get:
Sublimated graphics that won't fade
Tight compression fit to enhance your mobility
Amazing drying technology that wicks away sweat
Flatlock stitching
Elite Standard Long Sleeve
If you are a bargain hunter you are going to love the Elite Standard Long Sleeve rash guard. But don't worry just because the price is low doesn't mean it is not high quality. A training partner of mine owns 4 different Elite Standard rash guards and has worn them every week for years. He swears he will never try another brand!
LAFROI Rashguard
LAFROI is another great budget option if you want to keep your MMA and BJJ spending to a minimum. LAFROI rash guards have cool designs and great features including:
80% Nylon) and 20% Elastane

Fits like a glove

Four-way stretching fabric to turn you into a beast on the mats

Super fast drying technology

SPF 50 so you can wear it outside
Adoreism Rashguard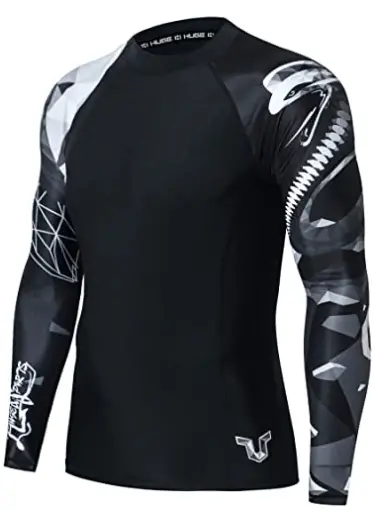 Adoreism make affordable rash guards which are highly durable, fit great and have cool designs. With an Aodreism shirt you get:
80% Polyamide (Nylon), 20% Elastane

Amazing fit that feels like you are shirtless

Four-way stretching fabric which enhances your mobility and movement

Lightweight & quick dry to keep you cool and happy when training

SPF 50 to keep you safe in the sun
Raven Fightwear Berserker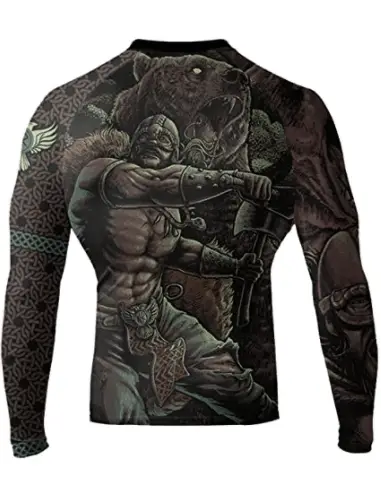 Raven Fightwear is an Australian MMA and BJJ brand that produces some of the most elaborately designed rash guards anywhere on the planet. They have all kinds of amazing designs and one of our favorites is their Viking Berserker warrior rash guard. Berserkers were the shock troops who would get themselves into a blood thirsty rage often assisted by alcohol and chanting and throw themselves at the enemy. While we don't recommend that strategy on the BJJ mats as your training partners won't appreciate it but you can still admire their courage and ferocity by wearing this cool rash guard.
Hardcore Training MMArio
Are you looking to tap into a bit of childhood nostalgia? Then rocking a Super Mario inspired rash guard is a great way to relive your childhood. I think many of us spent hundreds of hours glued to our Nintendos and Gameboys playing Mario titles so expect to start some conversations at the gym when you turn up with Mario plastered across your chest.
Raven Fightwear CypberPunk
Cyber Punk seems to be all the rage nowadays as people dream of a post-apocalyptic future where technology plays a central role. We can't lie we also enjoy the Cyber Punk look which is why we recommend you check out this great rash guard by Raven Fightwear. Raven Fightwear are known for their great designs and this is another one they smashed out of the park!
Hardcore Training Old Tattoo 2.0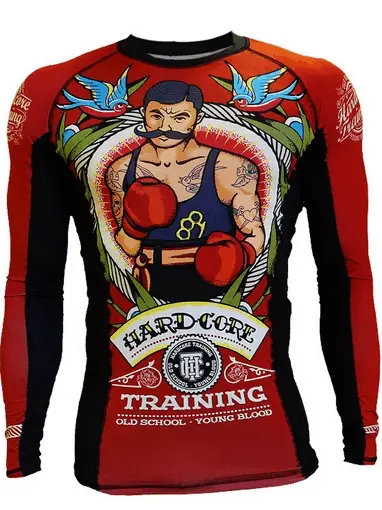 For those that like old school sailor style tattoos this is the perfect rash guard. It features a central image of an old school carnival boxer and then above his shoulders are two swallows which represent love and loyalty. If you want to tap into that old school sailor look or you rate yourself as a bit of a hipster then we recommend you purchase this rash guard.
SHOGUN Fight Rashguard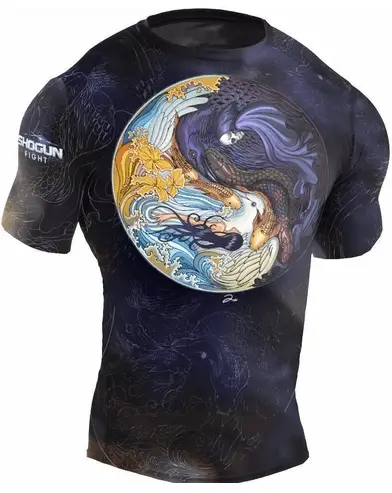 Fans of Japanese art will instantly want to cop this cool rash guard which features an amazing Tao dragon inspired theme. The rash guard is filled with great features including:
Sublimated graphics that won't crack or peel off.
Tight compression fit so you it won't get caught in anyone's fingers or toes
Wicks moisture away from the body
Dries within minutes!
Top quality flatlock stitching
Kids and adults sizes available
Sanabul Star Wars Intergalactic Series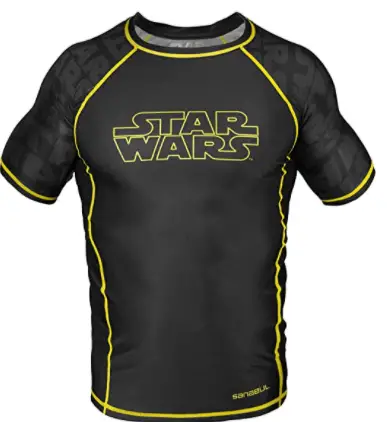 Who doesn't love Star Wars? Well with Sanabul's Star Wars inspired rash guard you can style on your training partners while also broadcasting your fandom. Check out some of the features of this rash guard:
SPF 50 if you want to wear it to the beach
Multi-paneling to provide the perfect fit
Sublimated graphic to ensure the Star Wars theme never fades
Available in multiple colors
Kids and adults sizes
RVCA VA
Tap into your inner surfer by rocking a simplistic but very stylish RVCA shirt. RVCA is loved by BJJ fans across the world including the legendary Ruotolo twins. We can't promise you that wearing this rash guard will give you Ruotolo level skills but you will definitely look fly on the mats. Why you should buy a RVCA rash guard:
Great at wicking away sweat
Ideal 80% Polyester, 20% Elastane combination
SPF 50 perfect for training on the mats then hitting the beach
Meshing to promote ventilation and cooling
Venum Nogi 2.0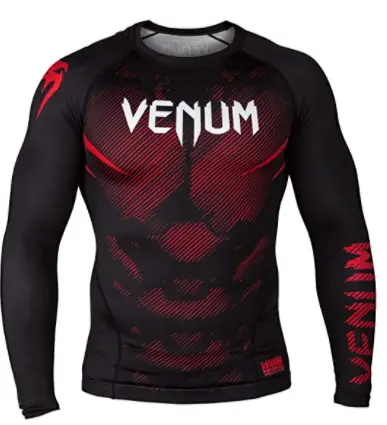 Venum recently signed a sponsorship deal with the UFC so if you want to wear exactly what your favorite fighter wears then you better cop a Venum rash guard. These rash guards are the very best thanks to features such as:
MATERIALS : 87% Polyester – 13% Spandex / Elastic and resistant fabric /
Reinforced Seams  and Meshing for maximum durability and and cooling
Improve your recovery time thanks to compression technology
Dry technology so you can stay dry no matter how hot your training session gets!
Sublimation printing so the design never fades!
The Methodology We Used To Determine The Best MMA & BJJ Rash Gaurds in 2022
We compiled a list over 200 different rash guards including over 30 that we personally own or have owned in the past
We went and compared our own personal experience with rash guards and juxtaposed that against Amazon reviews, training partners' opinions and spent hours combing through Reddit.
We didn't just judge based on reviews we also took a deep dive into the fabrics and stitching used and the unique artwork, color and logos.
After ranking each rash guard based on the described criteria above we compiled a list of the top performers!
What's a MMA 0r BJJ rash guard?
A rash guard is a tight fitting shirt that is made from a combination of polyester and spandex. In MMA amateur male fighters and professional female fighters will often wear them during fights and many athletes will wear them during training. They are also worn during No Gi and grappling competitions and they are frequently worn during BJJ training either under the Gi or as a standalone shirt during No Gi training.
Rash guards are a popular form of apparel in MMA and BJJ because they prevent skin irritation caused by rubbing against your partner or the mat, reduce the chance of getting scratched or catching skin diseases, keep you cool and prevent build up of excess sweat. Rash guards also protect your training partner's fingers and toes which can easily become caught in loose fitting shirts. I have seen a couple of broken fingers because someone wore a baggy t-shirt.
MMA and BJJ rash guards come in all different colors, designs, sizes. You can also find a great range of long sleeve and short sleeve shirts.
What Makes A Great MMA and BJJ Rash Guard?
When looking for a great rash guard keep an eye out for these different features and details:
Flatlock Stitching
The most durable and comfortable rash guards use flatlock stitching. With flatrock stitching you won't have to worry about the stitching rubbing against you and as it is re-enforced the chance of your rash guard tearing is very low.
Fabric Can Effortlessly Stretch In Every Direction
During MMA and BJJ training your rash guard will get accidentally tugged on and pulled by your over eager training partners. Top rash guards have no problem handling this abuse and immediately returning to its original condition without any hints of stretching or tears. Many of the top rash guards are 80% polyester and 20% spandex which seems to offer the best performance and fit.
Sublimated Graphics
With sublimation you can transpose designs and letters onto rash guards without having them fade from friction or washing. Due to the abuse rash guards cop if you want your cool design to last you better make sure they use sublimation!
Rubber or Silicone Waistband
A cool feature of many rash guards is a rubber or silicone waistband. This waistband prevents the rash guard from riding up and keeps the shirt in place, this is incredibly important as nobody wants to stop training every couple of minutes to adjust their shirt.
Cool And Creative Designs
You can find rash guards with amazing designs such as traditional Japanese art, cool comic designs and Nordic inspired themes. No matter your style you can find a rash guard that will have you feeling comfortable and confident on the mats.
IBJJF Legal
The International Brazilian Jiu Jitsu Federation (IBJJF) hosts the biggest and most prestigious BJJ tournaments. To compete in their No Gi tournaments you must wear a rash guard that is also the same color as your rank. For example brown belts must wear a brown rash guard.
Are Compression Shirts And Rash Guards The Same Thing?
While some people are convinced the difference between compression shirts and rash guards is just marketing there are actually some key differences between the shirts.
Compression shirts tend to be thinner than rash guards and are often significantly tighter. Rash guards also feature far more elaborate logos and designs which are related to MMA and BJJ. If you want a shirt with flaming skulls or a Viking warrior swinging a sword you will have to opt for a rash guard.
Rash guards also have reinforced stitching which make them more durable and suitable for BJJ, wrestling and MMA. You won't have to worry about your rash guard ripping if it gets inadvertently grabbed during a wild rolling or sparring session.
While rash guards are better suited to Jiu Jitsu that doesn't stop many athletes opting to wear compression shirts, this is because they are often significantly cheaper than rash guards. If you do decide to rock a compression shirt during BJJ or MMA make sure you find a polyester/spandex combo this will keep you cool and wick away any sweat.
Frequently Asked Questions
Do Rash Guards Stretch After Frequent Use?
You can expect your rash guard to slightly stretch after frequent use. However, quality rash guards maintain their fit even after wearing them multiple times a week for years!
Can You Wash A Rash Guard In A Washing Machine?
You can wash your rash guard in a washing machine but you need to be careful. You should turn your rash guard inside out, place it in a bag and wash on a gentle cycle to avoid ruining the shirt.
Can You Put A Rash Guard In A Dryer?
You should not place your rash guard in a dryer and should always hang dry. The heat from the dryer will ruin the material and will also damage logos and designs.
How Should A Rash Guard Fit?
You rash guard should be tight and hug to your body. It should not move or roll up when you are training BJJ. However, it should not be so tight that it is uncomfortable or limits circulation.