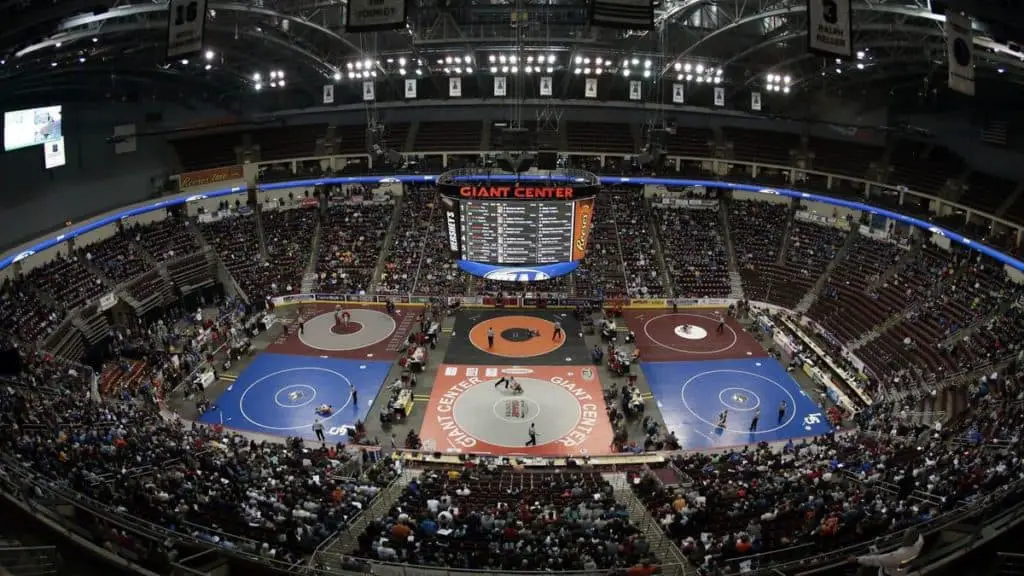 Pennsylvania is a hotbed for high school wrestling. Pennsylvanian wrestlers dominate nationwide tournaments such as Super 32. They don't just succeed at the high school level. Pennsylvania has produced the most NCAA Division 1 All Americans of any state. Every year wrestlers from PA are crowned NCAA champions. How have wrestlers from PA been so dominant? Let's find out!
Why Is Pennsylvania So Good At Wrestling?
Pennsylvania is so good at wrestling because they have a high participation rate (7th highest of all states). Pennsylvania has a long tradition of wrestling with many wrestlers being 2nd, 3rd or 4th generation athletes. Wrestlers receive expert coaching from former NCAA wrestlers from an early age.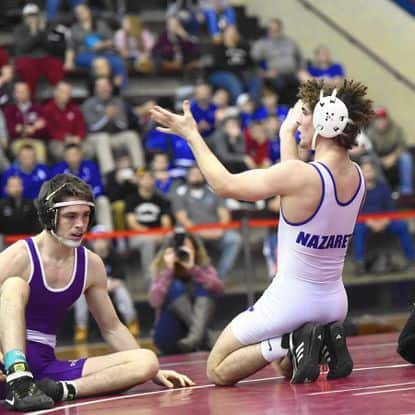 Pennsylvania Has A High Number Of High School Wrestlers
Ask any wrestling coach and they will tell you the first step to building champions is getting enough kids on the mat.
Even the greatest coach will not be able to consistently produce high performing wrestlers if he does not have a large enough set of kids to mould and develop. While if you give even the worst coach a million kids he will eventually stumble across an athletic freak who can win national and maybe international titles.
Only a handful of kids out of thousands will have the athleticism, skill, determination and focus to go on and win NCAA Division 1 and win international medals. Even then there is no guarantee that they won't suffer a career ending injury.
Fortunately for wrestling coaches from Pennsylvania they are not short on young, hungry and eager wrestlers who are willing to work hard in hopes of fulfilling their dreams of becoming a champion.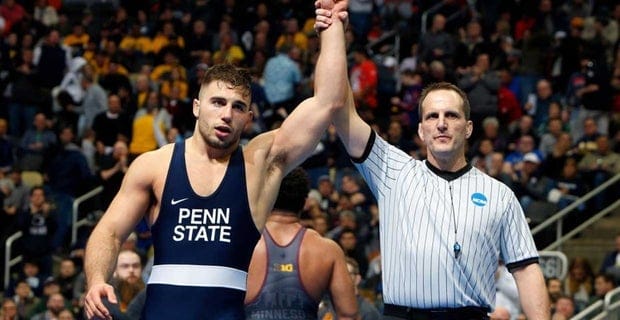 Currently, Pennsylvania has 9,460 high school wrestlers which places them in 7th position based on participation. California is ranked number 1 with 22,602 wrestlers,  Illinois is 2nd with 14,170, New York is 3rd with 11184, Texas is 5th with 10,998, Ohio is 5th with 10,313 and finally New Jersey is 6th with 9,648.
As you can see other wrestling powerhouse states such as Illinois, Ohio and New Jersey all have high participation rates. This will always be the foundation of developing athletes. 
Pennsylvania Has A Long Tradition Of Successful Wrestling
Pennsylvanians have always loved wrestling and they always have known how to win.  When creating the University of Pennsylvania Benjamin Franklin insisted wrestling for an integral part of the university. Franklin wrote, "To keep them in health and to strengthen and render active their bodies they should be frequently exercised in running, leaping, wrestling, and swimming".
Pennsylvania's domination of high school and college wrestling really took off the 1920s and 1930s. The third ever NCAA championship was held in Pennsylvania and of the first 8 tournaments, 3 were held in Pennsylvania.
Pennsylvania's obsession with wrestling has only continued to grow. Lehigh Valley continues to be a hotbed for wrestling. And even though the steel mills around Pittsburgh and the coal mines of Northeastern Pennsylvania are mostly gone, these areas are still producing the rough and tough wrestlers they have always been famous for.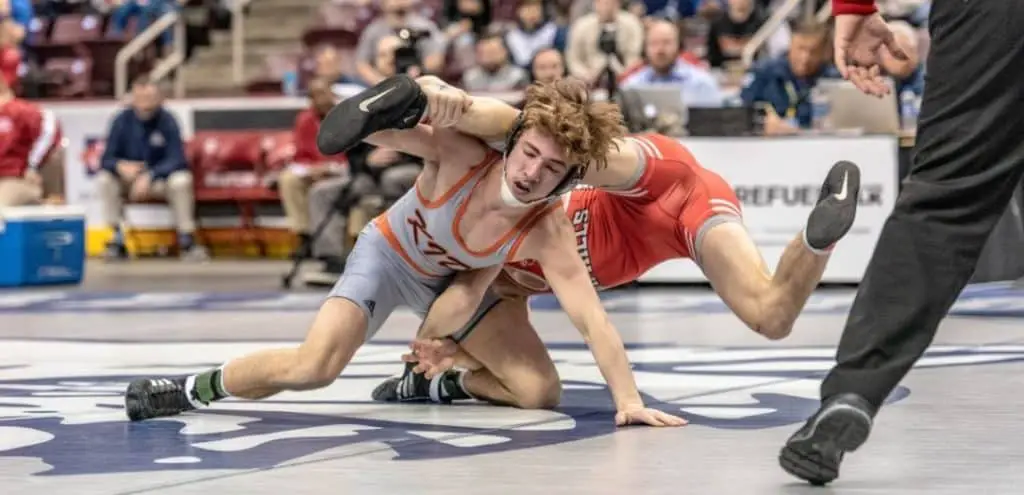 From 1961 to 2011 Pennsylvania has produced the most NCAA Division 1 champions (55) and All Americans (295). Only Iowa is close with 48 champions and 186 All Americans.
This success and tradition of wrestling in Pennsylvania becomes a habit. Wrestlers from Pennsylvania are expected to be ranked nationally in high school and then be title contenders in college.
This has a powerful effect on young athletes. They are filled with confidence knowing that they are being coached by former NCAA champions and have training partners who are wrestling at Division 1 powerhouses. This belief propels them forward helps them achieve their own goals. 
If you are a young wrestler from Pennsylvania why would you ever doubt if you can win national high school tournaments and wrestle successfully in college when you are surrounded by so many other wrestlers who have achieved these things.
Not only has winning become a habit for wrestlers in Pennsylvania but over the years coaches have fine tuned their systems to ensure they continue to produce high level athletes.
Not wanting to break old traditions of tough Pennsylvania wrestlers and a desire to win accolades from the wrestling obsessed local community has led coaches to up their game and develop  systems that can take a young wrestler and turn him into a beast.
These systems have been tweaked over Pennsylvania's long wrestling history and continue to improve as coaches increase their skill and expand their knowledge.
Wrestlers From Pennsylvania Benefit From Expert Coaching From Former NCAA Champions And All Americans
There is no shortage of wrestling clubs and high school teams being led by high level coaches who are former NCAA Division 1 All Americans and champions.
There is a cycle of success in Pennsylvania wrestling. Kids progress through the system, winning at all levels of the sport including at the college level. Once they are finished with their competitive career they move back home and to stay connected to the sport they begin coaching. Either they will help as assistants at a club or high school.
This system repeats itself over the years so kids never have to worry about finding a top coach because they are always surrounded by fresh college graduates who are eager to teach what they learnt while competing at powerhouse NCAA Division 1 programs such as Penn State, Iowa, Nebraska and Oklahoma State.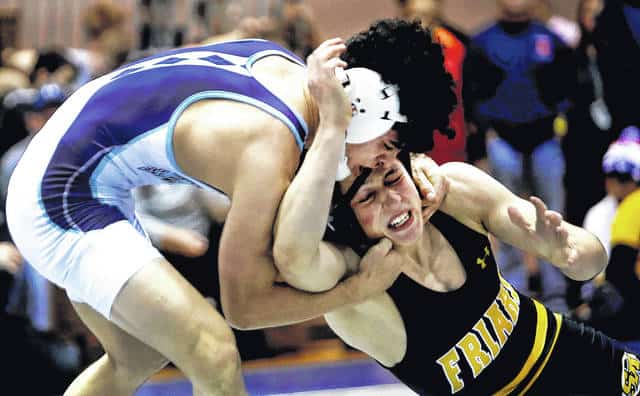 Receiving expert coaching from an early age gives wrestlers in Pennsylvania a big advantage over other states. Being coached by a former All American is a luxury in many states. However in Pennsylvania is a prerequisite to get a coaching job.
Wrestling is a technical sport. Athletes need to know hundreds of techniques and spend thousands of hours under the watchful eye of a trained coach who can correct all the little mistakes they are making.
No matter how athletic or strong you are to compete at a high level a wrestler needs to have amazing technique and positioning. These qualities can only be developed through dedicated and experienced coaching.
Not only are wrestlers from other states not being taught the best techniques, they are often being taught the basics wrong. This poor coaching compounds over the years and prevents wrestlers from progressing. 
In contrast wrestlers in Pennsylvania are only being taught techniques that work at the highest level of the sport and are being observed by coaches who understand exactly how the technique needs to be performed and how to rectify any errors.
How is a kid from Arkansas who is being coached by a mediocre wrestler who hasn't produced a single NCAA Division 1 All American and doesn't know how to design training programs or teach technique meant to compete with a wrestler Pennsylvania who is being coached by a coach who consistently sends kids to big time Division 1 programs.