What Are The Best College Wrestling Teams?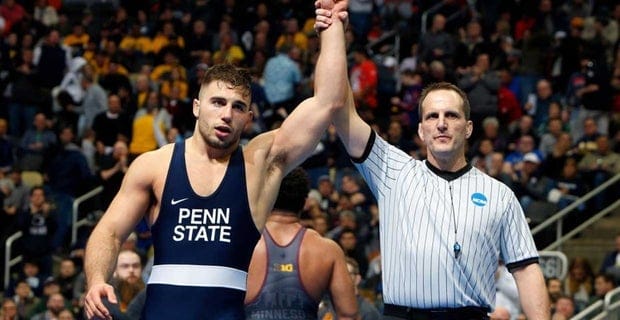 NCAA DI wrestling is the pinnacle of folkstyle wrestling and every year 78 colleges from around the country battle it out in hopes of winning the national title. Even though you can find amazing wrestlers scattered around the country a small number of colleges have separated themselves and dominated NCAA wrestling. In this article we are going to break down the very best college wrestling programs. Let's get started!
What Are The Best College Wrestling Teams?
The best college wrestling teams are:
Oklahoma State – 34 team titles
Iowa – 23 team titles
Penn State – 10 team titles
Iowa State – 8 team titles
Oklahoma – 7 teams titles
1. Oklahoma State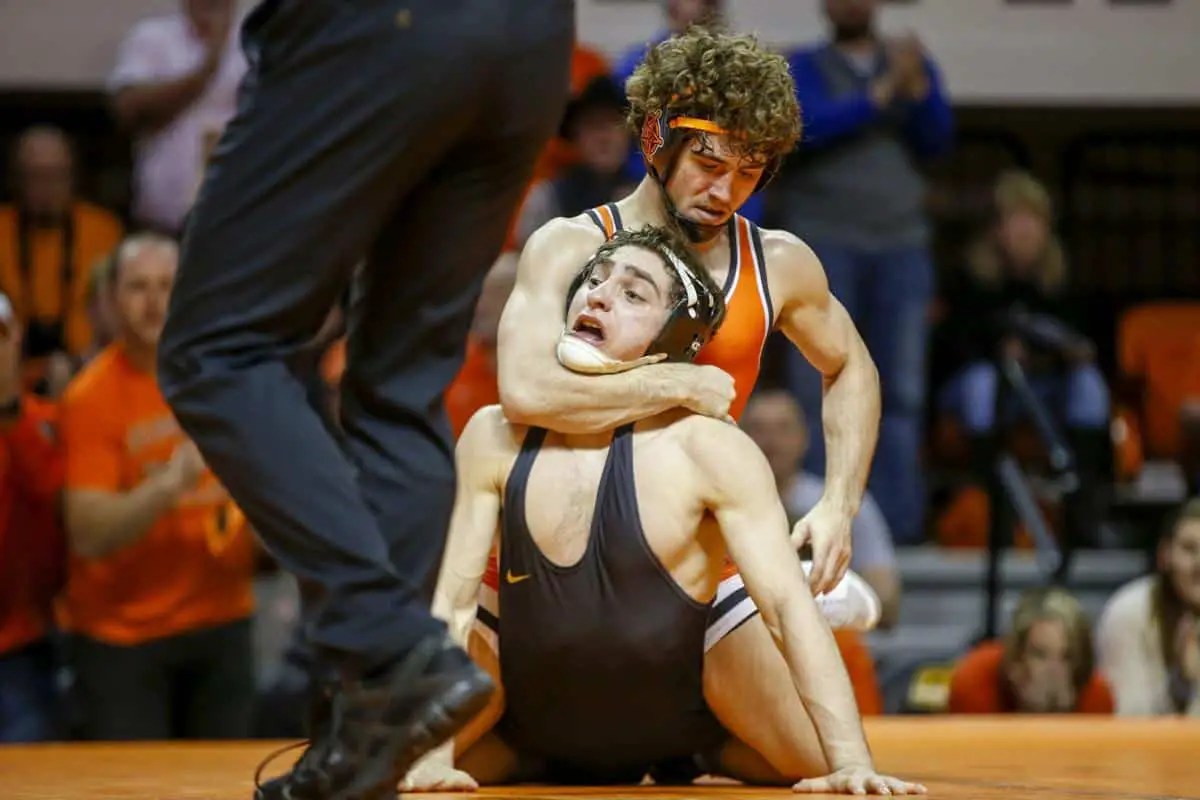 Oklahoma State led by the legendary John Smith is the number 1 college wrestling team of all time. The Oklahoma State Cowboys wrestling has won 34 team titles and produced 142 individual champions both of which are the most of any NCAA program. John Smith managed to win 2 titles for the Cowboys, his brother Pat did 2 better and managed to snag 4 titles. Alex Dieringer is another modern legend who won 3 titles while at Stillwater. Oklahoma State has also been able to recruit international talent including Yojiro Uetake from Japan who won 3 NCAA championships and 2 Olympic gold medals not bad for a guy who was kicked off the Judo team for being too light!
Oklahoma State aren't just a historically good college wrestling team they are still an elite program and produce world class athletes. In 2021 they placed 3rd at the national championships with Daton Fix taking 2nd at 133 pounds and AJ Ferrari winning at 197 pounds.
2. Iowa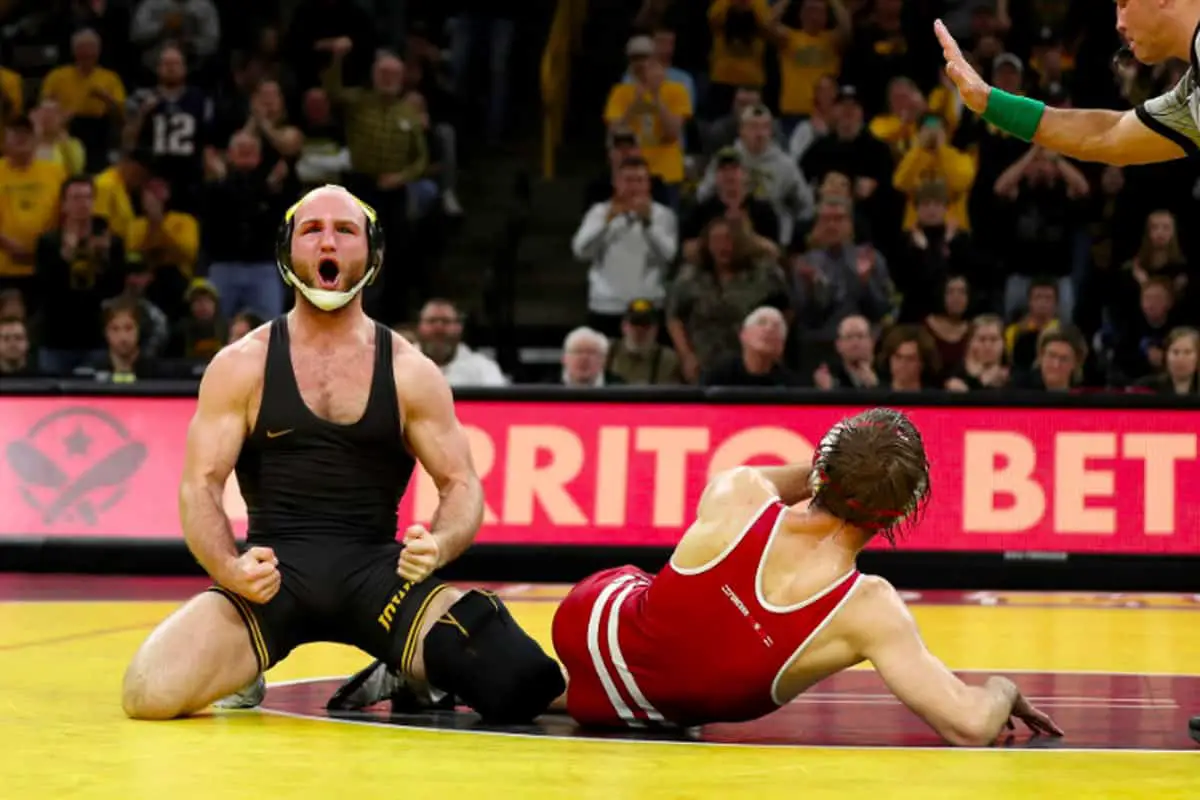 Whenever anyone thinks of college wrestling they think of Iowa. The University of Iowa and the whole state of Iowa is wrestling crazy. They live and breathe the sport and why wouldn't you when they have had some much success. Iowa has won 23 titles which puts them in second place and produced 78 NCAA individual champions. Iowa was unstable when they were led by the greatest college wrestling coach of all time Dan Gable. During Gable's tenure as coach Iowas won an astonishing 15 team titles from 1976 to 1997.
Following Dan Gable's retirement Iowa has been through them tough times and has struggled to win team titles as other teams notably Penn State have emerged the premier teams.
However, Tom Brands has managed to put together an amazing team that won the team titles in 2021 and would have won in 2020 had the NCAA tournament not been cancelled due to COVID-19.
3. Penn State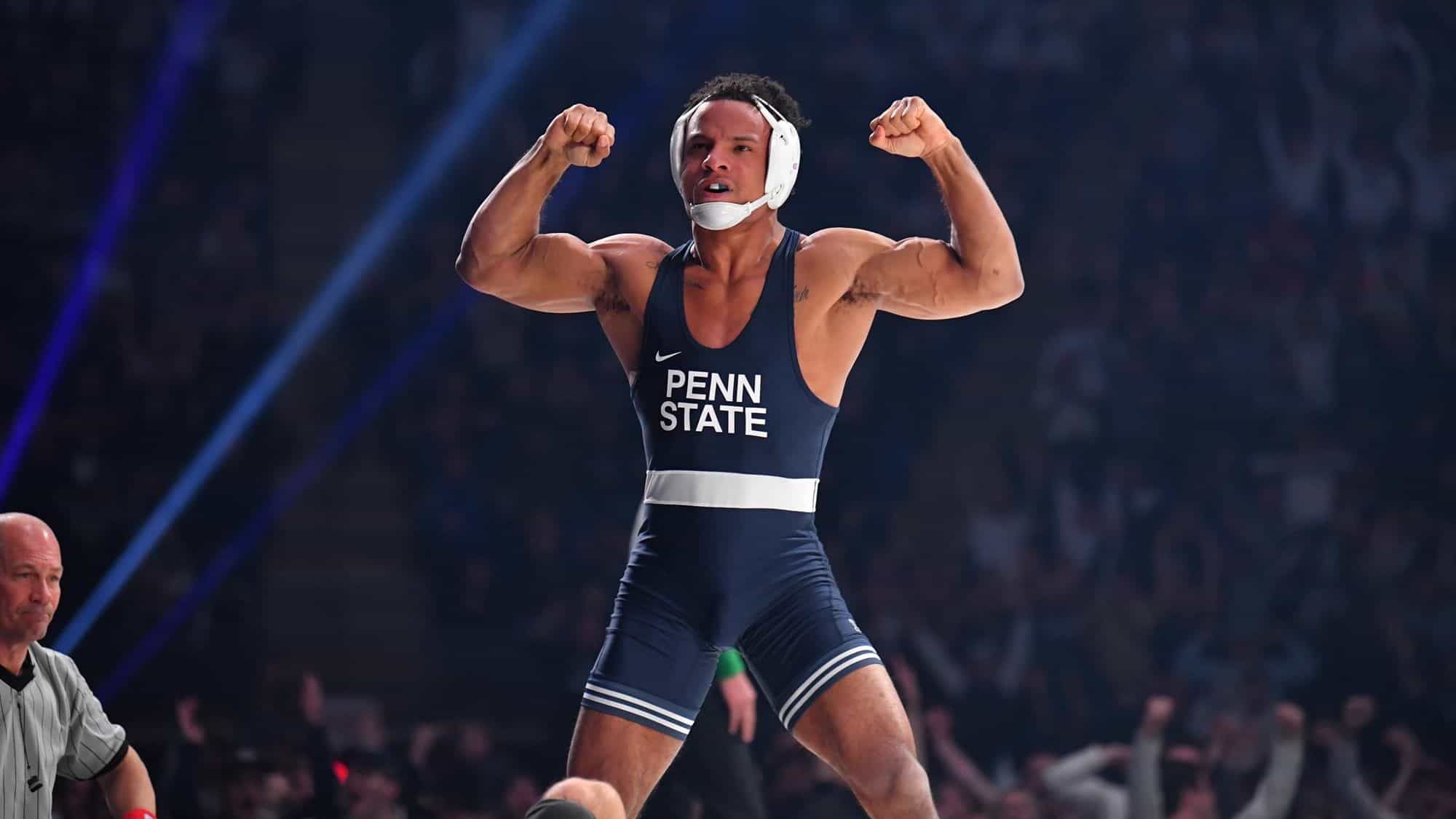 The Penn Nittany Lions have been winning NCAA team titles since the early 1950s and have continued their winning ways into the modern era. The Penn State college wrestling program received a breath of fresh life when the greatest college wrestler of all time Cael Sanderson took over as head coach in 2009. With Cael Sanderson leading the charge he has managed to win 6 of Penn State's 10 total team titles.
Penn State are the best college wrestling team of the modern era and have been extremely dominant in recent years. In 2022 they are going to be right on Iowa's heels and with a few upgrades to their lineup they may be able to overtake Iowa and win another title.
4. Iowa State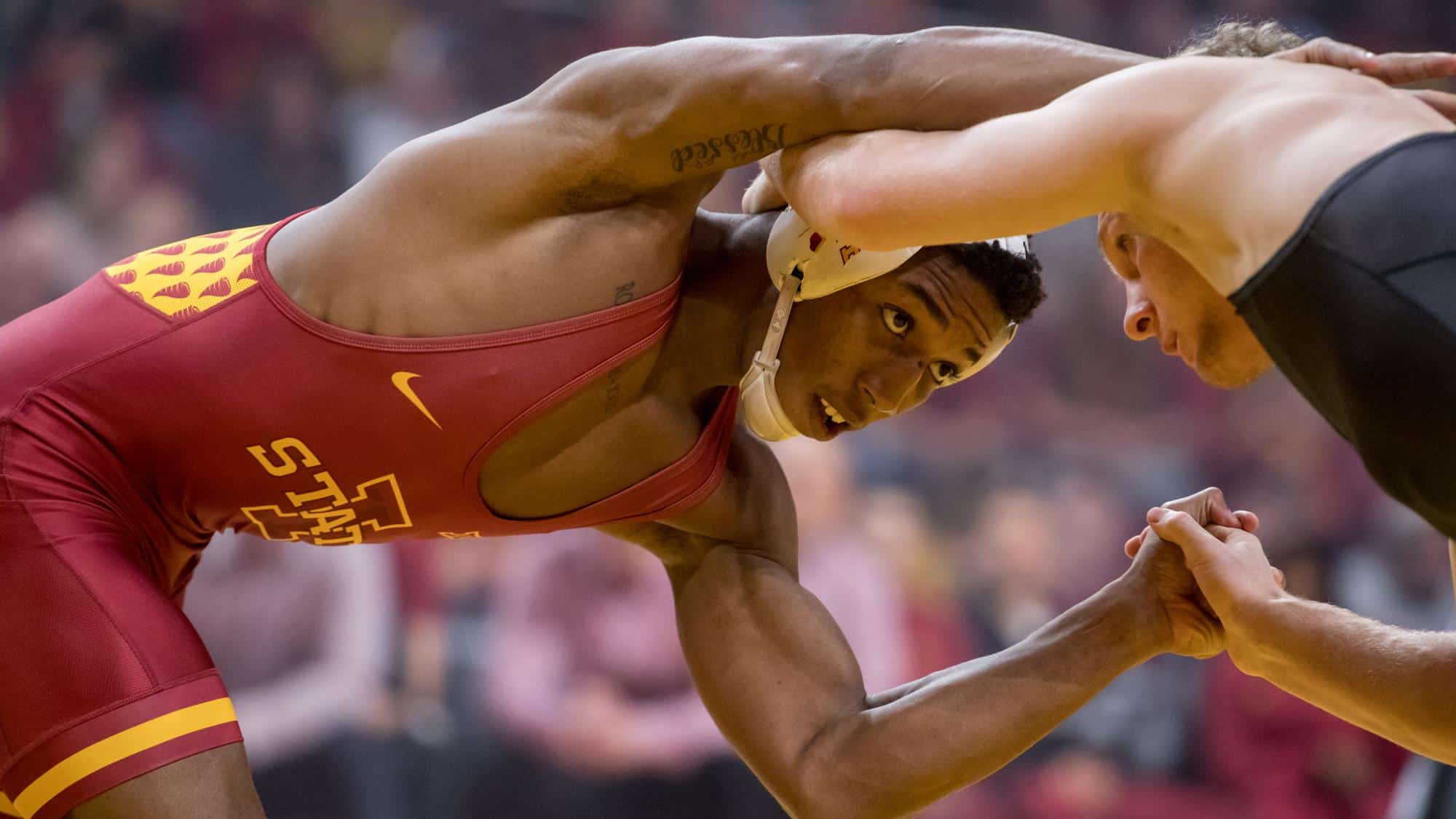 With how wrestling crazy the state of Iowa is it is no surprise that another Iowa college makes the list of the best college teams. Iowa State has won 8 team titles and produced 65 NCAA champions, not bad for the second best college in the state. The Cyclones have hit a rough patch over the last few years but that may be coming to an end as David Carr managed to win the title at 157 pounds.
Carr isn't the only great wrestler to wrestle for Iowa State other legends include his father Nate Carr who won an Olympic medal and 3 NCAA titles, Dan Gable and of course 4 time NCAA winner and college wrestling GOAT Cael Sanderson.
5. Oklahoma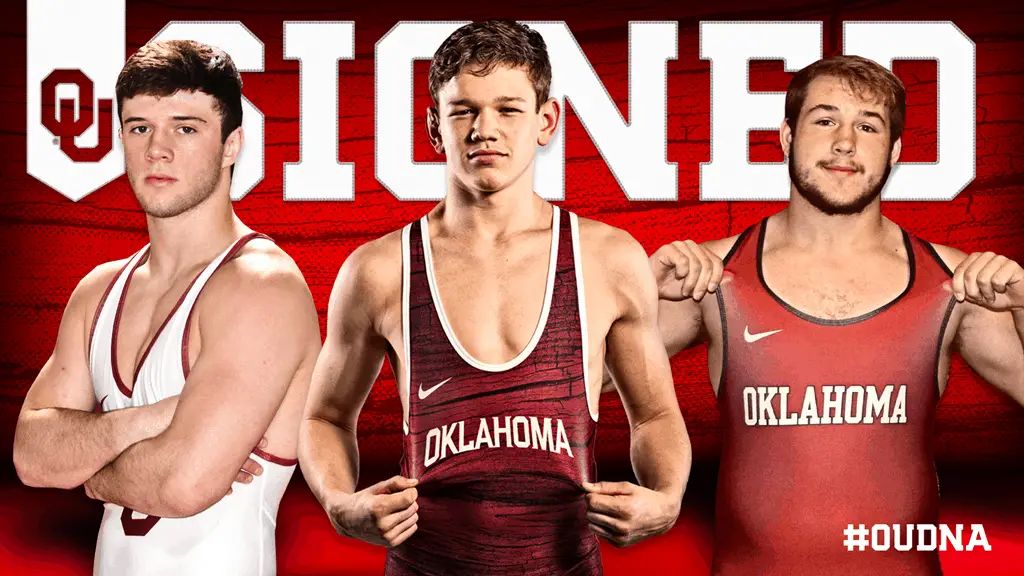 While the Oklahoma Sooners may not be contending for NCAA wrestling titles nowadays they are still a legendary program with a storied history.  Oklahoma has won 7 team titles and produced 70 NCAA champions and 272 All-Americans. The Sooners have a fierce rivalry with the Cowboys and are currently in a re-building phase as they look to get their program back on track and win another team titles which they have don't since the 70s!
FAQ
What College Has The Best Wrestling Team?
The University of Iowa currently has the best college wrestling. Iowa won the national team title in 2021 and were heavy favorites to win in 2020 but the tournament was cancelled due to COVID-19. Their only rivals are Penn State who came second in 2021 and actually had more national champions (4 Vs 1).
Iowa is clearly the number 1 college when it comes to wrestling. And will be big time favorites to win the national titles again in 2022 as they are bringing back their entire starting lineup from 2021.
At the 2021 national championships they manage to put 7 wrestlers on their podium including Spencer Lee (champion),Jaydin Eierman and Michael Kemerer (2nd), Austin DeSanto and Tony Cassioppi (3rd), Jacob Warner (4th) and Kaleb Young (7th).
Iowa's only threat to prevent them winning another national titles in 2022 is Penn State. Penn State manage to have 4 national champions (Roman Bravo-Young, Nick Lee, Carter Starocci and Aaron Brooks). However, they failed to score any points in multiple weight classes which made it impossible for them to catch Iowa.
Penn State is hoping a few new incoming wrestlers will help them bridge the gap to Iowa. For the 2022 they are bringing in high school phenom Shayne Van Ness who is expected to go right away at 149 pounds. 149 pounds is a weight Penn State failed to qualify in 2021.
Penn State has also picked up 2 time all American Max Dean from Cornell. Max Dean will wrestle at 197 pounds after beating out Michael Beard. Beard finished 7th in 2021 but Cael Sanderson is hoping that Dean will be able to place at least top 5 in 2022.
There is also a chance that Penn State could land Nick Suriano who is in the transfer portal and will wrestle in college 2022. Suriano would wrestle at 125 pounds which is another weight which Penn State failed to score points at.
Who Is The Best College Wrestler In 2021?
The best wrestler in 2021 is a tie between Gable Steveson (Minnesota) who won the heavyweight title and Spencer Lee (Iowa) who won the 125 pound class. Both of these wrestlers shared the Dan Hodge prize which is awarded to the most outstanding wrestler for the season.
Spencer Lee and Gable Steveson are generational talents. They both were so much better than their competition that they made it look easy as they both went undefeated and won national titles in 2021.
Some critics believed that the Dan Hodge award should have only been awarded to Spencer Lee as he was more dominant throughout the season but Gable Steveson proved critics wrong by then going on to win a gold medal at the Tokyo Olympics.
What State Has The Most NCAA Wrestling Champions?
Pennsylvania is the state with the most NCAA wrestling champions with 55. Iowa is not far behind having produced 48 champions. Oklahoma sneaks into the top 3 with 34 champions.  Ohio is in 4th place with 28 champions, and 5th place goes to Illinois with 26 champions. 
Pennsylvania is the king of NCAA wrestling having produced 55 different NCAA wrestling champions and almost 300 All-Americans. To find out why Pennsylvania is so good at wrestling go here.
Other top states outside the top 5 include:
California – 25 NCAA wrestling champions
New Jersey – 25 NCAA wrestling champions
New York – 24 NCAA wrestling champions
Oregon – 15 NCAA wrestling champions
Michigan – 14 NCAA wrestling champions
Wisconsin – 12 NCAA wrestling champions
Minnesota – 9 NCAA wrestling champions
Colorado – 8 NCAA wrestling champions
What State Produces The Most D1 Wrestlers?
Pennsylvania produces the most D1 wrestlers and also the most successful D1 wrestlers. Pennsylvania has produced 55 NCAA champions, and 295 All-Americans. The only other rival to Pennsylvania is Iowa with 48 champions and 186 All-Americans.
Pennsylvania is an absolute hot bed for NCAA wrestling talent and they produce the most successful wrestlers. To find out why Pennsylvania is so good at wrestling head here.