Interesting Facts And Information About Jordan Burroughs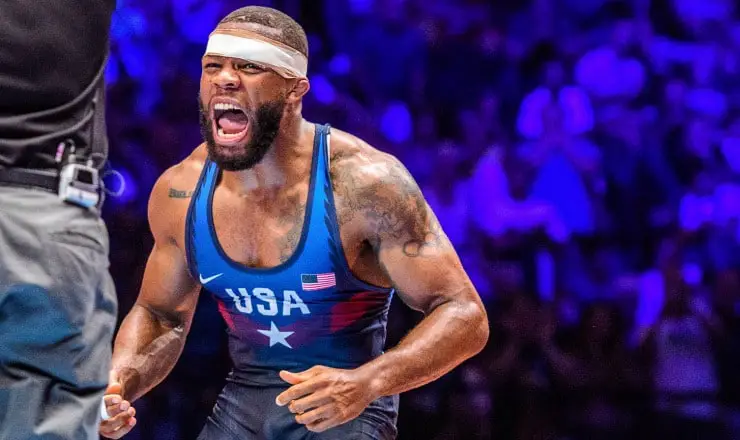 Jordan Burroughs is one of the greatest wrestlers to ever step on the mat. Some even argue he is the greatest American wrestler of all time but essentially everyone has him in the top 5 to ever do it. In this article we are going to look at all kinds of facts about Jordan Burroughs the Olympic and World champion freestyle wrestler.
Did Jordan Burroughs make the Olympics?
Jordan Burroughs did not make the 2020 Tokyo Olympics as he lost to Kyle Dake in the finals of the Olympic Trials. Burroughs lost the first match 0-3 and the second 2-3 which ended the 3 match series. Burroughs was the US 74kg representative in 2012 where he won gold and 2016 where he failed to medal.
Prior to these matches Jordan Burroughs had competed against Kyle Dake 5 times and won all 5. Now Jordan Borough's record against Kyle Dake is 5 win and 2 losses. Even though Jordan Burroughs is now 33 years old he has committed to keep wrestling and said he wants to compete for the 74kg spot at the 2024 Paris Olympics. So we can expect to see Dake and Burroughs battling it out in the future. I don't think that rivalry is anywhere near over.
As Dake managed to win a bronze medal at the Tokyo Olympics he automatically wins the 74kg spot for the world championships so Burroughs has decided to move up to the 79kg class. He will have to win his spot at the trials in September. Let's hope Burroughs can win and then bring home gold from the world championships in Oslo in October, 2021.
Is Jordan Burroughs Going To Fight In MMA?
Jordan Burroughs will not fight in MMA. He has stated that his wife is adamantly against him competing in the sport and he stated that he does not like getting hit in the face. Also Burroughs is already 33 years old and has committed to wrestling to at least the 2024 Olympics.
For years MMA fans have been salivating at the thought of Jordan Burroughs heading to MMA and competing in the UFC. However, it looks like Burroughs has shut the doors on an MMA career as he has stated that he is sticking with wrestling and will attempt to compete for the US Olympic spot in 2024. He also stated on the Joe Rogan podcast that he doesn't like getting hit and his wife does not approve. Even Jordan Burroughs gets bossed around by his wife!
What Is Jordan Burroughs' Net Worth?
Jordan Burroughs has a net worth of $5 million. Burroughs earned his substantial net worth through prizes from winning Olympic and world medals, salary from Regional Training Centers, sponsorship deals including a big time deal with Asics which included his own line of shoe and wrestling camps.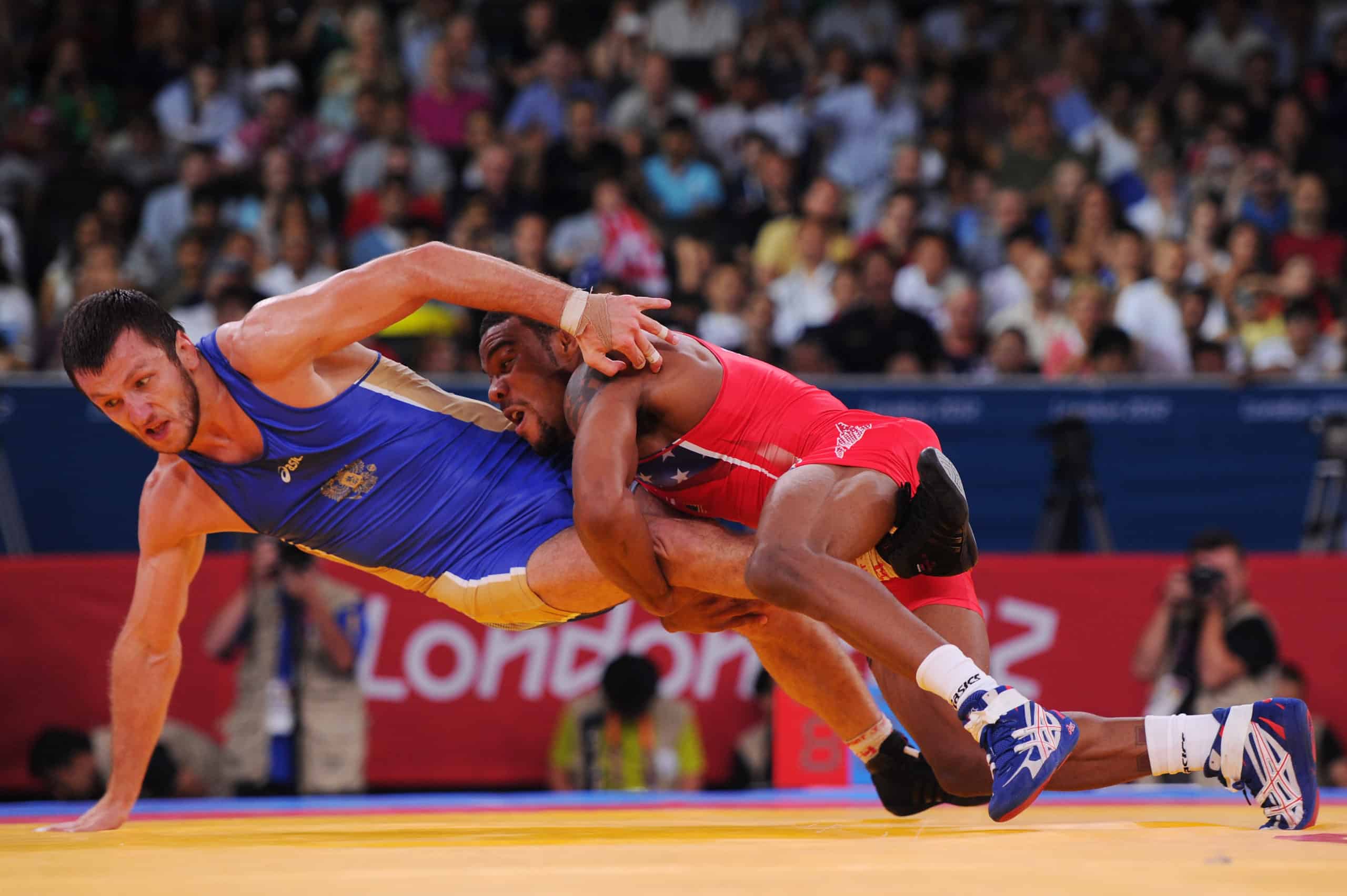 Jordan Burroughs is not only one of the most successful US wrestlers but he is also one of the richest. Jordan Burroughs owes his wealth to a combination of income streams that have all been made possible due to his wrestling talent and include:
Cash prizes for results – Burroughs collected $50,000 for his 2017 world championship gold medal in Paris and numerous other cash prizes for his other world results.
USA Wrestling stipend – Burroughs receives a salary from Penn RTC and USA wrestling which is over $70,000 per year.
Wrestling – Jordan Burroughs has made hundreds of thousands of dollars over year by hosting and running wrestling camps. Burroughs can easily make $5000 or more at a single wrestling camp.
Asics sponsorship and Shoe deal – One of the biggest earners for Jordan Burroughs that has caused his net worth to rise significantly is his deal with Nike which included his own shoe line. Burroughs receives a percentage of all of the shoes sold and has made millions with this endorsement deal.
Where Does Jordan Burroughs Live?
Jordan Burroughs lives in Philadelphia after signing a contract with the Pennsylvania Regional Training Center which is located at the University of Pennsylvania. Burroughs previously lived in Lincoln, Nebraska as he attended the University of Nebraska and continued training there after graduating. 
Jordan Burroughs is originally from Sicklerville, New Jersey and then moved to Lincoln, Nebraska in 2006 to attend college. In 2021 Burroughs moved back to the east coast after signing a deal with the Penn RTC and is now living in Philadelphia.
Is Jordan Burroughs The GOAT?
Jordan Burroughs the one of the best wrestlers of all time but he is not the GOAT. He is arguably the second or third best American wrestler of all time after John Smith and Bruce Baumgartner. If he had managed to win gold in Rio 2016 and 1 or 2 more world titles he would be the GOAT American wrestler.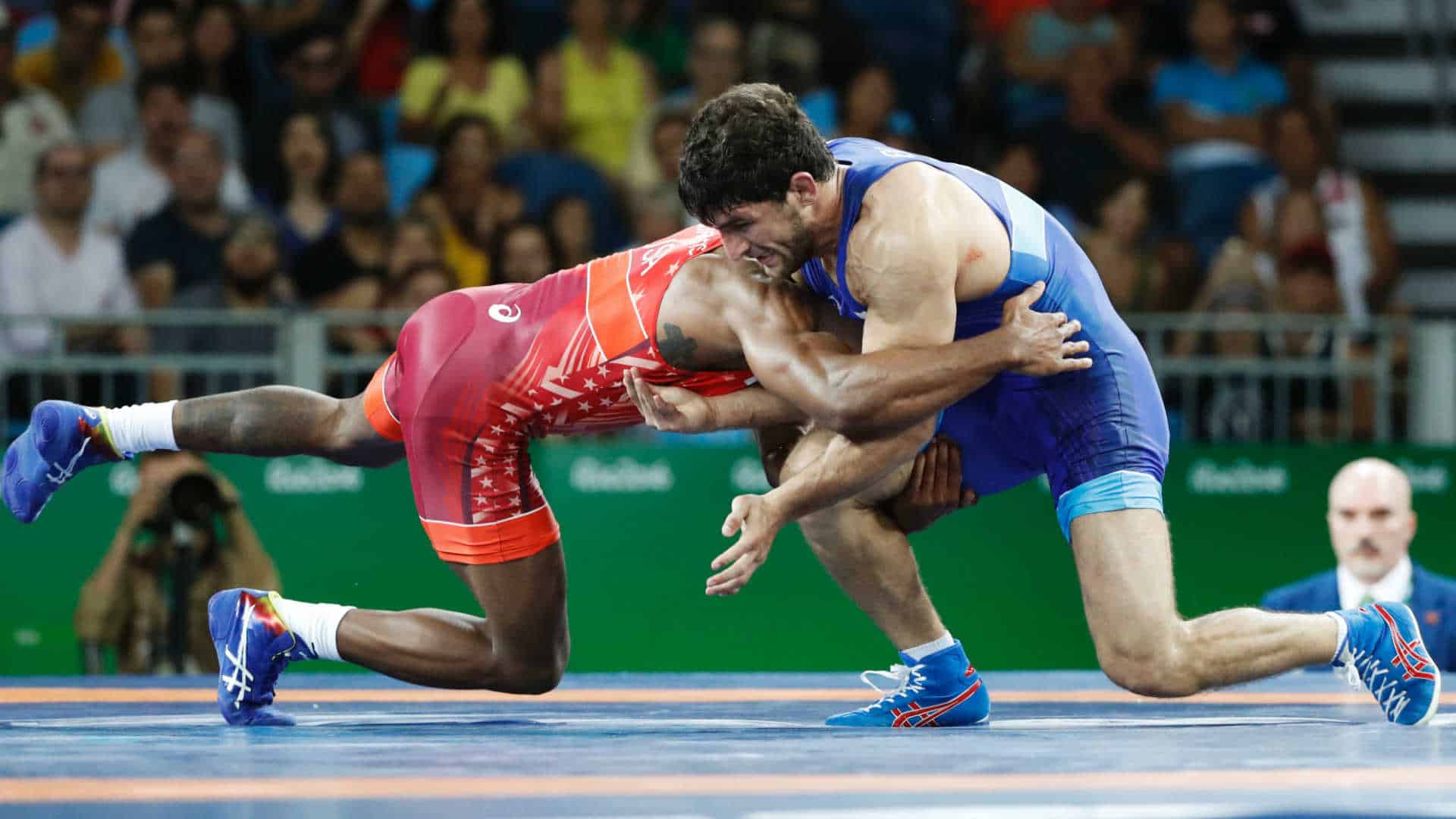 Jordan Burroughs is an incredible wrestler but the fact that he only has 1 Olympic gold medal and has suffered some defeats prevents him being the wrestling GOAT. Saitiev is the undisputed GOAT with 3 Olympic gold medals and 6 world championship titles. Burroughs would have to win 2 more Olympic golds and 2 more world championship titles to match the great Russian. To find out why Russia is so good at wrestling go here.
There is some argument that Jordan Burroughs is the best American wrestler of all time. Most people claim John Smith is the best as he has 2 Olympic gold medal and 4 world championship titles. However, critics claim that Smith only had to face on Soviet wrestler whereas Burroughs has to compete against multiple wrestlers from former Soviet countries and has to deal with Russians who have switched nations.
I think if Burroughs can win 2 more world titles he can separate himself from Smith and be declared the best American wrestler of all time!
What Is Jordan Burroughs' Diet?
Jordan Burroughs follows a strict diet which is made up of meat, fish, vegetables, eggs and fruit. He starts his day with a green smoothie with protein powder, for lunch he likes mixed fruit with an omelette and then for dinner it is more veggies with a steak or fish.
Jordan Burroughs is all about eating healthy and only consuming high quality and organic food. He said as has aged and become more knowledgeable about nutrition he now realizes the importance of fueling his body with nutrients. Burroughs stated that eating clean has a played a big role in his performance on longevity in wrestling.
This is a typical diet that Jordan Burroughs follows:
7am: Pre-training smoothie – Spinach, avocado, almond milk, turmeric, almond butter, and two scoops of an organic vegan protein powder
1pm – Post training refuel lunch – Omelette with mixed vegetables and fruits such as banana, pineapple and watermelon
8pm – Dinner – Steak or fish with mixed vegetables such as mushrooms and sweet potato
Jordan Burroughs is very consistent with his diet and does his best to adhere to this style of eating year round. Based on how healthy Jordan Burroughs' diet is it is no wonder he is shredded with abs.
What Is Jordan Burroughs' Train Routine?
Jordan Burroughs training routine includes the following circuit which he performs 2 times:
Fanbike Interval Sprints – 10×20 secs
Pullups – max
Band Step-and-Press – 30 secs
Chinups – max
Band-Resisted Snap Downs – 30 secs
Battle Rope Double Slams – 3 sets of 30secs
Shadow wrestling – 30secs
Leg shots 
Jordan Burroughs is constantly working hard to improve his wrestling technique, strength, explosiveness and cardio. The above circuit helps Burroughs train all of those athletic attributes which he needs to succeed on the wrestling mat. If you want to build the crazy strong back and insanely explosive shot like Burroughs you should give this circuit a try. Make sure you take a break after each exercise so you can 100%.
Check out how legendary and 2 time Olympic gold medalist Sadulaev from Russia trains.
To get inspired for your next wrestling workout check out Jordan Burroughs training!