What Are The Best Nike Wrestling Shoes In 2021?
The best Nike wrestling shoes in 2021 are:
Nike Inflict 3 – Best for speed
Nike Hypersweep – Best all round shoe
Nike Speedsweep – Best non-split sole shoe
Nike Freek – Best for power
Nike Tawa – Best for durability
Nike Takedown 4 – Best budget option
Nike Fury – Best for extra grip 
Nike along with Asics and Adidas are the premier wrestling shoe manufacturers and you can see local youth wrestlers all the way up to NCAA Division I champs and Olympic gold medalists rocking Nike wrestling shoes. To help you find the very best shoes for you or your child we are going to do an in-depth review of the top shoes. Let's Get Started!
If you are also considering buying Adidas Wrestling Shoes check out our Adidas wrestling shoe review. Or maybe you need a rashguard to match your new kicks check out our rashguard review.
The Methodology We Used To Determine The Best Nike Wrestling Shoes In 2021
We compiled a list of all Nike wrestling shoes including 4 that we personally own or have owned in the past
We went and compared our own personal experience with Nike wrestling shoes to Amazon reviews, training partners' opinions and read countless Reddit threads.
Our rankings went much further than just reading reviews we also studied the fabrics and stitching used, the design, sole, ankle support and weight.
After ranking each Nike Wrestling shoe based on the above methodology we compiled a list of the very best Nike Wrestling shoes!
Nike Inflict 3 Review – Best for speed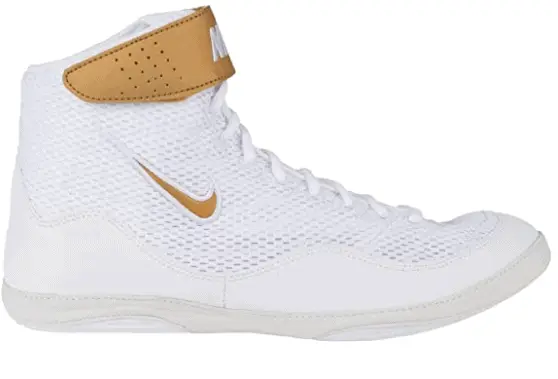 Nike Inflict 3 Pros
Super responsive
Very lightweight
Secure velcro strap
Amazing grip
Nike Inflict 3 Cons
Run 1/2 size too small
Expensive if you are on a budget
If Nike Inflict 3s are good enough for Olympic gold medalist Gable Steveson surely they are good enough for you? Nike Inflicts 3s provide the perfect blend of comfort and performance to help you reach your full potential out on the wrestling mat.
The entire upper part of Nike Inflict 3 is crafted from super lightweight and breathable mesh which fits perfectly to your foot and wicks away moisture.
The midsole is designed to keep your feet low and close to the mat which makes driving off to generating power from your shots incredibly easy. Nike Inflict 3 feature gum rubber split outsole which provides amazing grip and allows you to easily change direction while maintaining perfect balance.
Nike Inflict 3s feature a velcro-secured lace strap which provides additional ankle support and stops your laces from coming undone. If you are looking for the best Nike wrestling shoe on the market then it is time to the cop the Nike Inflict 3s today!
Nike Hypersweep Review – Best all round shoe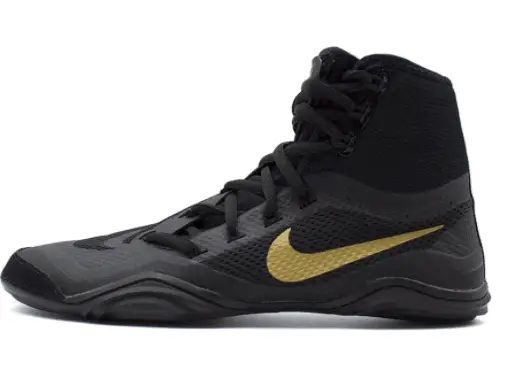 Nike Hypersweep Pros
Good value
Great ankle support
Lightweight
Highly flexible
Nike Hypersweep Cons
Not suitable if you have very wide feet
Need some time to break-in
Above average price
Nike Hypersweeps have a unique design combined with state of the art features which will help you dominate your opponents this wrestling season. The Nike Hypersweeps have an innovative lacing system which keep the shoe incredibly secure and prevent you having to re-tie your laces multiple times during a match or training.
Nike Hypersweeps feature a mesh upper section which keep your feet cool and prevent the build up of moisture. The lightweight mesh design ensures your shots have that extra speed and your sprawl is always on time!
Nike Hypersweeps also feature unique Dynamic Flywire cables that provide superior ankle support. You won't have to worry about rolling your ankle when wearing Nike Hypersweeps. If you are looking for a durable yet lightweight shoe that has state of the art features then buy them now!
Nike Speedsweep Review – Best non-split sole shoe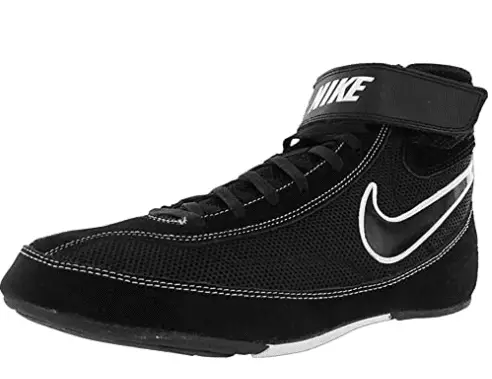 Nike Speedsweep Pros
Good value
Comfortable
Extra cushioning
Great grip
Nike Speedsweep Cons
Run a little small
Less flexibility due to non-split sole
Heavier than other shoes
Are you looking for Nike wrestling shoes that can provide stability and amazing grip without breaking your bank? Then the Nike Speedsweep is the ideal shoe for you! The Nike Speedsweep comes with rubber soles that ensure your feet stay glued to the ground no matter if you are shooting a low single and or going for a big 5 point throw!
Nike Speedsweeps don't just have great grip they are also incredibly comfortable. The upper part of the shoe is constructed from a combination of mesh and leather which makes the shoe durable but still breathable and lightweight. You won't have to worry about feeling weighed down when wearing Nike Speedsweeps.
Nike Speedsweeps also have extra cushioning provided by the internal EVA sock liners which will have your feet feeling fine ever after a tough 2 hour wrestling session. These shoes provide the perfect blend of comfort, durability and performance.
Nike Freek Review – Best for power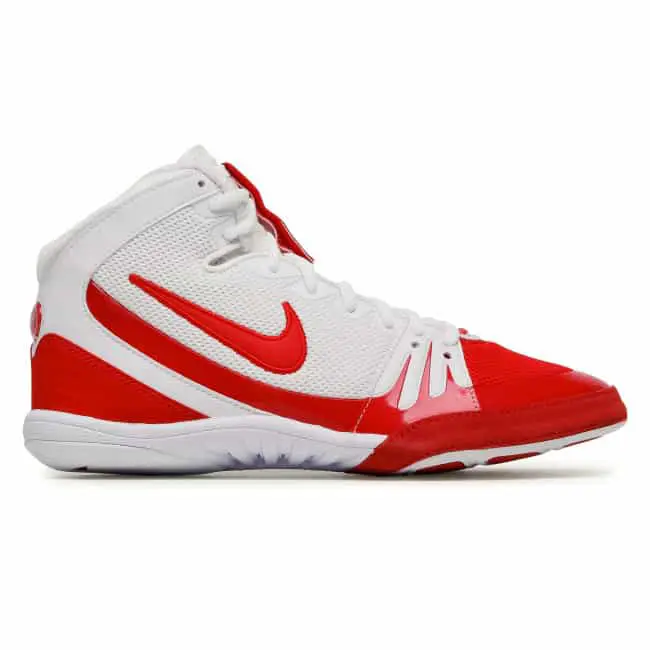 Nike Freek Pros
Very strong ankle support
Great generating extra power
Very comfortable
Superior traction
Nike Freek Cons
Run a little small
Shoe is a little stiff
Shoe is a bit narrow
Nike Freek wrestling shoes are very popular with college DI wrestlers thanks to their amazing features and the world class performance they offer to the very best wrestlers in America.
Nike Freeks are the second highest selling Nike wrestling shoe just behind the Nike Inflict 3s  and it is easy to see why! Nike Freeks feature a top of the line velcro strap which helps provide superior ankle support. The outsole and upper part of the shoe features mesh to keep your feet cool and prevent moisture.
The Nike Freek wrestling shoe has some of the best grip of any Nike wrestling shoe and due to its stiffness allows wrestlers to generate huge amounts of power when driving off the mat. If you want to add some extra pop to your double and single legs then cop the Nike Freek wrestling shoe right now!
Nike Tawa Review – Best for durability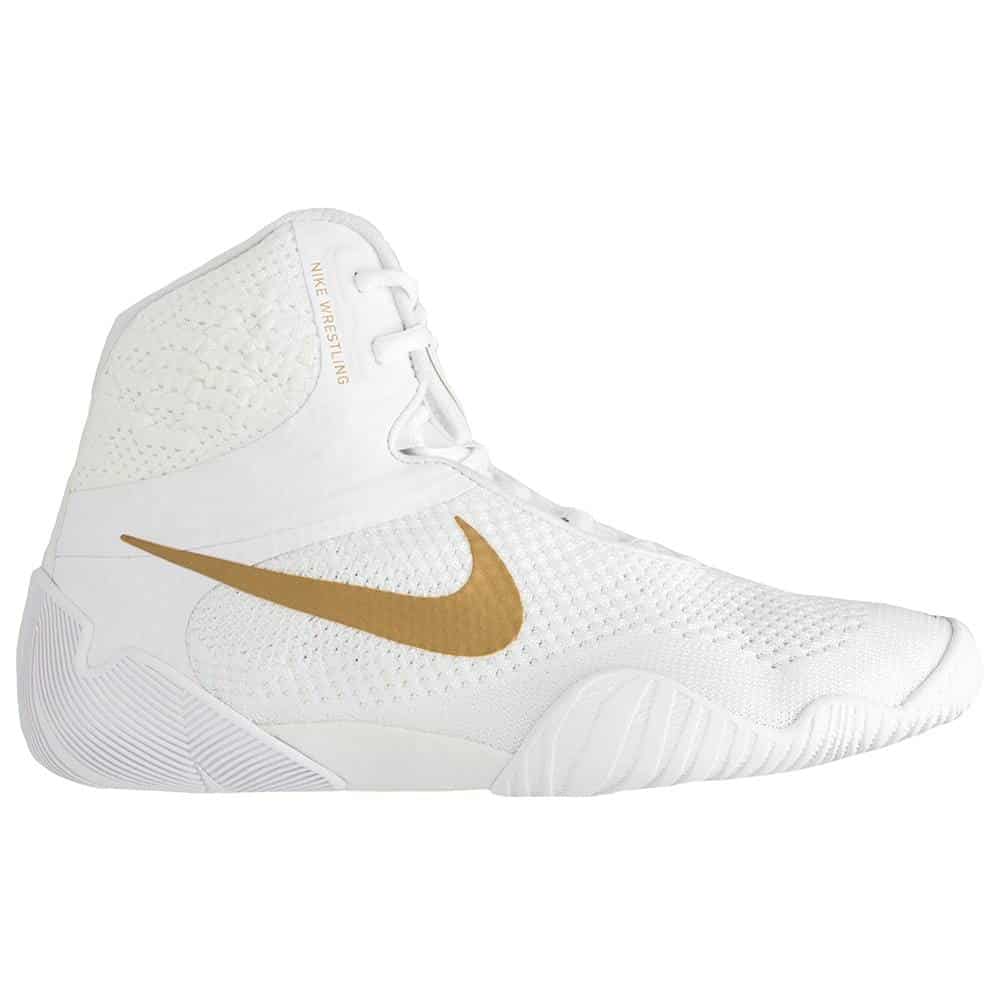 Nike Tawa Pros
Cool design
Very durable
Great ankle support
Good for generating power
Nike Tawa Cons
Slightly too high back of the shoe
Very narrow
Nike Tawa Features :
Superior grip – State of the art designed grip pattern provides traction no matter the direction you are moving in!
Superior fit – Nike Tawas mold to your foot and provide a first class fit
Breathability – Ventilation areas throughout the shoe ensures Nike Tawas stay dry and your feet cool
Split Sole – Increased levels of flexibility when you are shooting your singles and doubles!
Nike Skin – Creates an exoskelton-like support structure to support the ankle
Lace Garage – Never have to worry about your laces coming undone during a big time match
Nike Takedown 4 Review – Best budget option
Nike Takedown 4 Pros
Great value
All round strong shoe
Lots of grip
Good for wide feet
Nike Takedown 4 Cons
Slightly stiff
Heavier than other Nike wrestling shoes
Are you on the hunt for an affordable pair of Nike wrestling shoes that are also reliable, have a great design and will let you showcase your wrestling skills in high school or college? Then Nike Takedown 4 are the perfect wrestling shoes for you!
Nike Takedown 4 have the exact same flexible outsole as other more expensive Nike wrestling shoes which allows you access premium performance at a reduced price.
Nike Takedown 4's outsole provides you with amazing grip, superior mobility and fantastic flexibility. Nike Takedown 4 don't just provide great performance but they are also one of the most comfortable model of Nike wrestling shoes to wear. They feature a top of the line mesh design which wicks away moisture and keeps your feet dry even if you are training for hours in a hot wrestling room.
If you are blessed with wider than average feet then this shoe will fit you like a glove and you won't have to deal with painful feet. Nike Takedown 4s come in a variety of colors and are an amazing all round shoe!
Nike Fury Review – Best for extra grip 
Nike Fury Pros
Great price
Good for wide feet
Extra cushioning
Nike Fury Cons
Not very durable
Traction is below average
Are you looking for a Nike wrestling shoe with an old school design but new school functionality? Then the Nike Fury is the shoe for you!
The new Nike Fury is an incredibly comfortable shoe which features mesh in the mid-top of the shoe which keeps the Nike Fury light and prevents the build up of moisture. The suede overlays, reinforced suede toes, and integrated padding ensure you will be rocking this shoe for way more than one season!
The Nike Fury features the exact same non-split sole as the Nike Speedsweep which provides superior traction, you won't be slipping wearing these bad boys! The Nike Fury is a great shoe for both the practice room and competition that will last you a long time and keep your feet and ankles comfortable.
How To Pick The Perfect Nike Wrestling Shoe?
To pick the best Nike Wrestling Shoe you need to study the shoe's sole, materials, weight, fit and ankle support. We recommend you choose a shoe made from high quality materials which is light weight but still offers great ankle support and grip.
Nike Wrestling Shoes' Sole
Nike Wrestling shoes have two different types of soles, split and non-split. Split sole shoes have rubberized grip on the heel and the ball of the foot but soft material in between.
Many wrestlers prefer this style of sole because it makes the shoe lighter, provides them with more flexibility and makes their movements more explosive. The downside of a split sole is that the shoes are less durable and tend to not last as long as non-split sole shoes.
Here is an example of the Nike Inflict 3 with a split sole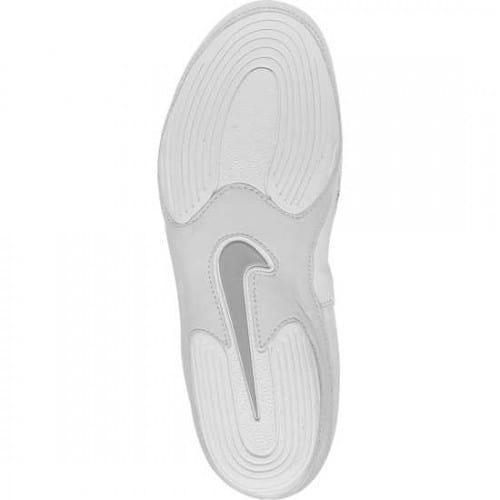 In contrast non-split sole Nike Wrestling shoes have a single piece of rubberized grip on the bottom of the shoe. These shoes tend to be a bit heavier, make it more difficult to explode and change directions quickly due to the increased grip but also athletes are less likely to slip when wearing these shoes.
Non-split Nike wrestling shoes tend to be more durable and last an additional season or 2 compared to split sole shoes.
Here is an example of the Nike Speedsweep with a non-split sole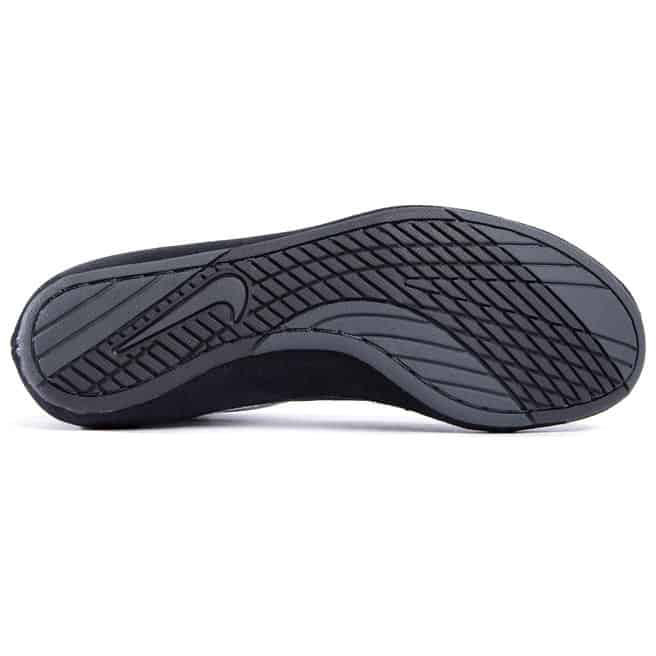 Nike Wrestling Shoes' Materials
When analyzing the material used in Nike Wrestling Shoes you need to find a combination of durable and lightweight. Some of the common materials used are leather, suede, nylon, or mesh due to their flexibility and comfort. You also should look for materials that are cool to prevent excessive sweating.
High end wrestling shoes are often constructed suede and leather due to the comfort, support and the added durability. The problem with these shoes is they tend to be a little heavier and do not wick away sweat.
Mid-range and budget Nike Wrestling Shoes are made from mesh and nylons and are known for being very light and great at preventing moisture. Mesh Nike Wrestling Shoes are great if you are looking for increased speed and explosiveness.
Nike Inflict 3s are almost completely mesh and are a great lightweight shoe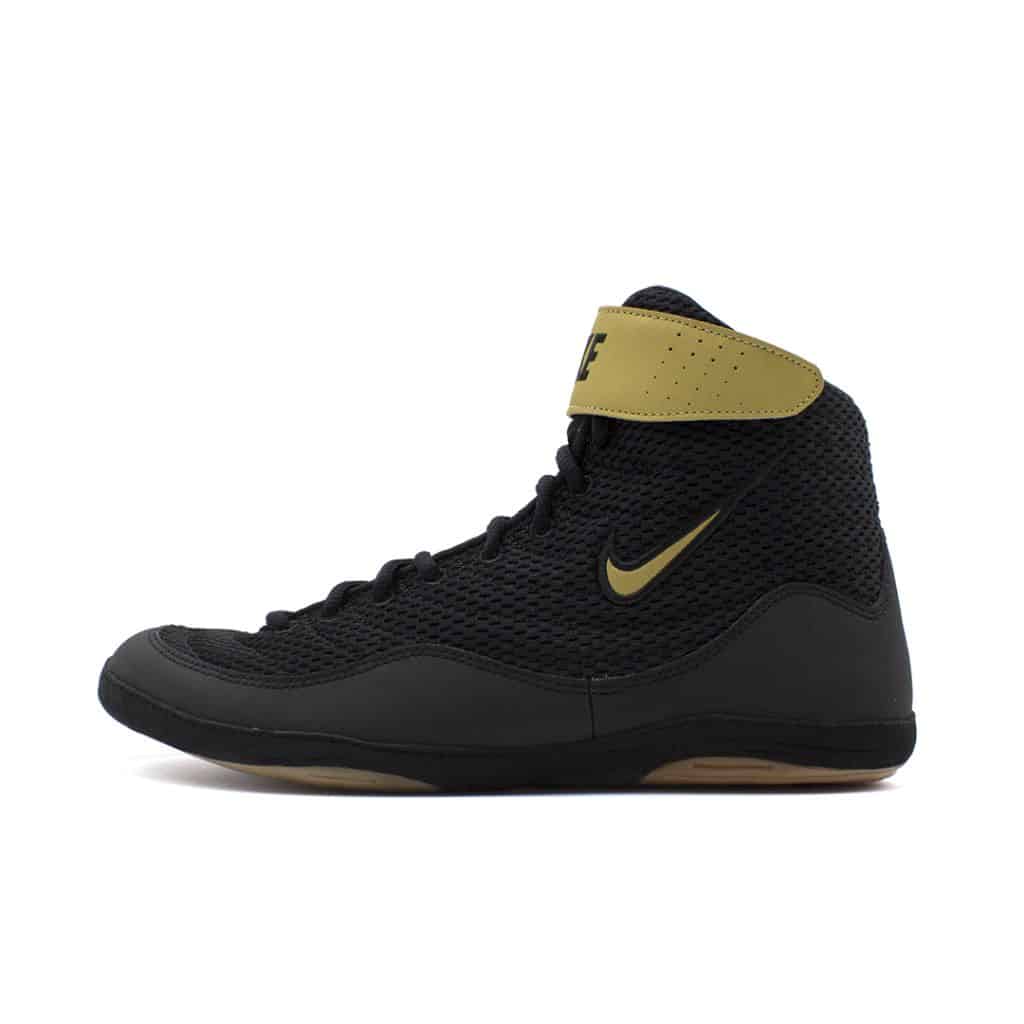 Nike Wrestling Shoes' Weight
When looking for the best Nike Wrestling Shoes you should always consider the shoes' weight. In wrestling you need to be light on your feet, able to instantly move to score against your opponent while also being able to evade their attacks. The last thing you want is heavy shoes decreasing your speed.
Fortunately, Nike Wrestling Shoes tend to be very lightweight but certain models such as Nike Tawa and Nike Inflict 3 are extra lightweight and can increase your shot speed.
Nike Wrestling Shoes' Fit
Have you ever wrestled while wearing ill-fitting or uncomfortable shoes? I bet you didn't wrestle very well and your feet were probably aching for hours after your match. To improve your on mat performance you need to find Nike Wrestling Shoes that mold to your feet, allowing you to generate great power while still giving you enough room to prevent rubbing and your toes getting damaged.
Nike Takedown and Nike Inflict 3 are great for wrestlers with wide feet. While wrestlers with slimmer feet prefer Nike Freek and Nike Tawa.
Nike Wrestling Shoes' Ankle Support
Wrestling places an enormous amount of stress on the ankles. Wrestlers are constantly hopping on one leg, driving off their feet to shoot takedowns and explosively changing directions at a moments notice. To help keep your ankles safe you need to find Nike Wrestling Shoes which look after your ankles. Most Nike Wrestling Shoes are mid tops and use firmer material around the ankle to provide additional support. You can also find shoes with a velcro strap to keep your ankle in a secure place.
Check out the midtop Nike Hypersweeps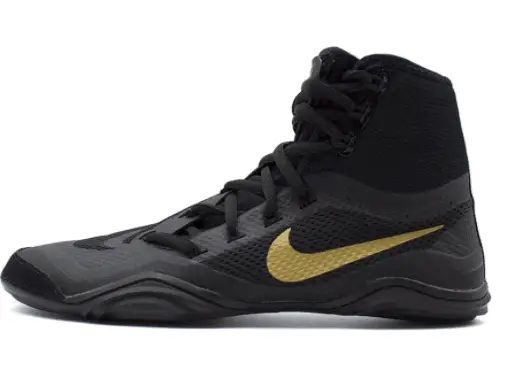 Frequently Asked Questions
Do Nike Wrestling shoes Stretch After Frequent Use?
Yes, Nike Wrestling Shoes will slightly stretch after frequent use. However, as Nike Wrestling Shoes are made with superior materials they hold their shape amazingly well even after years of wear!
Can You Wash Nike Wrestling Shoes In A Washing Machine?
Yes, you can wash your Nike Wrestling Shoes in a washing machine. However, you should place your Nike Wrestling Shoes in a bag, remove laces and wash on a gentle cycle to damaging your shoes.
Can You Put Nike Wrestling Shoes In A Dryer?
No, you should never place your Nike Wrestling Shoes in a dryer. The heat from the dryer will permanently damage your shoes. Don't worry Nike Wrestling Shoes will be dry after a few hours of hang drying.
How Should Nike Wrestling Shoes Fit?
Nike Wrestling Shoes should fit snuggly to allow the wrestler do generate maximum power when pushing off the mat. However, there should be a little room in the toe box to prevent the toes from being crushed and to allow circulation to the feet.
How Long Do Nike Wrestling Shoes Last?
Nike Wrestling Shoes last at least 2 years. How long Nike Wrestling Shoes depends on how often you use them and how well you take care of them. On average you should expect 2 years of use.